First, a little blog business. The great folks at Zensah have allowed me to do Maple Grove Barefoot Guy's first giveaway of some great Zensah products. If you want to find out how to win, you'll have to read the review!
ALRIGHTY THEN...
Now I'll admit...when I first saw compression clothing, I was a little confused. My first experience with it came from basketball players like Dwight Howard. For those who aren't familiar with Howard, he is the Orlando Magic power forward with shoulders bigger than his head who wears an arm compression sleeve during games.
All I could say when I saw it was, "Dude, is your left arm cold?" What was the purpose of this crazy thing? Was shooting a 20 oz basketball a few times a game throwing out this guy's elbow?
I had a similar reaction to a barefoot running favorite: the calf sleeve. When I first saw it, I thought it was for people who just couldn't commit fully to wearing pants. They remind me of capri shorts, but for people who want to show a little knee.
This sort of look makes me want to break out my 80's knee-high sock collection again!
I was finally turned on to compression wear after traveling to Hawaii for the
Honolulu Marathon
. A friend of mine suggested that I buy some compression socks so that my muscles wouldn't cramp up on the 8 hour plane ride from Minneapolis. I was willing to do anything to keep my muscles fresh for the marathon, so I bit and both a pair of
Zensah Compression Leg Sleeves
. Us barefooters don't have much use for fancy socks, so I thought this product would be something I could use for more than just travel.
I stepped off of the plane after 10 long hours of sitting in one spot with legs feeling fresh and limber. These things were amazing! I wore them again for several hours after a particularly grueling long run, and again...my legs felt great! I had no idea how or why these things worked...but they worked. I was sold.
Why compression is so awesome
The
Zensah website
explains the magic of compression as follows:
"If worn during training or competition, compression helps stabilize muscle tissue, keeping the swelling of muscle fibers at a micro and manageable level. The benefits of compression support and the ability of compression to increase oxygen blood flow to the muscles cannot be overstated because the performance benefits are so impressive.

Gravity can cause a build-up of fluid in the muscles and surrounding tissue, not only after, but also during exercise. This increases swelling. As any athlete knows swelling can only slow you down and hurt your performance. Without wearing compression, the result after a training session or game can be muscle damage, including micro-tears leading to inflammation. Compression helps reduce this inflammation that might slow down the recovery process and therefore helps reduce Delayed Onset Muscle Soreness (DOMS), something any athlete needs to desperately avoid."
Basically, compression clothing keeps blood flow moving during exercise, and prevents inflammation and swelling afterwards.
One thing I noticed about my calf sleeves though also had to do with temperature regulation. In cold temps, my calf sleeves seemed to keep my feet warmer. In hot temps, the fabric on the sleeves seemed to cool my skin. I've read other friends of mine report similar things with other Zensah products (see
this review
of the Zensah Compression Long-Sleeve Shirt).
My problem
I was hoping to bring those potential temperature regulating qualities to an piece of running gear that always bugs me: the technical t-shirt. Everybody who has run races for a few years no doubt has about 20 of these things in their closet. Almost always, they are some sort of polyester blend of various thicknesses, ventilation, and colors. They are supposed to wick sweat from your body and evaporate it faster than a traditional cotton shirt, thus keeping you warm in cooler weather and cool in warmer weather.
And if you've ever worn them outside in weather above 75 degrees, you know they don't do their job worth a damn. Sure, I feel pretty sweet wearing the tech shirts I got from my races. To others, I'm sure they say, "I ran a race and all I got was this stupid t-shirt". But to me, they are bragging rights. I earned this shirt. On the other hand, after wearing that shirt for 2 hours in the sun, it turns into what feels like a 20 pound wet, heated blanket. I won't even talk about what they do to your nipples!
If I'm going to even attempt a 50 mile race this fall, I needed a better option. And that option isn't going shirtless. We Sweds are not known for our ability to brown in the sun. We have two colors when it comes to tanning: pale and red-pale. We do not get our GTL on (yes, I did include a Jersey Shore reference in this review). A shirt of some kind will be necessary for this excursion. One that will protect me from UV rays while keeping me cool. I am hoping that the
Zensah Compression Shirt
will be that shirt.
Initial Impressions
The Compression shirt comes in sleeveless, short-sleeve, and long-sleeve versions. The great folks at Zensah were kind enough to send me a L/XL black compression short-sleeve for testing.
After getting it out of the box, I gave it a once over. As I expected, this shirt looked tiny! It looked like Zensah had sent me the Baby GAP version. But unlike the slick material on my calf sleeves, this shirt was made out of a much softer, much stretchier material.
There's nothing fancy about the design of this shirt. Although my calf sleeves have a fun criss-cross design on them, this shirt was decorated simply with a small Zensah logo. That's not a bad thing. I kinda dig the minimalist design.
Turning the shirt over, I noticed that it appeared to be well ventilated. The back of the shirt had waffle-stitch fabric over the middle of the back as well as under each arm. This is the best picture I could get of that feature.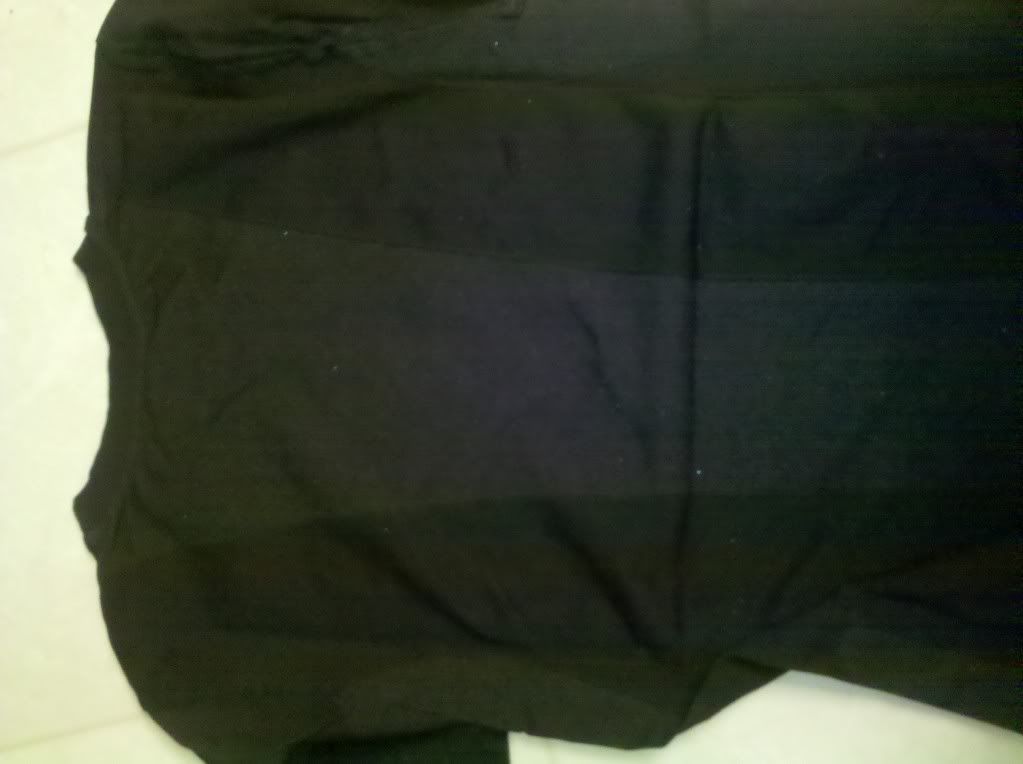 Comfort and appearance
I slipped the shirt on, and like my calf sleeves I immediately felt the fabric cool my skin slightly. The shirt stretched to fit my body tightly, but not so tight that it pinched anywhere. For as tight as it was, it was surpisingly comfortable. This shirt didn't compress nearly as much as my calf sleeves, but I could definitely feel it support my upper body. My shoulders and arms felt more relaxed. The fabric was very soft. Not quite like cotton, but much more comfortable than traditional tech shirt fabric. I bet this shirt will make my upper body feel a lot better after 50 miles of running than a tech shirt. And since it didn't shift much as much upper body moved, I doubt chafing would be an issue.
Since it conformed so much to my body, it made even my boyish figure look buff. So I took a pic to show off my guns.
And the side-profile. Looks like I need to lay off the doughnuts a bit.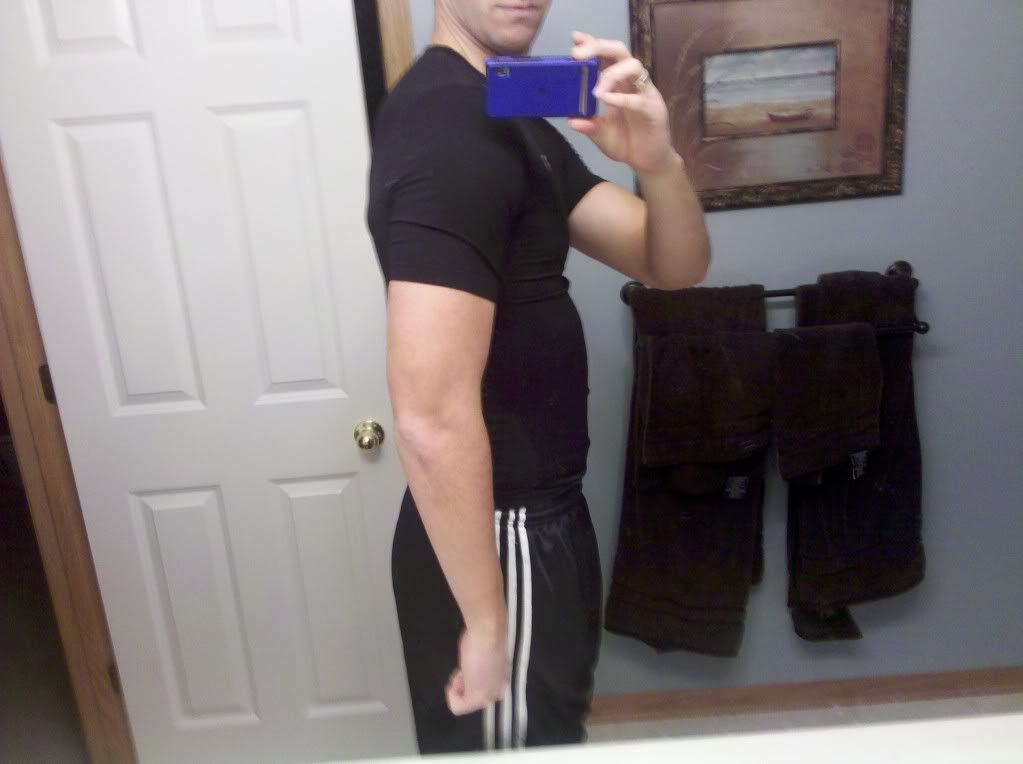 It also looks like I need to do a better job hanging up my towels. But do you like the bathroom color? I think it's very summery.
Anyway, the length of the shirt is a bit of an issue for me. It only comes down to right above my waist. So there's a bit of a potential for an unwanted peekaboo. But for you lesser mortals who aren't blessed with freaky height, I doubt it will be a problem.
Performance
Since it's still very much winter time in Minnesota, I couldn't use the shirt for my intended purpose yet. I'll be doing a review of it's performance in the heat this summer. But I knew I could still work up a good sweat in my basement doing Crossfit. That stuff gets me soaking wet within a few minutes. So I headed downstairs and cranked out a workout that usually has me stripping down to just my workout shorts...100 burpee pull-ups.
Normally during this workout, I'm feeling warm within about 20 reps, and am sweating noticably within 50. By 75 reps, I am dripping with sweat, and I have to take my shirt off. From there, I don't even want to talk about it. Let's just say the carpet in my basement needs a good steam cleaning.
With the Zensah shirt on though as my body warmed up, I again noticed the fabric cooling my skin slightly. It was a really neat feeling. Something that my other tech shirts never do. By around rep 30, I was noticing sweat bead on the shirt. The shirt was still cooling my body slightly. The sweat wasn't affecting its performance. When I looked down after a few more reps, it looked like the sweat was gone. Of course, it could just be because it was a black shirt.
By the time I was finished, I was amazed that the fabric was still keeping my body pretty cool, although to a lesser extent. Like my compression sleeves, as sweat came to the surface of the fabric it caused the product to cool my skin slightly. I still noticed sweat build up on the shirt, but it wasn't completely soaked like my normal workout gear would be.
If I were to translate this workout to an outdoor running situation, I would expect that the shirt would wick moisture better. I don't expect this shirt to stay bone dry throughout a long run in the heat, but it appears that it will last a lot longer than my other shirts. And even if the shirt doesn't wick moisture away any better than a traditional tech shirt, just having that cooling effect is a big bonus to me. The psychological effect of that cooling sensation was huge to my performance during the workout.
Another thing that I noticed was that I had less fatigue in my arms after the workout was done. Like my calf sleeves, the shirt helped deliver a steady stream of fresh blood to my arm muscles. It also helped support my fatigued muscles, keeping them at least a little more fresh throughout the workout. For running, I can see this being a benefit for long runs where my arms and shoulders wear out from several hours of constant pumping.
Price
I only mention price in this review to point out that this shirt costs pretty much the same as a normal tech shirt. I am seriously considering replacing a lot of my tech shirt wardrobe with compression shirts.
Conclusion
Of course the ultimate test for this shirt is yet to come, but in initial testing I'm very impressed. This is by far the best performance shirt I have ever worn. It seems to presents a better option for wicking sweat away. And its cooling properties make it head and shoulders over traditional tech shirts for me. I give it a 9. I imagine that it won't keep me completely dry during extremely long runs. If it did, I would give it a perfect score. But I can probably get around the problem by just changing shirts mid-way through my ultra.
You can find the
Short-Sleeve Compression Shirt
that I just reviewed on the
Zensah website
for $39.99. It's definitely worth checking out!
GIVEAWAY!!
That's right folks...you too can get some fancy compression gear absolutely free from the good folks at Zensah. My blog is giving away both a Compression Short Sleeve Shirt as well as a pair of Compression Calf Sleeves that us barefooters go nuts over. Those who have entered blog contests before know the drill. You get one entry for each of the following:
1. "Liking" the
Maple Grove Barefoot Guy
on facebook
2. Following this blog by clicking on the "Follow" button on the right-hand side of this page
3. "Liking" the
Zensah website
by clicking on the Like button at the bottom of that website
4. "Liking"
Zensah
on facebook
Post a comment on this post that includes everything you've done before _________. I will make my selection at random (or not so random if bribed....hehe...kidding) and announce the winner on my facebook page (so it will probably help for you to at least do #1). The drawing will last until Monday, March 7, 2011 at 12:00 a.m.
Note that one entry will make you eligible for both drawings. It will be possible for one person to win both products, but you'll have to enter at least two times to be considered for both drawings.
CHEERS CITIZENS!