As well as this paleo diet thing is going for me, there's always been one area where I throw all of that caveman stuff out the window...when I go for a long run. I've found that because I'm eating significantly less simple carbs, I tend to have gigantic blood sugar crashes somewhere between 8-12 miles. So for anything longer than 12 miles, I'm always armed with energy gels, gummies, powdered drink mixes, bars, and whatever else I can get my hands on to keep my energy up.
Now the truth of the matter is that it doesn't much matter what you put in your body for energy during a long run. The fire is burning hot enough that it'll melt just about anything. That's why folks like Dean Karnazes order and consume whole pizzas during particularly long runs. But as a devotee of a more primal diet, I also think a lot about the quality of the food going into my body...even in these situations.
Of course, if I want to be 100% paleo about my running snacks, I can just pack a bunch of fruit and nuts. Or if I want to stray a little bit, I can just get a bunch of honey packets from a local restaurant. The problem with packing fruit and nuts is that, for really long runs, they take up a lot of space. And honey packets suffer from the same problem as most gel packets. Once consumed, they are messy, and end up crusting up my running gear.
I've really always been an energy chew kind of a person. Unlike an energy gel packet, I can easily consume chews in smaller portions, to space out my sugar buzz. I also prefer the texture of a chew to a gel or some kind of energy bar over the long haul (not to mention that those energy bars also take up a lot of space).
The downfall for most energy chews is that they are usually made up of chemical yuck like high-fructose corn syrup, and a lot of unidentifiable chemical agents that do who knows what. Since these things are essentially little hardened Jello molds, it's hard to find a chew that will be completely paleo. So far, the
Honey Stinger
line of products is the only thing I've found that comes close.
The company pushes these energy chews as non-gluten, non-dairy, certified organic goodness. That removes several strikes off the old paleo objection list. The ingredients are listed as follows:
Organic Tapioca Syrup, Organic Evaporated
Cane Juice, Organic Honey, Organic Grape Juice
Concentrate, Pectin, Citric Acid, Color (Black Carrot
Juice Concentrate (red), Annatto (orange)), Ascorbic
Acid, Natural Flavor, Potassium Citrate, Organic
Sunflower Oil, Carnauba Wax.
So a lot of the ingredients here are fine. Mostly natural ingredients like honey, and fruit juice. Some of the more artificial sounding ingredients actually aren't that bad. Pectin is a thickener naturally found in some fruits (which is why some fruits can be canned), Citric Acid and Ascorbic Acid are just added vitamins. Evaporated Cane Juice on the other hand is just processed sugar by another name. But even so, there's not much to hate here compared to other products on the market. Although it's not completely caveman, I figure you have to pay a bit of a price for the convenience of an energy chew.
Packaging
The packaging reminds me of the fruit snacks my mom packed in my lunch when I was in grade school. The packs seem a bit big for the amount of chews they actually contain. There are 10 chews per packet. Each chew looks like a Dot candy, with a diameter of about 1 inch. The package is probable 4x5 inches, so there is a lot of extra room in there. I only mention this because I see space being an issue if you wanted to pack more than a couple of these.
As you can see, they are about the size of a good man fist.
Yes, that is my man fist, and that is my shirt. I like a good pinstripe.
One benefit about the packaging is that it was easy to open. It definitely isn't one of those "one-handed" jobs that companies try to market you...which end up being un-openable even with two hands. I don't think I would have trouble getting to these snacks on the road.
Taste
The energy chews come in four different flavors: Fruit Smoothie, Pomegranate Passion, Cherry Blossom, and Orange Blossom.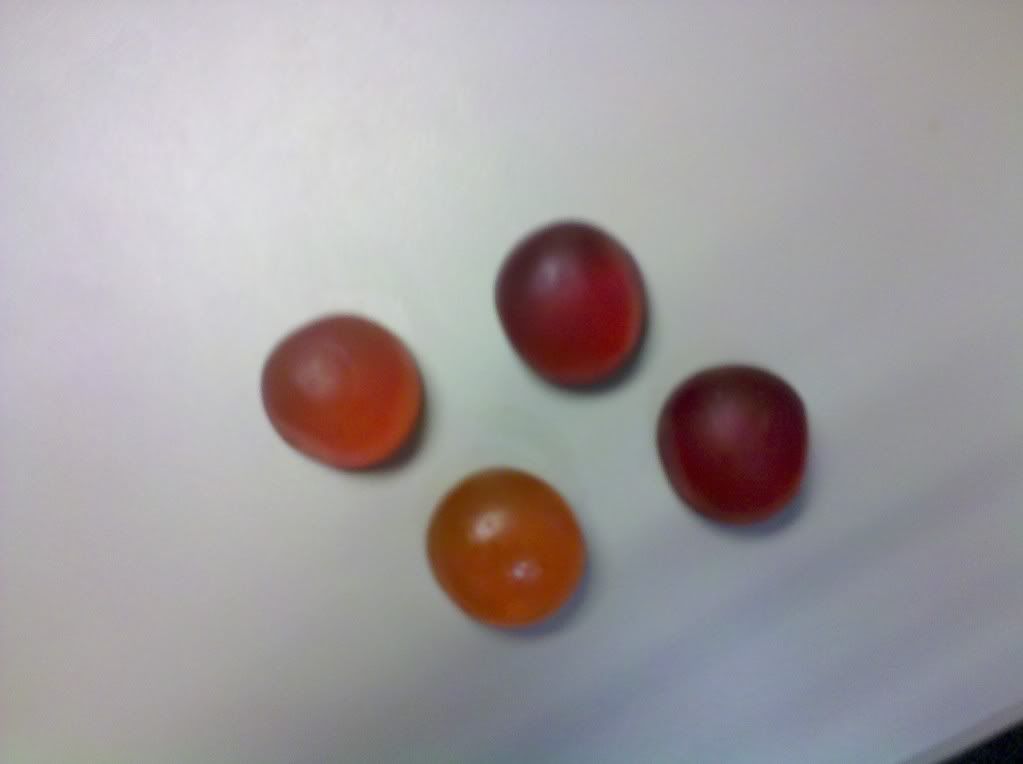 This is the last time you'll see these energy chews alive!
The texture of each chew is like a really soft gummy bear. They were not difficult to consume, and I ate all four flavors very quickly. I tasted mostly the fruit flavor in each, with a hint of honey. I found all of the flavors pleasant, except for Cherry Blossom, which tasted like cough syrup. None of the flavors were overpowering, and the chews didn't leave a sugary aftertaste like most energy chews would.
One pleasant aspect to these energy chews is the smell. As I opened each package, I was hit with the solid aroma of each fruit flavor, along with a hint of honey. Since you eat with all of your senses, the fact that these chews have a nice smell enhances their taste in my opinion.
The flavor that you'll prefer will likely be a matter of personal preference. Mine was Orange Blossom...mostly because I like orange things.
Comparison to other products
Of course, I think every good energy product should do more than just taste good. It needs to have enough calories, carbohydrates, potassium, and sodium to sustain your performance over the long haul. The specs on Honey Stingers are as follows (per serving):
Calories 160
Carbs 39g
Sodium 80mg
Potassium 40mg
According to
this chart
, that's pretty on par with other products on the market. The carbs are a little high, which the company explains is due to the fact that honey is the main sweetener in the product.
One thing that you won't find in the product is any sort of caffeine or other performance enhancing additive. Personally, although I like the boost I get from stimulants like caffeine during a run, I don't like it to be in my running snacks. But those looking for anything other than a good old fashioned sugar high will be disappointed with this product.
Performance
I've taken several packs of these energy chews out on my long runs the past couple of weeks, and I was pleased with the results. Like my preferred product, Clif Shotbloks, these energy chews gave me an energy boost and reduced my muscle soreness and fatigue after consumption. As with the taste tests, they didn't leave much of a sugary aftertaste in my mouth.
On the downside though, I found that after consuming several servings of these chews during a single run, they gave me a bit of a stomach ache. If I was a betting man, I would say this comes from the large amount of sugar in the product. Because of this fact, I doubt I will be using these chews as my main source of energy during longer runs (i.e. those lasting over 2 hours). Of course, this issue may be due to my stomach constitution. Individual results may vary.
Conclusion
I'm delighted to have finally found a running supplement that uses more natural ingredients that still provides the energy boost I need during long runs. I'm disappointed that the product was a little hard on my stomach. Therefore, this product will likely be of limited use to me. Because of the stomach issues I experienced, I only give the product a 7 out of 10. I don't have a ton of use for an energy gel that I can only use for runs of around 1.5 to 2 hours (where I generally only consume one serving of energy product). I can just as easily complete those runs without any energy supplements. But when I need a boost on those runs, this will be my preferred supplement.
If you are interested in buying cleaner, healthier supplements, they are worth checking out to see if they work for you.