Well in kind of a strange turn of events, I went from known huarache hater to having six pairs of these thin little bastards. I also apparently became an expert on the subject, as most of the inquiries that I get lately from readers are about the differences between the various commercial huaraches on the market today. Being that I have now tested every single one, I suppose I brought it on myself. Not that I mind. I enjoy using my superhero powers for the good of the thin-soled running public.
Now ultimately, the huarache that it right for you depends an awful lot on your personal preference. Each of these brands do certain things very well, while doing other things not so well. I don't have a personal favorite. So instead of tell you which huarache you should get, I'm going to analyze the various features of each brand side-by-side. I will not be telling you which sandal is better than another. Each
The brands I will be talking about are
Invisible Shoes
,
The Original Luna Sandal
,
Unshoes Wokova Sandal
,
Branca Barefoot Sandals
, and
Bedrock Sandals
. I've done a review of each of these, which you can look at if you want to see how I feel about each sandal overall. I will not be telling you which sandal is best in each category. I like all of these sandals, but I think each sandal has positives and negatives.
Also, if there are any aspects of these sandals that you feel I haven't covered, please let me know and I will do my best to address it.
Let's begin shall we?
Sole Material
Invisible Shoes
: The Invisible Shoes sole is 4mm Vibram Cherry material. This is currently the only option offered by the company. It is by far the most flexible material on the market. As a result, it tends to provide the best groundfeel. That flexibility also makes it a bit floppy, which can make the sandal hard to tie, and can lead to fit problems during running.
Luna Sandals
: Luna Sandals offers the most soling options by far. The most commonly ordered is the Original Luna Sandals, which sports a 6mm Vibram Neoprene. The Vibram Neoprene soling material is a tad thicker and stiffer than that used by other brands. It is unique in that after several runs it molds to your feet, which tends to make the sandal footbed more comfortable and the sandal itself easier to tie than Invisible Shoe. However, the material is also stiffer and has less groundfeel than all other brands.
The Leadville model is a trail sandal, which is equip with a 10mm Vibram Neoprene with very aggressive tread.
For something completely different, they also offer the Equus model, with a 2mm Vibram Cherry topped with a shell cordovan leather top, which brings the total thickness of the sandal to approximately 6mm. This is the stiffest of all sandal options on the market due to the leather top. However, the sandals will become more flexible over time as the leather top breaks down.
Their DIY Kits come with a variety of additional soling options, including a 4mm and 6mm Vibram Cherry.
Finally, Luna also offers the Recyclado, which is a 6mm recycled rubber sole.
Unshoes
: The Unshoes use either a 4mm, 6mm Vibram Cherry material, or a 10mm Newflex. I personally own the 6mm Cherry, which I find to be a bit more flexible than the Luna Sandal neoprene. The intent in using Cherry is that it is more durable on the trial. Unshoes reports that the 4mm Cherry is just as flexible as the Invisible Shoe soling, because it is the same product.
Unshoes has come out with the Wokova Feather, which uses a 5mm Newflex soling material. They report that it is half as light as their sandals built with the Vibram Cherry.
Branca
: Branca soling material is a styrene/butadiene mix. The rubber blend is very lightweight and flexible despite a thickness of around 5mm. I find it to have slightly less groundfeel than the Vibram Cherry, as the material does not return to its original shape immediatley once flexed. However, this reduced flexibility isn't terribly noticable.
Bedrock
: Bedrock sandals use a 6mm Vibram Gumlite sole. The Gumlite is a foam and rubber blend. The foam gives the soling material a slightly squishy feel that is not noticeable while running. It also contributes to its extreme light weight, which is on par with the 4mm Vibram Cherry. The Gumlite also is incredibly flexible despite its thickness, on par with the 4mm Vibram Cherry, though this thickness does impact its groundfeel. I find the groundfeel to be closer to that of the Original Luna.
Lacing
Invisible Shoe:
Again, there is only one lacing option offered by this company: a 5/8" polypropylene cord. The cord is the same cord available at any hardware store, and comes in a variety of colors. It feels like rope against your skin, and is inflexible. I find that it does not irritate the space between your toes or the parts of your foot that touch the cord because it is so thin, though if you tie the sandal too tight you will feel the cord cut into your skin. The knot under your foot is also small, and can rarely be felt underneath the sandal. The cord is very durable, and does not show much distress even after high mileages.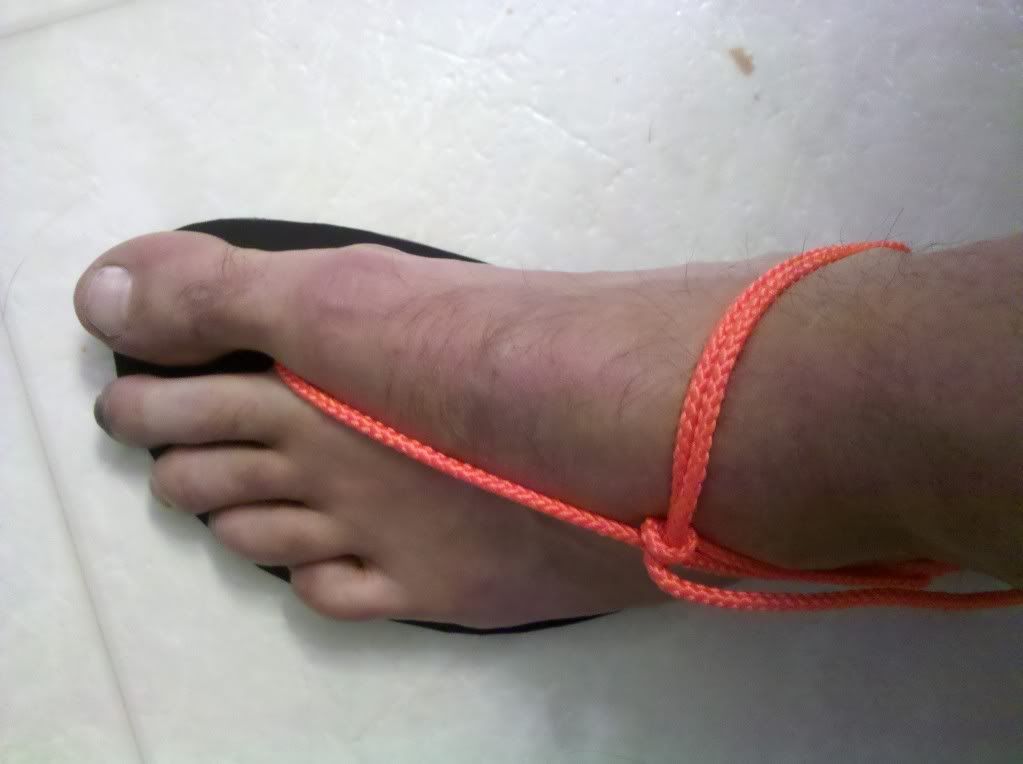 Lunas
: Luna Sandals come with a variety of lacing options. You can select either Latigo leather, vegan hemp, or the elasticized Equus lace in a variety of thicknesses. The Latigo lace is very soft to the touch. However I find it impossible to tie, and even harder to keep tied. The vegan hemp starts out somewhat rough to the touch, but becomes softer as you use it. It is easier to tie and keep tied than the Latigo. I find both the hemp has a tendency to break or wear down faster than other products. The leather lace is far more durable.
In my opinion both of these options are inferior to the new Equus elasticized laces. The Equus comes in 5/8", 1/2", and 3/8" options. Folks that are not used to huarache laces may find the 5/8" laces irritating between their feet. In any event, the knot on the lace is not noticeable underfoot. The lace is somewhat easy to tie (much easier than Invisible Shoe or other Luna lace options), and stays in place very well once tied. It holds your sandal to your feet better than any other lacing. The downfall of the lace is that it holds very tight to your skin, which causes blisters and irritation where the lace rubs against the foot while running.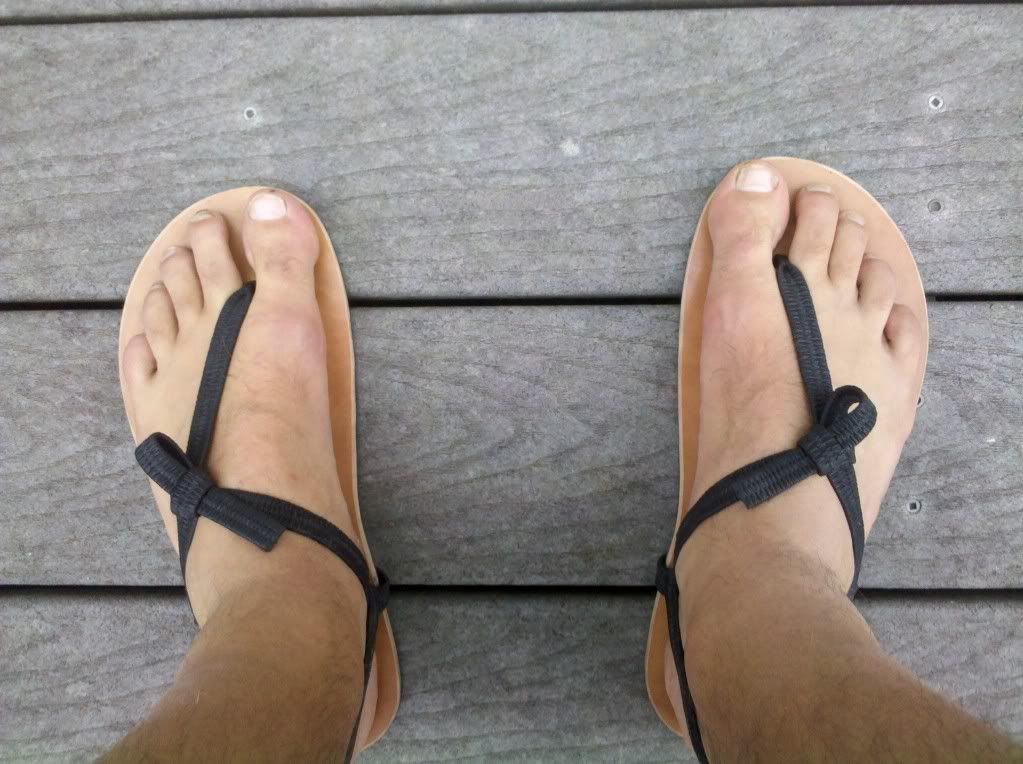 Unshoes
: Unshoes uses a 9/16 mm tubular climbing webbing to secure the sandal to your foot, rather than a traditional shoe lace. The webbing is very soft to the touch, and holds flat against your skin to prevent abrasions from friction. Also, since Unshoes uses a toggle to adjust the sandals, it is very simple to adjust the sandals to your desired tightness. The toggle is somewhat effective at keeping the sandals at that level of tightness. However, on long runs you will have to adjust the tightness multiple times.
The webbing is doubled over where it travels between your toes, so it is about the same thickness as a traditional huarache lace in that location. The webbing is not knotted on the bottom of the sandal, so there is no issue of discomfort. The tubular webbing is climbing grade, so it is probably the most durable of all the lacing available.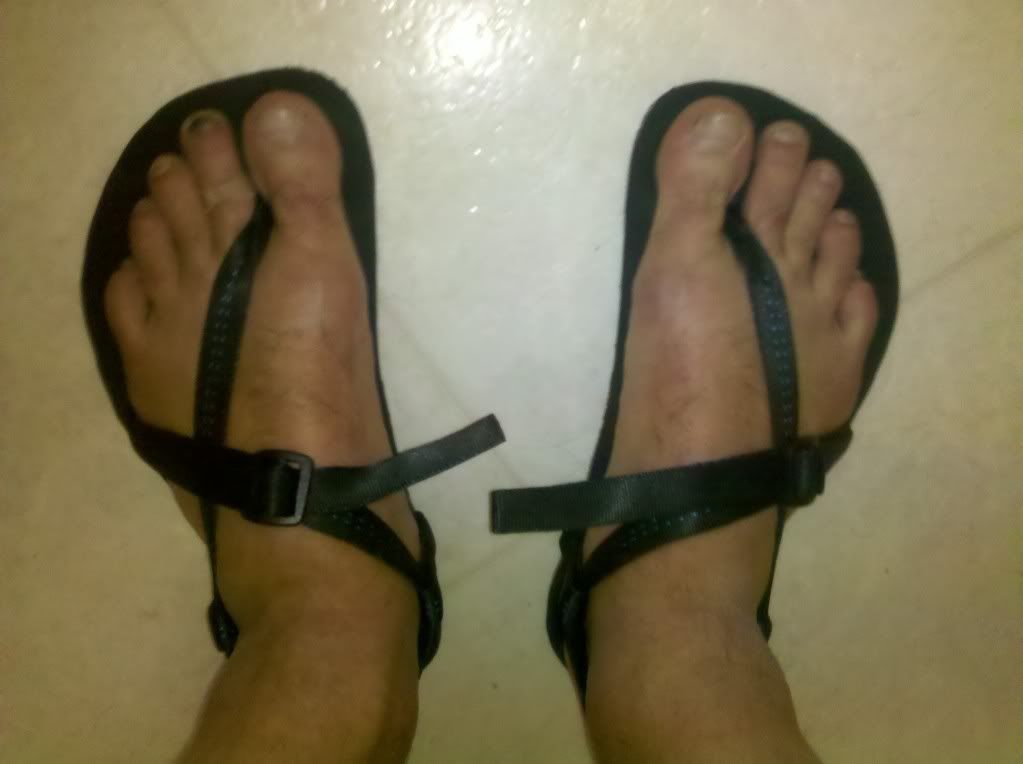 Branca
: Branca sandals are tied with a traditional athletic shoe lace. Instead of using a traditional tying method though, the shoe lace is threaded through two eyelets added to the soling material on both sides of your ankle. It's much easier to show a picture of how the sandal is tied than to explain it.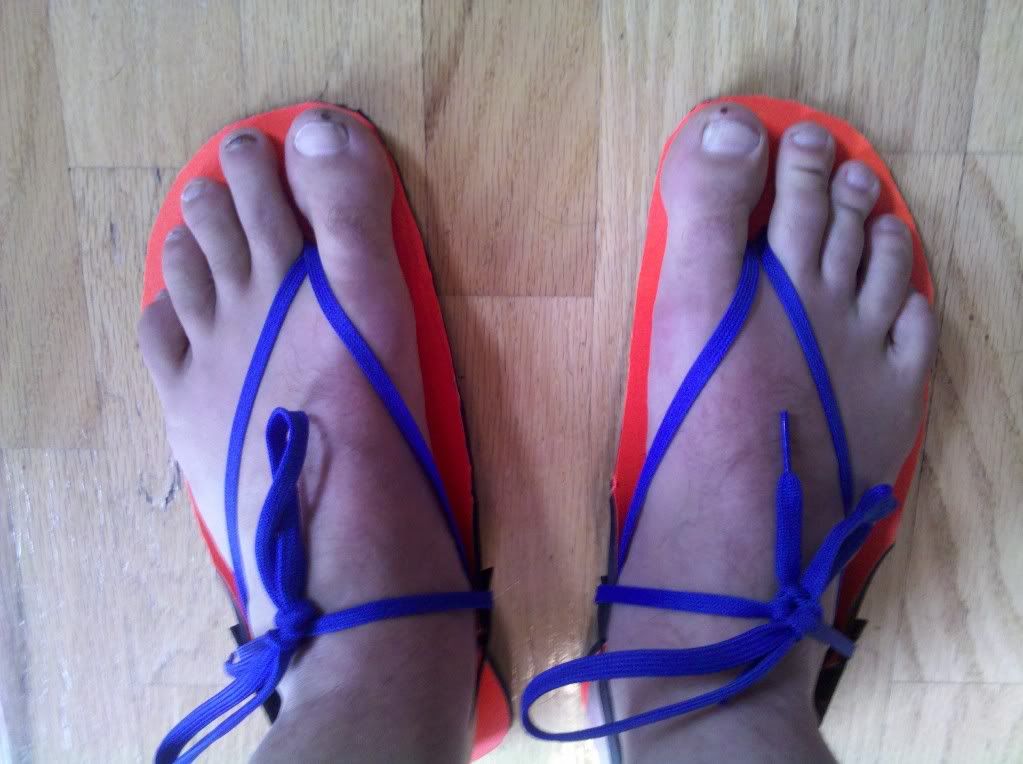 Bedrock
: Bedrocks are another brand of sandal that use webbing instead of laces to secure the sandal to your foot. Bedrock laces are 1/2" webbing (non-climbing grade) that is threaded around your foot in a very similar fashion as traditional huarache laces. The webbing is secured to your foot with a multi-directional buckle which allows you to adjust the tightness of the webbing both over your foot and around your ankle.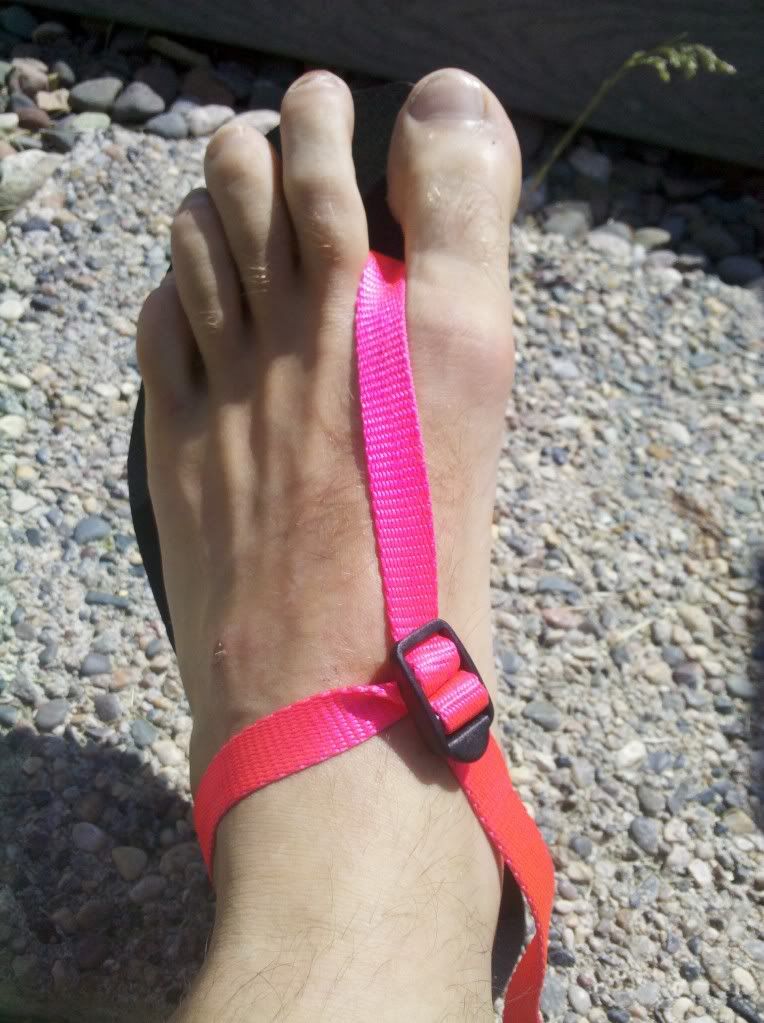 Footbed
Invisible Shoe:
The footbed on the Invisible Shoe is a "naked top", meaning that your foot rests directly on the soling material. I find the naked top comfortable, though some folks find it a little weird. I've heard reports that it is easier to develop hotspots on your feet with this top. This top is also better than other options in wet conditions, where other footbeds can become slippery.
Luna Sandals:
The Lunas come with multiple footbed options. In additon to the naked top, all Lunas have the option of a suede footbed. This is a small sheet of suede leather glued to the sandal's soling material. The suede footbed is more comfortable than a naked top immediately after purchase. Depending on how often you wear the sandals in poor conditions, that comfort goes away as the suede breaks down. With time, I also find that the suede can come apart from the soling material. The suede also becomes slippery when wet, causing your foot to slide in the sandal.
The Equus model of the Luna comes with a Shell Cordovan leather top, which is by far the most comfortable of all options. It becomes more comfortable as the leather breaks down.
Unshoes:
This huarache also comes with a naked top.
Branca
: The footbed of Branca sandals come in your choice of color. They have everything from loud neon to plain black. The feel of the footbed is very similar to the Vibram Cherry.
Bedrock:
These sandals also come with a naked top. However, the Gumlite material has more squishy and fuzzy feeling than the Vibram Cherry top. I'm not a fan of the feeling of this footbed. I also find it to be a bit more slippery than the Vibram Cherry when wet.
Tying
Invisible Shoes
: As long as you're not using the traditional tying method for huaraches, you can tie these sandals in a way that allows you to slip them on and off for the most part. The polypropylene lace holds a knot pretty well, so I don't find that I need to make many adjustments after tying them once. Because the sole is so flexible, getting the shoes tied to the appropriate tightness can be a bit of a challenge. Tie them too tight, and the sole will flex to the point that the sandal folds in on itself. Similarly, slipping them on and off is a little awkward at times for the same reason.
Luna Sandals
: The Latigo leather lace is the worst option for tying my opinion. It is impossible to tie very tight and doesn't stay tied very well, so adjustments are inevitable. The hemp lace is a little better, but not much. It holds a knot better, and gets about as tight as the Invisible Shoe lace. Since the sole of this sandal is less flexible, it's possible to tie these traditional laces tighter than you can with a more flexible sole.
The benefit of the leather lace is that it is much more sturdy around your ankle than other options. Especially if you do a lot of trail running, the leather lace may be what you need.
The Equus lace on the other hand is superior to anything on the market for this purpose. I've tied my Equus lace once, and I've never needed to retie it. The elasticized leather is a breeze to slide on and off. I can do it in a few seconds. These things are great! The downfall of these laces is that their flexibility can cause some ankle instability in some situations. If you run a lot of trails, you will find that these laces will cause your sandals to slip off your foot a fair deal.
Unshoes
: As I've mentioned above, these sandals are the easiest to adjust. Since the toggle adjusts the tightness around your ankle only, the sandal remains a fixed distance from your foot. So these are the loosest of all the sandal choices. However, wearing this sandal loose is pretty comfortable. Making the sandal too tight actually causes it to fold up like a taco, with is a strange feeling.
Unless you have these sandals very loose, slipping them on and off without adjustment is impossible. The toggle for these sandals adjusts the tightness around your ankle. Once adjusted, the loop around your ankle will be too small to get over your heel. So in order to get out of the sandal you will need to loosen the toggle. This isn't a bad thing though. It doesn't take too much effort to adjust the toggle.
Branca
: If you can tie a regular athletic shoe lace, you can tie these sandals. As I mentioned above, these sandals tie on the top of your foot in the same fashion as you would lace up a traditional shoe. The tighter you tie the sandal, the more the eyelets on either side of the sandal will fold towards your ankle. Tie them too tight and the eyelets will dig into your ankle, causing wicked nasty blisters. This will also cause the sandal to fold inward on itself. This doesn't affect one's running too much because the soling material is very flexible, but it is a strange feeling. It also appears to make the sandals louder against the pavement.
Bedrock
: The multi-directional toggle on these sandals allows you to make very minute adjustments to the fit of the sandal, and thus gives you a superior fit to all others in my opinion. However, getting to that point will take a bit of practice as with traditional laces. Once you find that perfect fit, you can loosen the ankle strap without to take off the sandal without losing all of your hard earned work. You can also slip the sandal on and off without making any adjustments with some effort.
Tread
Invisible Shoes:
Rather than describe the tread, it's better to provide a picture. I find that this pattern provides sufficient traction on roads, and works for most trail applications.
Luna Sandals:
I find the tread on the Original Luna and the Equus to be a little less grippy than the Invisible Shoe tread. There isn't much to it really. It works for roads, but is a little sketchy on some trails.
The Leadville tread is far more aggressive; the most aggressive tread of any huarache on the market.
Unshoes:
The tread on these shoes is the same as the Invisible Shoe tread.
Branca
: The bottom of the Branca sandal is nothing but smooth rubber. It works fine for most applications, but becomes slippery in wet conditions. I would not recommend them for trail running as well.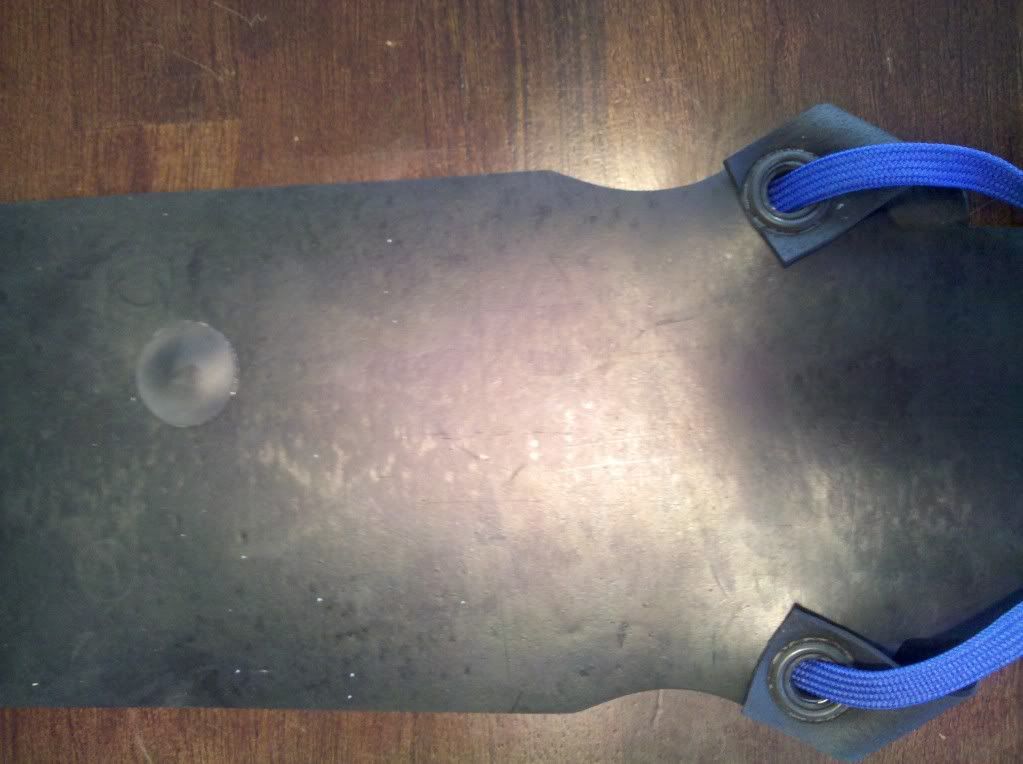 Bedrock
: The bottom of this sandal is equip with a series of small nubs, which give it excellent traction on both road and trail.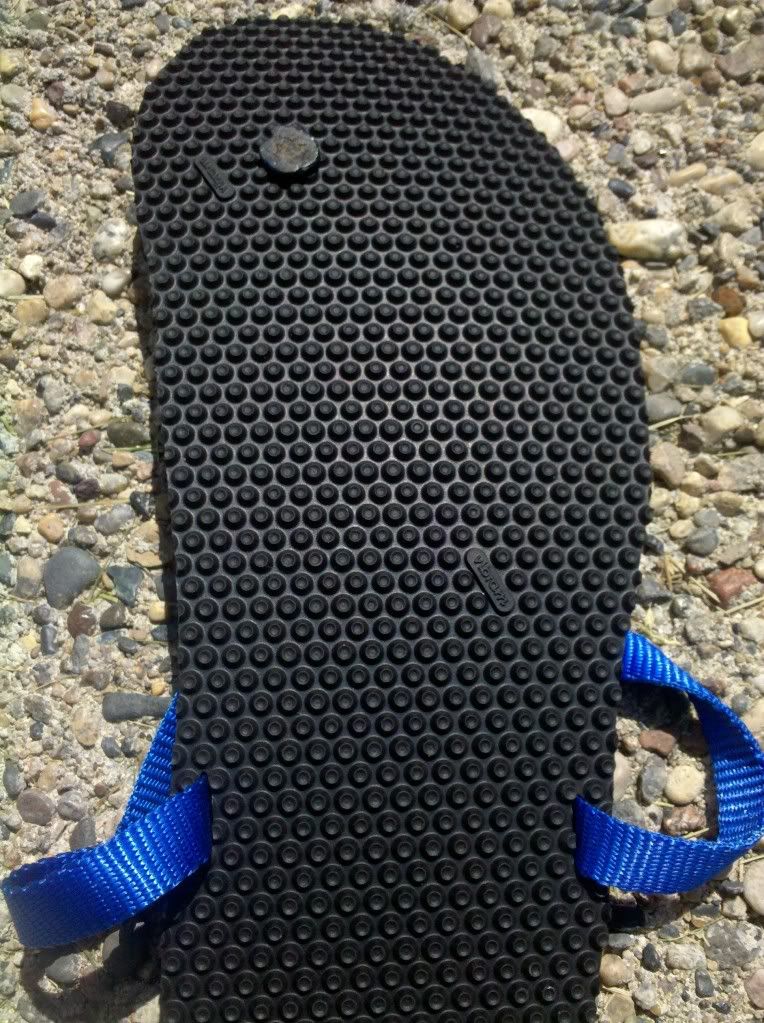 Weight (Size 12 mens)
Invisible Shoes:
My Invisible Shoes come in at a whopping 2.5oz. They are the lightest huaraches I own
Luna Sandals:
My Original Luna Sandals aren't far behind at 3.0oz.
Unshoes
: My 6mm Unshoes are approximately 5.0 oz. The Wokova Feather is around half that weight.
Branca
: Branca reports that right out of the box their sandals weigh approximately 5.0oz. Of course, you will pair down that weight as you customize your footbed. So how much they will weigh eventually will depend on how much material you cut off the sandal. Mine ended up weighing around 3.5oz.
Bedrock
: The Gumlite sole makes tie these for the lightest of my sandals at 2.5oz.
Sizing
Invisible Shoes:
These are custom huaraches, meaning that Invisible Shoe makes them based on a tracing of your foot. I found that my Invisible Shoes were cut very close to the dimensions of my foot tracing. They did not add much material, so the fit is very snug. My feet occasionally come off the sandal for that reason.
Luna Sandals
: Lunas are factory made, so they have standard sizing. Those sizes fit most feet just fine. I don't have much extra material around my foot. However, they will make a custom pair for you upon request.
Unshoes:
These are also custom huaraches. Unshoes will generally add a bit of extra material around the edges of your foot tracing because they need extra space to attach the straps. You can ask for a closer cut.
Branca:
I call Branca sandals "half-custom". Instead of sending a foot tracing to Branca, they ask for the distance between your heel and the space in between your first and second toe. You are responsible for cutting the footbed to your own specifications. Therefore when you receive your sandals, they will look like this:
Branca allows you to customize the shape of your footbed, so when you receive the sandals they will be only half finished. Here's a picture: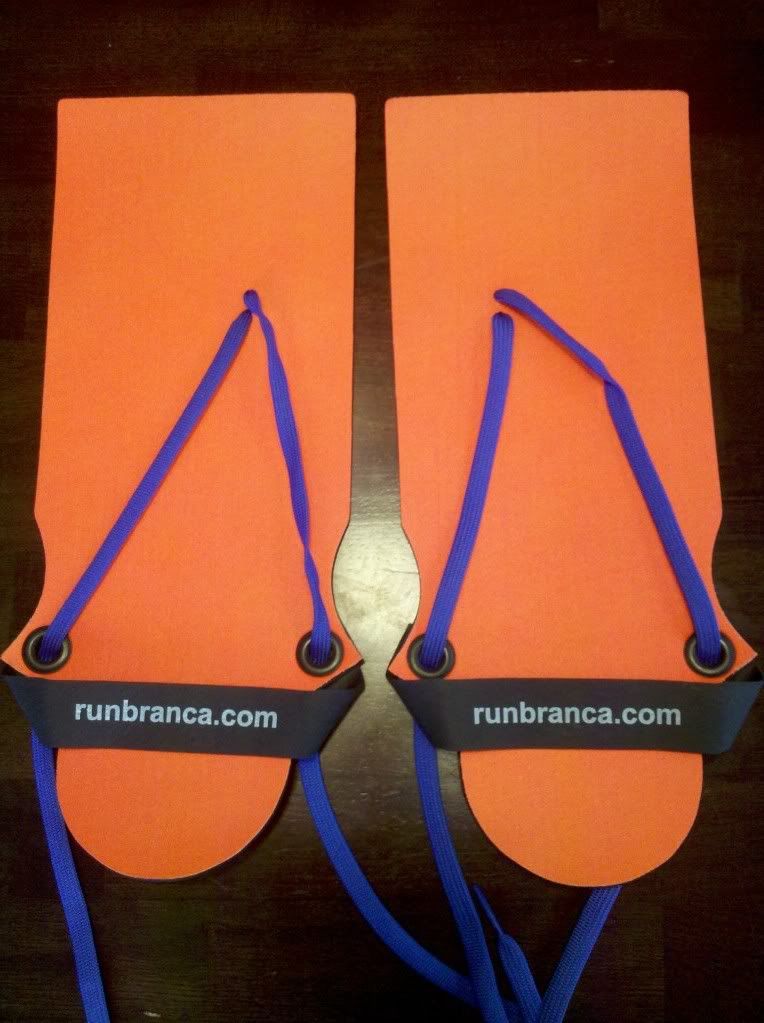 Bedrock
: These sandals come in either custom or standard sizes. For the standard size, you provide Bedrock with the length of your foot in centimeters.
DIY Kits
Invisible Shoes
: This brand does have a DIY Kit, which includes a sheet of 4mm soling material and a pair of polypropelene laces.
Luna Sandals
: This brand also has a DIY Kit, which includes a sheet of soling material of your choice, a pair of laces of your choice, a footbed (extra cost), and footbed glue.
Unshoes
: These have no DIY Kit option.
Branca
: These sandals are half-custom, and half-DIY as explained above
Bedrock
: These have no DIY option.
Customization
Invisible Shoes:
The only way to customize your Invisible Shoes is through the choice of lace colors.
Luna Sandals
: This brand gives you by far the most ability to customize. Each sandal allows you to select your lace type, footbed, and soling material.
Unshoes
: This brand allows you to select the thickness of the soling material as well as the color of the webbing.
Branca
: This brand allows you to select the color of both the laces and the footbed.
Bedrock
: This brand allows you to select the color of your laces.
Appearance
Invisible Shoes
: I've critiqued these huaraches as looking a bit on the tacky side. Since these sandals are nothing more than a piece of rubber with a shoelace, it's hard to call them "stylish". They work fine for running, but you won't catch me out in public wearing them.
Luna Sandals
: These are a step up in the style department, but not by too much. The hemp laces tend to make you look like a hippie. The Latigo leather makes you look like you're going to a toga party.
The Equus lace actually makes the Luna look like a pretty normal thong sandal. I've worn the Luna out in public with the Equus lace before. I still get comments about the sandal looking a little "Roman", but not nearly as much as with other Luna laces.
Unshoes
: These look the most like regular sandals in my opinion. More specifically, they look like hiking sandals. I have worn these casually, and I use them as my primary casual sandal.
Branca
: Even after cutting the footbed of these sandals, I think these sandals look like spaceships. The colors can also be a little obnoxious to wear anywhere except running. I don't have many outfits that would go with neon pink huaraches.
Bedrock
: These sandals are probably second behind Unshoes in the "normal-looking sandal" department. I have worn these casually as well.
Price
Invisible Shoes:
The DIY Kit starts at $19.95. A custom huarache will cost you $49.95.
Luna Sandals:
These are the most expensive of all huarache brands. A basic, naked top Original Luna with Latigo leather laces starts at $49.95. All additional features, such as footbeds and extra/substitute laces will cost you extra. The most common configuration (the Original Luna with suede footbed and Equus laces) will run you $79.95. For all the bells and whistles, you can purchase the Equus sandal for $124.95.
Unshoes
: These sandals start at $39.00 for the 4mm version. The thicker the sole, the more expensive the sandal.
Branca
: These sandals are currently the cheapest as currently advertised. They sport the half-off price of $30. Once that offer ends though, they threaten to go up to $60.
Bedrock
: These sandals are $35.
Biggest positive
Invisible Shoe:
Once this sandal is properly tied, it gives the best "barefoot feel". That is, the lacing is so thin as to seem like it's barely there. And the soling material is so thin and flexible that it gives the best groundfeel. In short, it is the closest thing to barefoot of any shoe, anywhere on the market.
Luna Sandals:
The strength of Luna sandals are their selection and customization. With so many choices, you can get the exact configuration of features that you want. That is...of course, if you're a shoe nerd like me and you actually know the difference.
Unshoes
: Huaraches can be difficult to tie, especially for beginners. This sandal is the easiest to adjust. It only has two adjustments: make strap tigher and make strap looser. Can't beat that for simplicity!
Branca
: These sandals are by far the most intuitive sandal to wear right out of the box. If you can lace up a shoe, you can lace up this sandal.
Bedrock
: These sandals are built especially for the trail, and it shows. They provide great traction and control, while not sacrificing that barefoot feeling.
Biggest negative
Invisible Shoes
: The aspects that make this sandal great also provide it's biggest negative. The extreme flexibility of these sandals make them difficult to tie, and sometimes difficult to run in.
Luna Sandals:
The price of these sandals, compared to what you actually receive, is a bit ridiculous. I purchased my Luna Sandals for $85 after shipping. If you think about the fact that huaraches are essentially a piece of rubber with a string on, then paying that much for it is ridiculous. The quality of these products are not superior enough to justify the price in my opinion.
Unshoes
: This sandal is the furthest that you can get from a barefoot feel in a huarache. It is the heaviest, and has the least groundfeel. It also has the thickest lacing system, which makes your foot feel more contained.
Branca
: These are by far the loudest sandals on the market. You will sound like a sonic boom coming down the street. Not everyone likes drawing that much attention to themselves.
Bedrock
: These sandals are a bit of a one-trick pony. They are amazing on the trail, and just mediocre on the roads. They will work fine for an all-around sandal, but I wouldn't accuse them of being balanced.
What do I use each sandal for?
Invisible Shoes
: These are my go-to sandals for road running because they provide the best barefoot feel. They are also my "rescue shoes", i.e. the shoes that I pack on barefoot runs in case of emergency. Since they are so flexible, I can roll them up and put them in a waistpack in case I cut my foot or develop blisters.
Luna Sandals
: I generally use these as a "take along" sandal during my barefoot runs where I feel I might need a little bit of foot protection. Because they are so easy to slip on and off, they are perfect for instances where you want to run certain portions of your route barefoot, and other parts with foot protection.
Unshoes
: These are my go-to casual sandals. They look so much like a normal sandal that nobody has yet been able to tell the difference. I also wear them on really aggressive trails where I feel like I need more ankle protection.
Branca
: I actually use these sandals for road racing. I can adjust them much quicker than any other sandal, so if something goes wrong I can make a quick adjustment and be back on the road in a hurry.
Bedrock
: These are my go-to trail sandals. They are absolutely fantastic for this application.