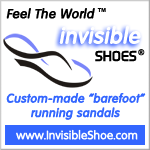 My first experience with huaraches wasn't pretty. Back when I first wanted a pair of these babies in 2009, the only way to get your hands on a pair were to make them yourself. Now on paper, they seemed like a simple enough project. Trace foot, cut out sandal sole, insert lace, repeat. So after doing my homework, and seeing what kinds of materials one could use to make a kind of DIY sandal, I went to my local hardware store to purchase supplies. I came back from the store with four feet of
baler belt
and a bundle of nylon cord.
I waited for a weekend where my wife would be out with friends. Having just recently purchased my first pair of Vibram Fivefingers, she already thought I had gone off the deep end. If she knew I was trying to make my own sandals, she would have sent me off to hippie camp. After she left, I unearthed the materials from their secret garage spot and got to work.
Although student records are confidential, I feel it's appropriate to mention that I've failed two classes in my academic career: art and shop. My mother was known to very gradually rotate my art projects from the living room to the back closet in hopes that I wouldn't notice. I did notice, but I wanted those monstrosities out of the house just as much as she did. And the mirrored shelf that I made for my final project in shop cannot stand up under its own power.
Alas, my first pair of huaraches never made it into my shoe rotation. They came out looking like two rotten bananas on a string. The baler belt felt slicker than snot on a doorknob. They...just...sucked.
Introduction to Invisible Shoe Huaraches
Then in 2010 the
Invisible Shoe
company began marketing its brand of custom huaraches to barefoot and minimalist runners. Their product wasn't vastly different than any DIY huarache I had seen, i.e. it was a piece of soling material and a shoe-lace to hold it to your foot. However, the company was the first (at least that I'm aware of) to market a custom-made huarache to the minimalist community.
Invisible Shoe actually sells two different huarache options: custom-made, and an a DIY kit. With both options, what you are essentially purchasing is a piece of 4mm Vibram Cherry soling material and two polypropylene laces to hold the soling material to your foot. With the custom option however, Invisible Shoe will make your huaraches to your exact foot shape and size.
A picture of the DIY huarache kit. This option retails between $19.95 and $24.95 depending on the size of your foot. After receiving your kit, simply follow the
instructions on the Invisible Shoe website
. Steven Sashen, the owner of Invisible Shoes, also has a great series of video instructions on how to make and tie huaraches on Youtube. All of these videos are also available on their
facebook fan page
.
Side note: I think Steven's explanations of how to make and tie huaraches are the best out there. They are incredible simple and easy to follow, and are actually the videos that I used after many failed attempts trying to tie my Luna Sandals.
For those not familiar with the custom-huarache ordering process, here's how it works. First, you recreate the classic kindergarten art project "the hand turkey", except with your foot. You then make a few more marks at locations requested by the company where the lace will pass through the soling material. Finally, you send the whole thing over to them by mail, fax, or email along with your preferred lace color. Here's my foot tracing as an example.
Put some colored cotton balls and some googly eyes on that thing and it's ready to fly!
After submitting your foot tracing to Invisible Shoe, you should receive your custom huaraches shortly. The huaraches will not be an exact replica of your foot tracing. The company will smooth out the lines from your pathetic art project, as well as add some material around the heel and sides to give the sandals a comfortable fit.
Blog Business First (how I came to do this review)
One item of business to clear up before I start the review. A few months ago when I did a review of the
Luna Equus Laces
, I made some strong comments about custom-made huaraches. I called custom-made huaraches "sad Thanksgiving foot turkeys" that, when coupled with neon laces, looked like "half the 1980's Jelly shoes at twice the price".
In those comments I mentioned Invisible Shoe huaraches, but only by association. One reader of this blog (who I assume is no longer a reader since I haven't gotten any long, nonsensical, and somewhat belligerent comments in a while) assumed that I was knocking the company directly, and gave me an ear-full.
In the words of Obama, "Let me be clear." My comments about custom-made huaraches were in no way intended to knock the Invisible Shoe company itself. As you'll see in my review, I very much respect the company and its product.
Rather, my comments dealt with the concept of custom-made huaraches in general, using Invisible Shoes as an example. Prior to receiving my pair of huaraches from Invisible Shoe, I was very skeptical about whether such huaraches could be a good product because of my own inadequacies, i.e. I can't draw. I assumed that this footwear would only be as strong as it's weakest link...me.
I don't think I'm off base in making those comments either. If the size and shape of your shoe depend on your art skills, and your art skills suck, I think it's logical that there's a really good chance your shoes are going to suck too. Apparently that was too much for the reader, who said I was "on drugs" for being unable to draw a straight line and/or cut out a piece of rubber. Well, I'm not on drugs; I am left-handed. Not that I need to rationalize my art skills. I just accept that I have five-year old handwriting and go from there.
I believe he also criticized me for wanting my shoes to be aesthetically pleasing. Folks...I'm a good looking guy. I like to keep it that way...head to toe. Do I really have to argue that a piece of rubber with a neon shoe-lace through it isn't "stylish"?
See! Nothing but style!
Anyway, the folks at Invisible Shoe are clearly better than a few immature comments thrown their way by a low-grade Internet celebrity (or hack...whichever is the better descriptor). They could have easily done what most of the minimal shoe industry does, and simply ignore me. But instead they contacted me to see if they could change my mind about their product by providing me with a test pair. Since I don't ever want my preconceived notions get in the way of providing useful information to my audience...not to mention getting free stuff...I happily obliged.
Initial Impressions
I received my custom huaraches about two days after submitting my foot tracing. Given that you just can't grab these shoes out of a warehouse and put them in a box, I must say I'm impressed with that turnaround. I also found everyone involved in the company to be very accessible by email. Now granted, I'm a very important person, so I expect people to say "how high" when I say "jump". But if Invisible Shoes treats you mere mortals with the same courtesy that they treated me, then they will fast build a reputation for exceptional customer service.
And product turnaround isn't the only area where I experienced superior customer service. While doing my test runs I noticed a potential issue with the shoes that I couldn't seem to get around. I eventually figured it out on my own. But just in case, I emailed Steven Sashen my question to see if he could help. He offered to work with me over the phone until we got the problem fixed. I've never experienced that from a shoe company before. I think the company understands that huaraches can cause a lot of frustration at first, and they truely want you to be satisfied with their product.
Anyway, my huaraches arrived pre-laced and tied in Maple Grove Barefoot Guy's official colors: orange and black (red is also one of my colors, just so you think I'm not trying to move in on Halloween's thing). As expected, they had smoothed out the lumps in my foot tracing, and added some extra material around the edges so that my foot wouldn't slip off.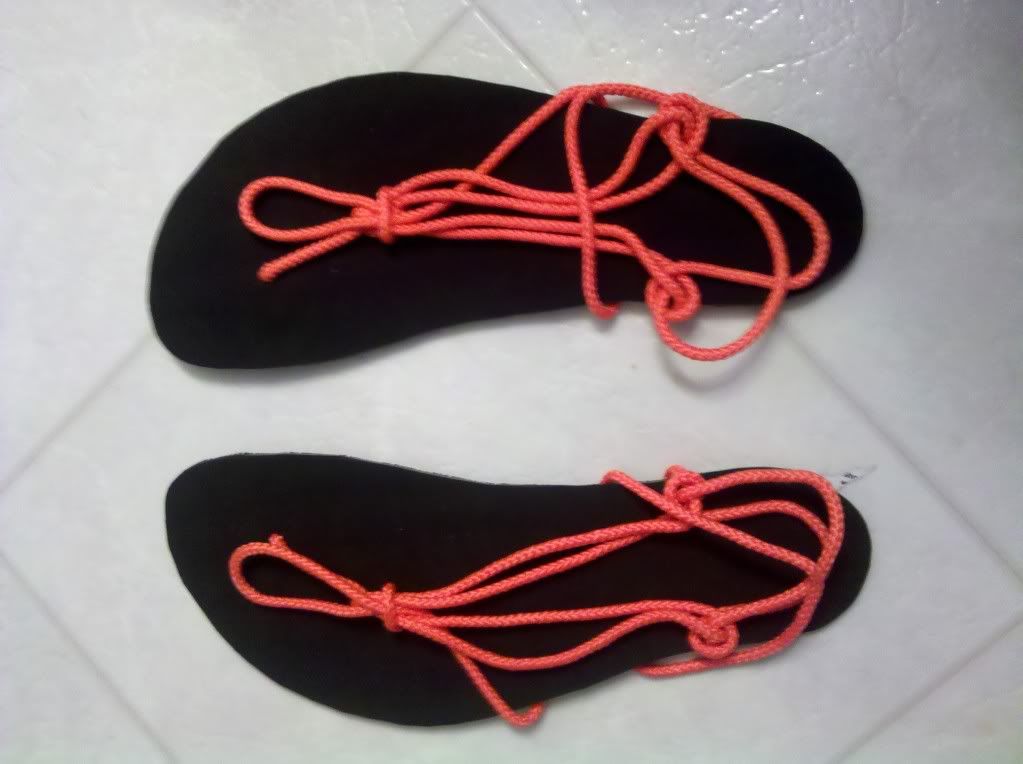 I felt the edges of the sandals and I was impressed. In my attempts to make homemade huaraches, I had an incredibly difficult time keeping the edges of the sandal smooth. These things certainly don't have factory-smoothed edges on them like a Luna Sandal would, but I had to look hard to find imperfections in the cut.
As you can see from the picture, the sandals are not identical in shape (although I submitted the same tracing for both feet). Again, I expected a bit of imperfection in the cut of the sandal because these things are hand-made. But as with the edges of the sandal, these imperfections aren't noticeable unless you're really looking for them.
In addition to being pre-tied, the sandals also come pre-knotted and threaded. For those unfamiliar with huaraches, in order to secure them to your foot you make a simple knot in the lace to prevent the lace from separating from the sandal. The lace is then threaded through the bottom of the sandal at a point between the toes, and two points near the ankle.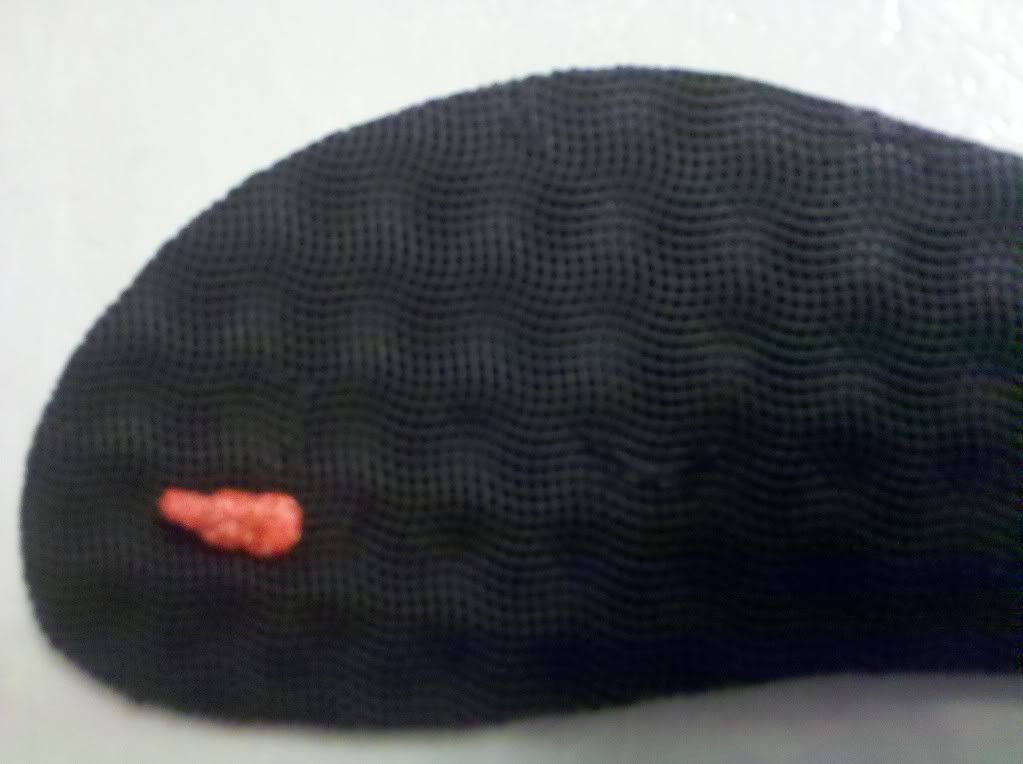 Here's a close-up of the knot and the tread pattern of the shoe. I found that the tread of these to be more substantial than that of the Luna Sandal. Also, because the polyprop lace is smaller than either the Luna lace options, the knot on the bottom of the shoe is also smaller.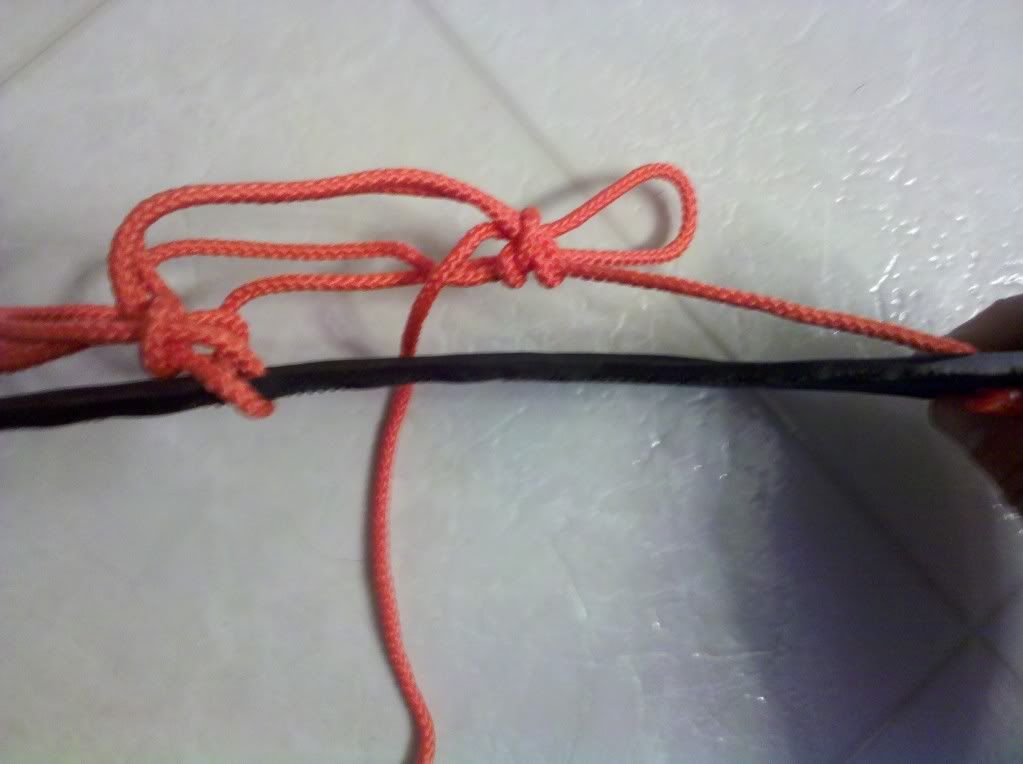 Here's a side-profile of the shoes. As I mentioned above, the sole of the sandal is made of a 4mm Vibram Cherry rubber. As far as I know, these are the thinnest minimal shoes available on the market.
Here's a picture of the infamous "ball test". This picture shows off the biggest asset of these shoes. They are by far the most flexible minimal shoes I own. They are so flexible that they acted almost like a wet noodle in my hand. I almost had trouble holding them because they were flexing every which way. That's a good thing in a minimal shoe from a ground feel perspective.
Comfort and Feel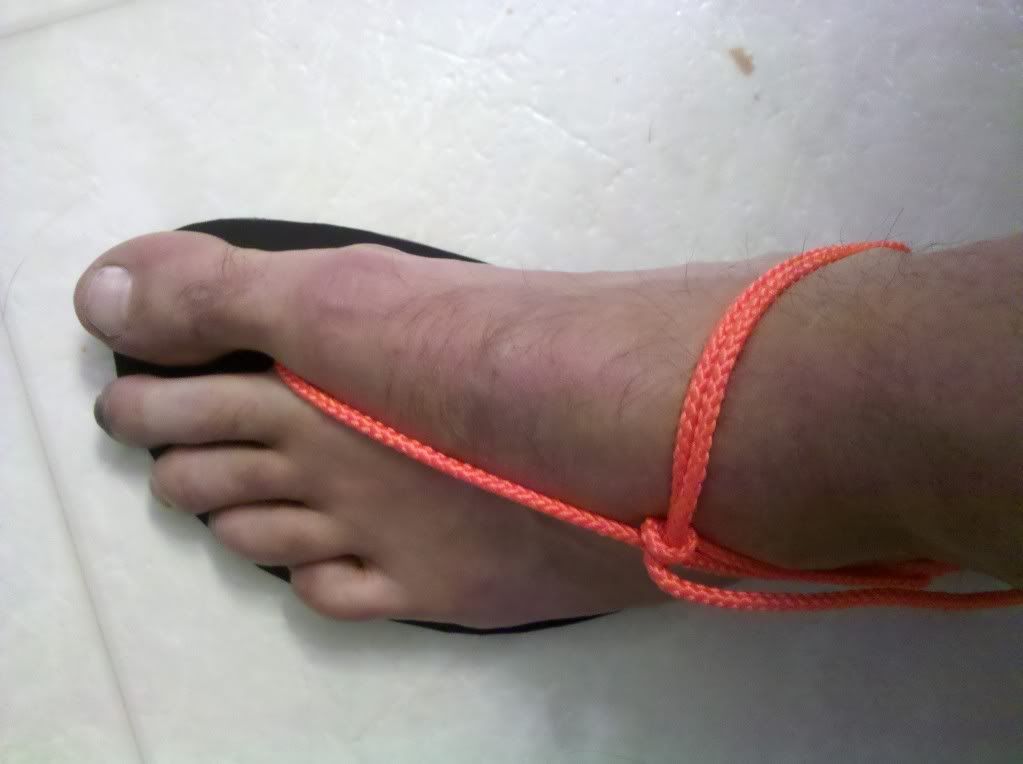 I laced these sandals up as instructed on the Invisible Shoe website and spent some time in them. The first thing I noticed was the softness of the footbed of the sandal. I am used to the suede footbed of the Luna sandal. Although initially the suede footbed is much more soft than the rubber of these huaraches, that feeling only lasted for a few months. Now I can't say that I could perceive much difference in softness. For those who are making their huarache choice based on a speciality footbed, I would recommend you save your money. Naked top seems to be the way to go (at least for running).
But footbed comfort aside, what I was really looking for in these tests were a couple of common problems I've had with huaraches. For one, I've experienced pain with my huaraches when the lace digs into your foot and causes irritation between your toes. In my opinion this has to do with the lace width. Regardless of how I tie a huarache lace, I generally don't get toe irritation unless the lace is rough or has excessive width. The polyprop lace that Invisible Shoe uses is the smallest used by any commercially available huarache. So as expected, I did not experience any top of foot or toe pain during testing.
Another problem with some huarache laces is that they put too much pressure on the top and sides of your feet, causing blisters and/or top of foot pain. I have experienced this issue especially where the foot makes contact with the knot on top that holds the huarache in place. Again, because the laces are much smaller than others I have tried, I did not feel much, if any, pressure on the sides and top of my feet.
One issue that I always have with huaraches is tying them to the appropriate tightness. No matter how hard I try, I never seem to be able to get them to a place where they are comfortable for more than a few steps. Normally I try to fix the problem by tying my laces tighter, because for me I'd prefer them not to flop around as I walk.
Doing that with my Invisible Shoes though created new fit problems. It seemed that the tighter I tied them, the more the sole of the sandal would conform to my foot, causing the soling material to touch my arch and other spots on my foot...which annoyed me. This is something that never happens with my Luna Sandals, most likely because the soling material is thicker (6mm instead of 4mm) and stiffer. I eventually found the sweet spot between too tight and too loose, but it took several tries. I've also gotten used to the feeling of the sole material touching my arch, and I don't mind it now.
It took me all of a day to figure out how to tie my huaraches correctly. But for those unfamiliar with huaraches, you might find tying these sandals a bit on the challenging side and give up in frustration. I think that newcomers to huaraches might find that a thicker, stiffer soled of the Original Luna makes it easier to find that perfect fit. Especially now that Lunas have an elasticized Equus lace option, I think that brand has an edge in the tying department.
Running
One big reason why it might be worth finding that "sweet spot" would be the ground feel of these shoes. Outside of barefoot running, I have never experienced footwear that gave me as close an approximation to barefoot running as did these sandals. It blows all other footwear that I own away by a mile.
On the other hand, I think that the flexibility of these shoes is also somewhat of a negative. These shoes are so flexible that they react to almost every movement that your foot makes. They almost conform like a glove to the bottom of your feet...almost. While a glove-like feel might seem like a good thing for a minimalist shoe, it works best in my opinion when the sole is better anchored to your foot as it would be in a closed-toe shoe. When dealing with a sandal, there are less points of contact holding the sandal on your foot. Therefore I think that this extreme flexibility causes some random, unwanted motion on the bottom your foot.
While moving, these sandals would react to the movement of my foot while it was in the air, causing it to touch the arch of my foot or some other part when I wasn't expecting it. This threw my form off occasionally and made me a bit awkward. I have a feeling that this is why brands like the Luna Sandal go for a soling material that is on the stiffer side. A little bit of stiffness in a running sandal makes the whole thing a little more stable to run on.
Again, this wasn't too much of a problem for me after a while. I have experience making adjustments in order to run with correct form in minimalist footwear. But huaraches, especially these ones, require that you maintain very good form. Therefore again, beginners may have trouble with these sandals, and might find a stiffer sandal to be more forgiving.
Versitility
Many of my other minimal shoes can double as casual wear because they look like something that has a function outside a running shoe. I think that the simplicity of the Invisible Shoe is also it's downfall in this department. I don't think my wife would let me out of the house wearing these...not that I would want to. On the other hand, my Lunas look enough like normal sandals that I wear them casually.
I also know that there are some people who wear these sandals casually, and will completely disagree with me on this point. I'm just telling you that these things aren't my style for casual wear.
Price
At first blush, you might think that $49.95 is a lot to pay for a piece of rubber and some string. You will think that way until you start looking for these materials on your own. What you will find is that Vibram soling material isn't available in sheets small enough to make only one pair of sandals. Factor in the cost of labor, and the fact that a portion of your sale goes to the Tarahumara, these sandals are actually very well-priced. They are also comparable to other huaraches on the market. The naked-top orignal Luna Sandal goes for the same price.
Conclusion
I'm a bit conflicted about this shoe. Not much...just a bit. I love the flexibility and thinness of the sole because it imparts phenomenal ground feel. On the other hand, those same things that I love are also what cause me problems. The flexibility of these sandals causes some strange fit problems and form issues that I've had to get over or get used to. I was able to do that, but I'm not confident that everybody (especially beginners) will be able to get over these issues and enjoy the sandals like I do.
Besides that, I have no real complaints. After running in elasticized laces for several months now, I thought going back to normal laces would be a step backward. But these sandals are exceedingly comfortable aside from issues with flexibility. The only way I could think to make them better would be to offer an elasticized lace option.
Overall, I would give these huaraches a 8 out of 10. For reference, I gave the Original Lunas a 7 out of 10. Whereas these shoes are a superior in comfort and ground feel, the Lunas hold the advantage for me in terms of ease of use. Which huaraches are best for you will depend mostly on what is important to you.
These sandals don't get a full 10 from me because of the fit issues that I mention above. Nonetheless, these are definitely my favorite huaraches so far. And they will be getting higher ratings from me in the future. I have been informed by the folks at Invisible Shoe that they have solutions in the works to address all of the issues I've mentioned above. Citizens, you can look forward to an even Invisible Shoe in the near future. These folks know their product well, and are very receptive to feedback.
It's a great company and a great product. Check them out!