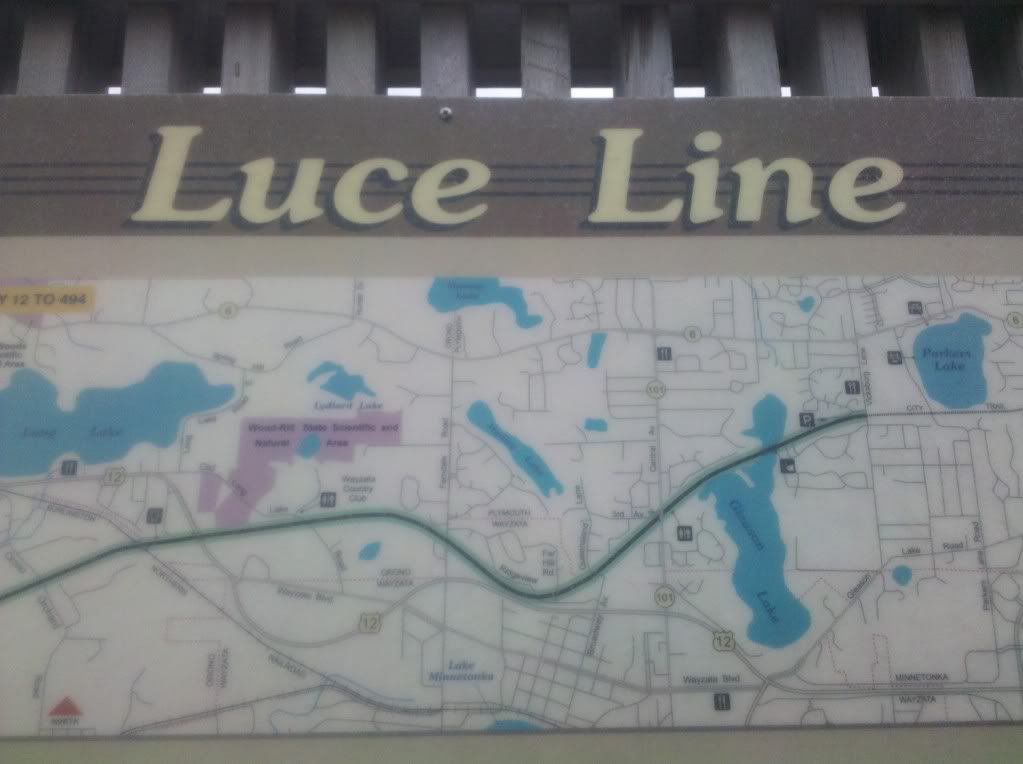 If there's one thing that the State of Minnesota has always done really well, it has been provide opportunities for outdoor activities. I think they figure that this state sucks to live in for around 9 months out of the year, so we might as well make the most of it. One result of that thinking is one of the best system of trails in the United States.
I grew up next to one of the better trails in the state: the Luce Line Trail. It's a 63-mile limestone trail that goes from Plymouth, MN (where I grew up) to Cosmos, MN along the site of an old railroad track. Since it was formerly a railroad track, the limestone portion of the trail is flatter than Kansas. But the real fun part of the trail is right next to it; a a single-track horse path.
This trail has a special place in my memories. I've been coming out here my entire life. My mom and I used to ride our bikes down the trail for hours when I was in elementary school. We spent a whole day once and went as far as the 10-mile mark (which was a long way for a kid on a Schwinn mountain bike). We talked about going the entire length of the limestone portion of the trail to Watertown (24 miles...at which point the trail becomes all single-track) and camping for the night.
In junior high I started running for recreation, and since it was so close to my house (about a mile away), nearly all of my runs went down at least a portion of this trail. Every time I see the one-mile trail marker, I remember the agony of my first full mile run. Every time I see the five mile marker, I remember how surprised I was that running that far didn't even hurt a few months later.
In high school, my cross-country team trained on this trail regularly since the school was right next to it as well. My best friends Nate and Jake were joining the Marines after high school, and I remember doing "training runs" on the single-track and through the nearby woods. I suppose they sort of resembled orienteering training, although I doubted that my friends would be deployed anywhere but the desert. Mostly our runs just involved getting lost in the woods and talking about the new Metallica album.
The trail was a nice setting for my first trail run of the spring. I had planned a 12 mile run on the single-track with my favorite running buddy: my dog Brett.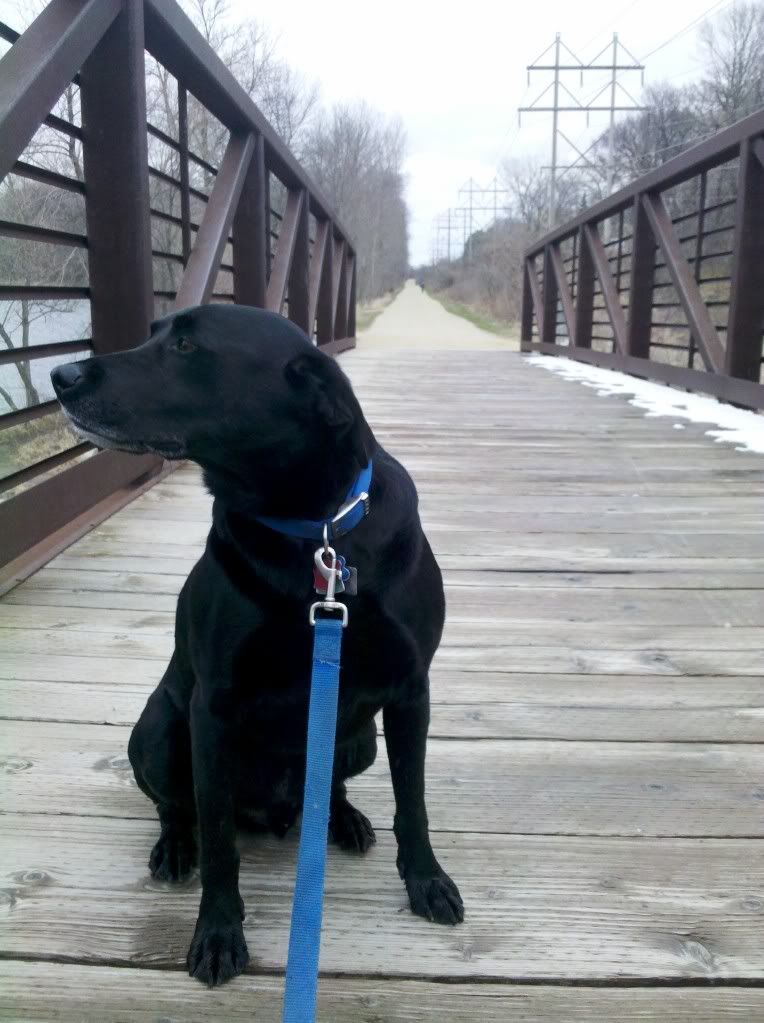 I have two dogs actually. Both are black lab slash mutts. Brett is my oldest, and Darby is my youngest. We got him from a shelter in Central Minnesota about four years ago. We think Brett is about 8 years old, but you never know with shelter dogs. I usually run with both of my dogs, but Darby has never really been fond of running with me. He always looks up at me like he's wondering what the hell we're doing. Brett on the other hand could run all day. He is at his happiest out on a trail like this. I actually had trouble keeping up with him during most of this run.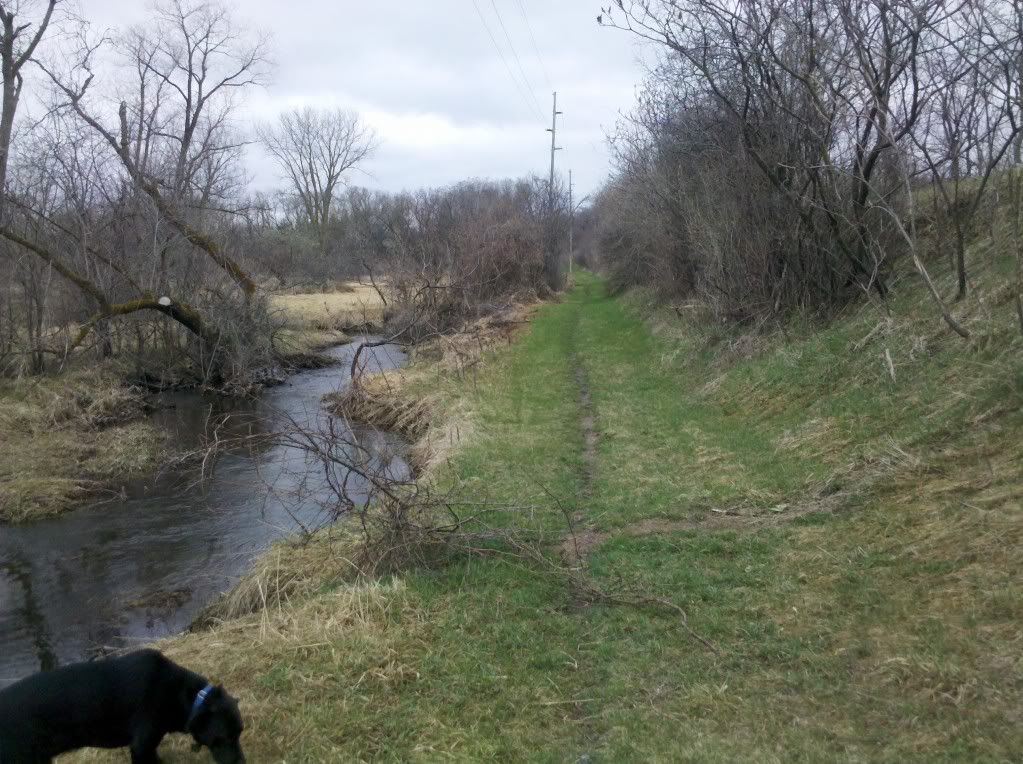 I love this trail because even though the limestone path is right above us on the right, pictures like this show just how isolated you can feel on the single-track. I've never seen another runner on the single-track in 25 years of coming down here. Mostly horses, but even those are rare. I like being able to let my dog off the leash and let him explore.
I also love the variation of the scenery. One minute you'll be running along side of a creek like the one in the above picture. Then the next minute you'll be on a golf course, or in the middle of the forest. About a mile after a typical spring scene like this creek, I felt like it was the end of fall.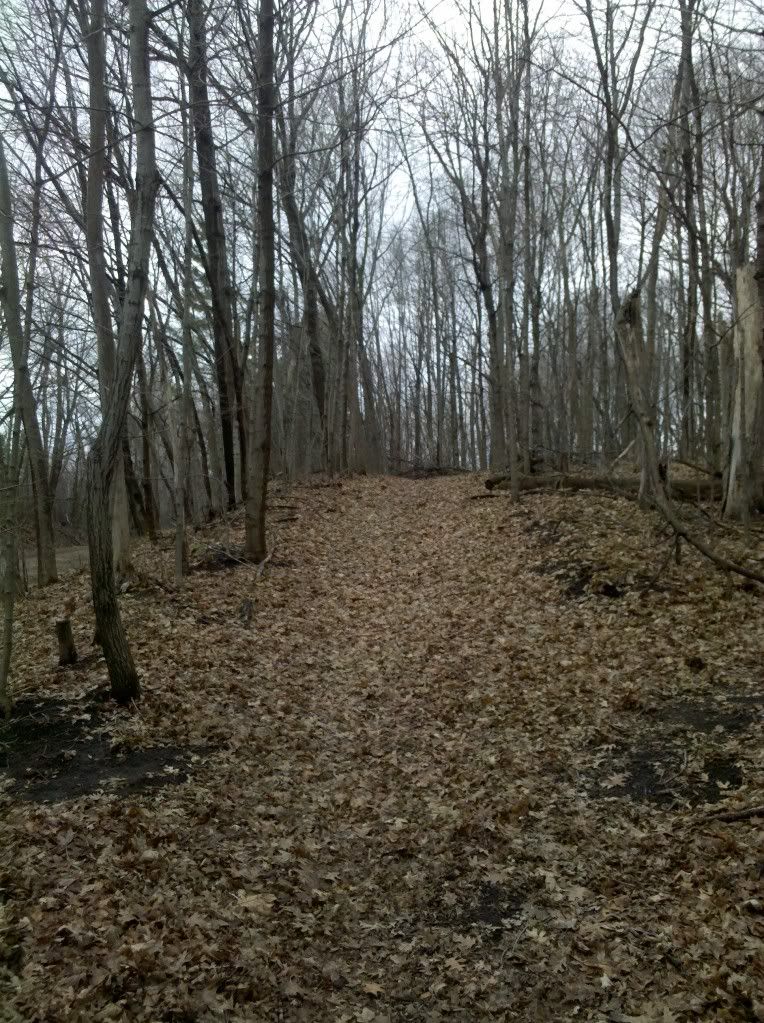 I hope to be coming back here often as I prepare for the Superior Sawtooth 50 Miler in September. The rolling single-track trail is perfect training for an ultramarathon. The track isn't flat for more than a couple of tenths of a mile. The hills are crazy steep. The above picture shows one of the more relaxed inclines. I didn't even try to run up them. Walking quickly up them was good practice for the ultra anyway.
Despite the ups and downs, flying down the single-track was surprisingly easy. I barely noticed the miles as I zipped along. We've been having a lot of flooding in my area recently, so a lot of the single-track was muddy or flooded. I didn't think I'd be able to handle the trail in sandals or barefoot, so I wore my
Merrell Trail Gloves
. The cleat is good on these shoes, but I could have used something a bit more aggressive. I'll probably wear my
New Balance Minimus Trails
next time unless the ground dries out a bit.
Here's a picture of them while they were still pretty clean. By the end of the run my whole leg was caked in mud. It was awesome!
I don't really have a point or message to this post. I just thought it was cool to reflect on how a place from your past can mean different things to you at different times. This trail was the place where my mom and I strengthened our relationship. It's where I first learned how to enjoy running. It's where I thought about my next big move.
I guess you don't always realize it while you're out grinding away on a training run, but while you're running you're also making memories. Who knew that when I passed the 5 mile marker on this trail that I would remember precisely how I felt at that same place on some random training run from 15 odd years ago. You weave your life together through your training, and you remember it the same way that you do sights and sounds and smells from trips and places you've been.
That's kind of awesome. I like that. I hope you all can find places like this in your training that you can come back to again and again. Cheers folks!