I've said it before and I'll say it again. I never knew you could do so much with a piece of rubber and some string. That's essentially all a huarache really is. But the fact that I'm onto doing my fifth running sandal review proves that the possibilities for innovation on these things is limitless.
My experience with Bedrock Sandals is somewhat unique in that I've watched Dan Opalacz and Nick Pence develop these sandals from the ground up. They contacted me back in April to tell me about a new sandal they were developing using climbing webbing; a design very similar to that used by
Unshoes
. The two actually have a blog called
Bedrock Running
, where they chronicled their adventures in sandal-making. The blog features great articles showing the evolution of the product, and their successes and failures along the way.
They've gone through several different models since they first contacted me. Also since that time they set up a
Kickstarter page
to launch their new business, which they call Bedrock Sandals. For those unfamiliar with Kickstarter, it is a vehicle to help folks start a business or project by asking for start-up costs from small, individual donors on the internet. Bedrock received an overwhelming response to their product, and received their required funding level within a week. So on July 6, 2011, they'll start selling these bad boys to the general public.
I think the response is well-deserved. They have a great product.
Initial Impressions
I received two pairs of sandals from Bedrock a few weeks ago.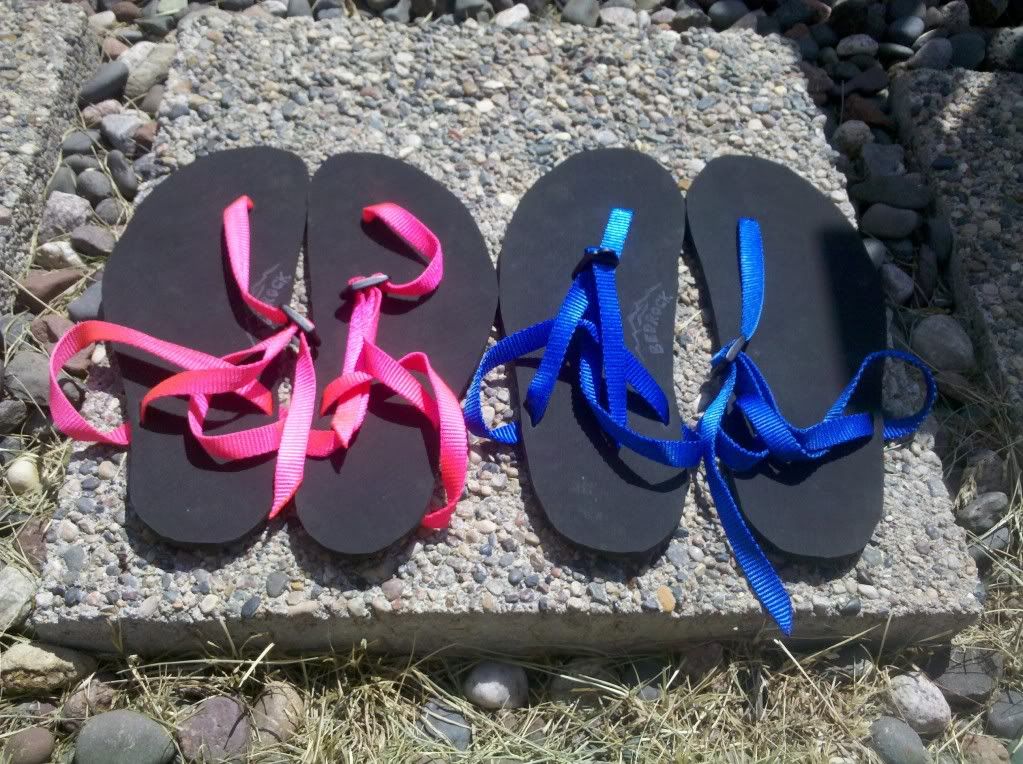 No, these aren't his and her's huaraches. The one on the left is a custom-made pair from a my kindergarten art-project foot-tracing I sent them, and the one on the right is a standard-sized pair cut based on the size of my foot in centimeters. Customers can choose which kind they receive.
The exact differences in the custom size and the standard size will depend on your own foot. But generally the custom sandal will be a tighter fit around your foot. Likely there will also be a difference in the placemen of the holes where the sandal lace is threaded. As you can see in the above picture, my ankle holes are a bit higher on the custom huarache than on the standard. I didn't find the fit to be much different between the custom and the standard sandal, but experiences may vary depending on the shape of your foot.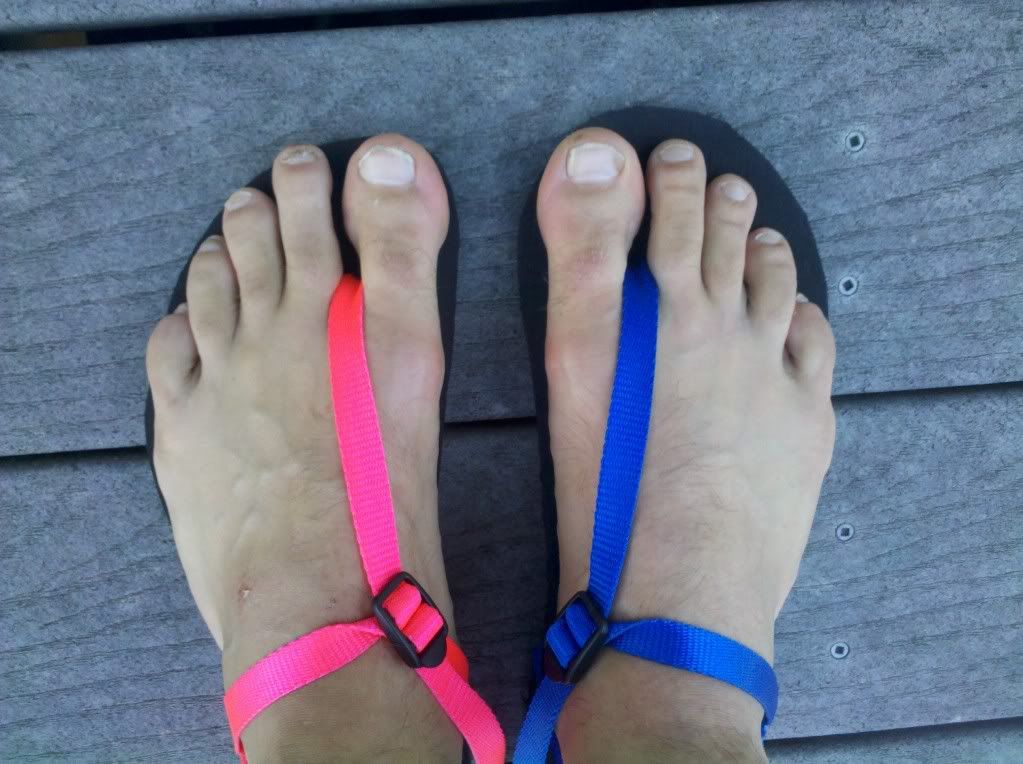 The sandal lace is a single piece of 1/2" webbing that secures on top of your foot with a buckle. The buckle actually adjusts the tightness across the top of your foot and around your ankle seperately, depending on which way you turn it.
Note that the way I have these sandals fastened actually isn't the preferred method. The buckle on mine is a little too far over towards my inside ankle. I prefer them there, but Bedrock actually recommends that you keep the buckle towards the middle of your foot similar to the picture seen above.
I was going to video how to make adjustments on the sandal, but Bedrock already did it for me. I would have had a few more explosions and monster trucks in my video. Not to mention a couple girls in bikinis. But that's just me being critical. I think they did a good job otherwise.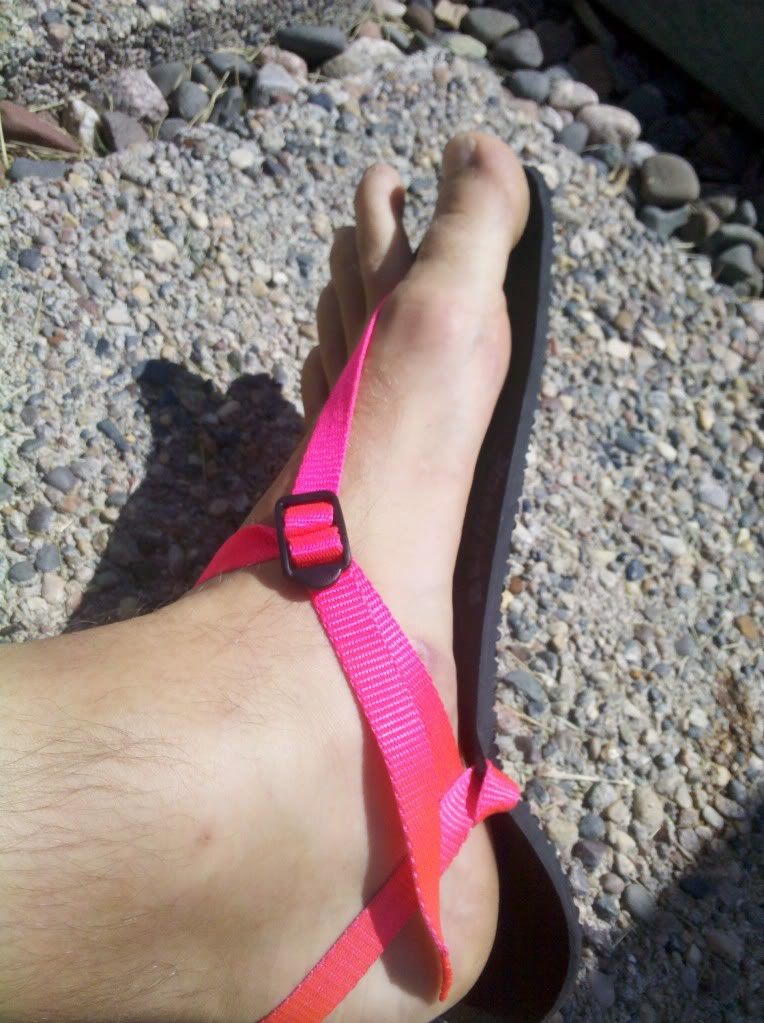 The webbing is threaded through the sandal just like a traditional huarache lace would be. You can further adjust the heel strap of the sandal by pulling more webbing through the ankle holes.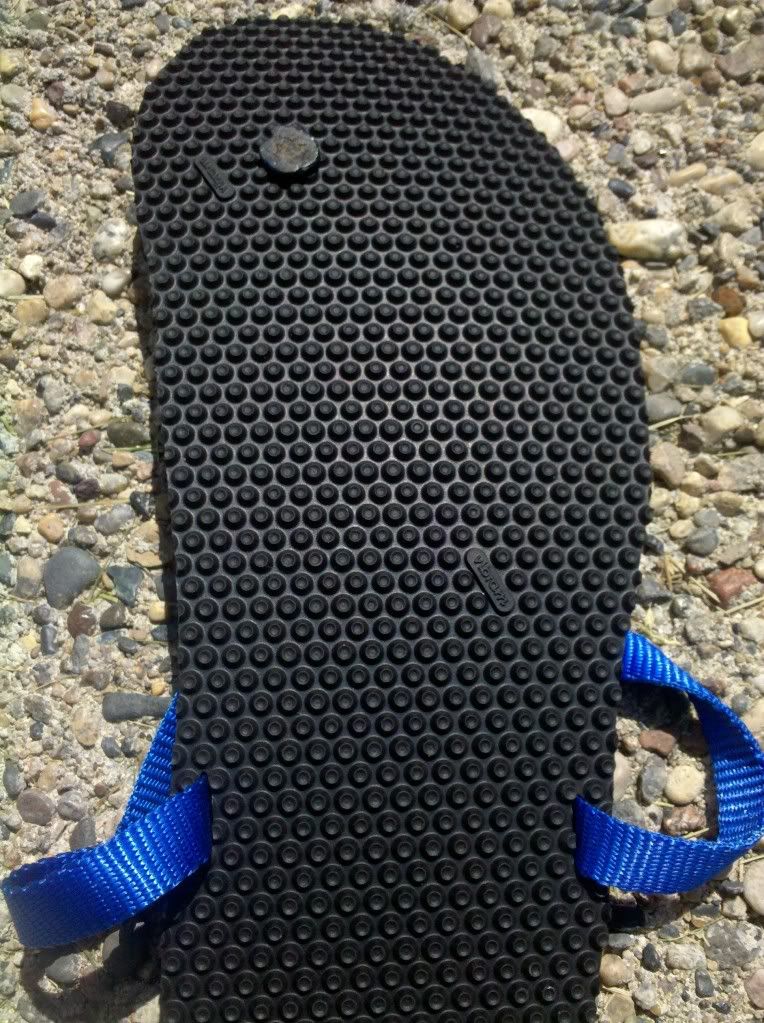 The sole of the sandal is made of 6mm Vibram Nubby Gumlite. What does that mean in non-huarache nerd speak? Gumlite is a foam-rubber blend, meaning that the soling material is a bit squishy to the touch, and incredibly light. My custom sandals came in at a slim 2.5 oz. Nubby means that the bottom of the sole is studded for a bit of extra grip.
Bedrock chose this type of material in order to give folks a bit more protection and grip on the trail without sacrificing weight, groundfeel, and flexibility.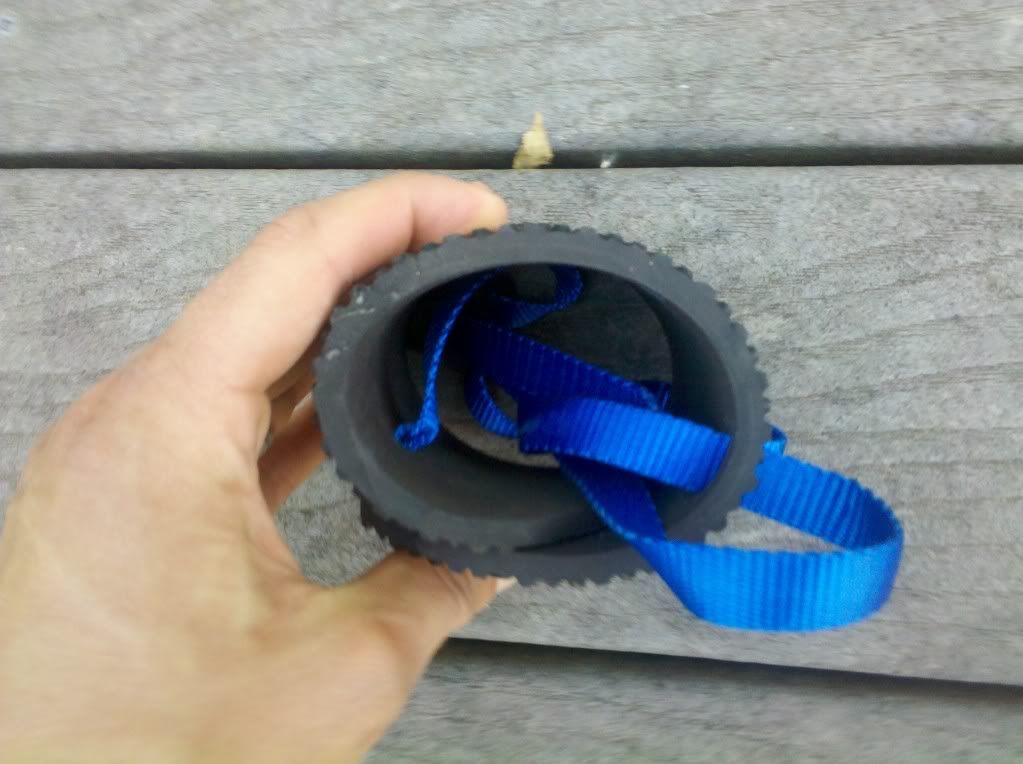 Flexibility was not an issue with these sandals. They easily rolled up into a ball just as easily as thinner huaraches like the Invisible Shoe. I would have rolled them up more, but I was getting bit by mosquitos and needed to high-tail it into the house.
Comfort and Feel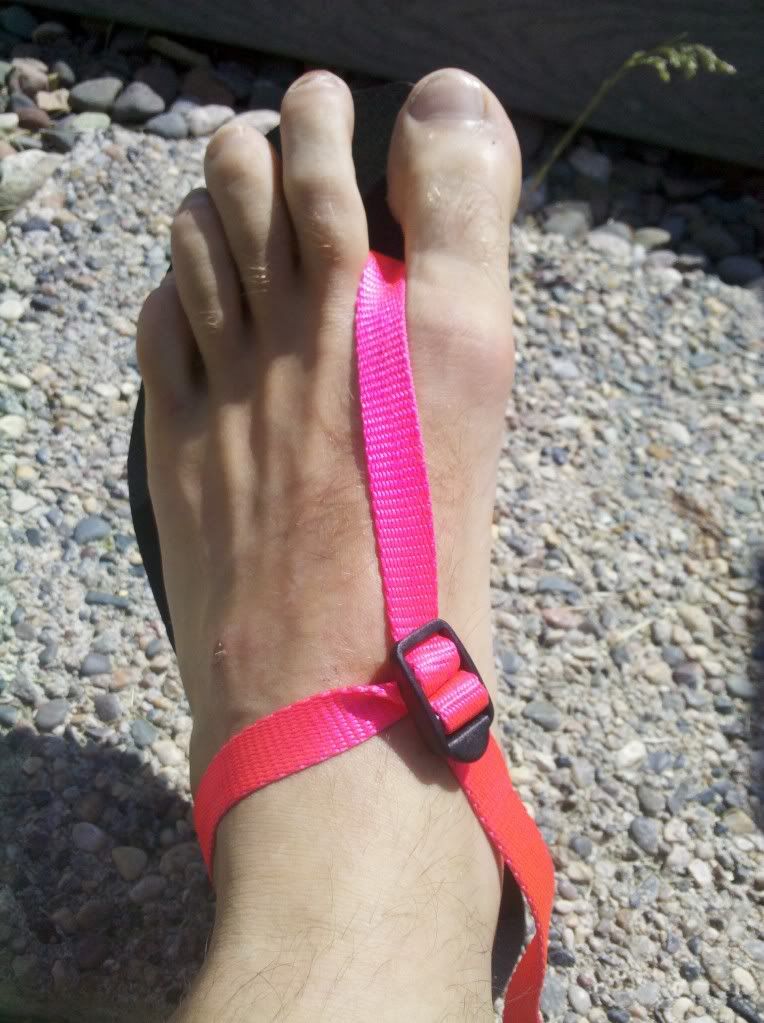 Kicking back in my new Bedrocks.
Even though Bedrock sent me that video with instructions on how to adjust the strap, I'm like a typical dude with directions. I didn't watch it. Then I fidgeted with the buckle to no end like a Rubix cube. The buckle is really easy once you figure out that it's multi-directional, but it's not intuitive to an idiot like me. You know better now. Please don't be a dumbass like me.
Even after learning how to operate the buckle it took me a bit to make the sandals fit correctly. But that's been my experience with almost every huarache I've ever tried. These sandals were a bit more complicated than other sandals that use buckles though because there are a lot more adjustments to make for a proper fit. You can tighten the sandal around the ankle, move the buckle across your foot, and lengthen the heel strap. On a product like the Unshoes Wokova, there are two adjustments: make sandal looser, or make sandal tighter.
That makes the buckle on these sandals a bit of a two-edged sword. Initially, you're going to do a lot of monkeying around trying to get things perfect. That can be annoying especially for huarache novices, who might not know how to make their sandals fit just right. However, doing so is nowhere near as difficult as it is with traditional huaraches. Making minute adjustments is pretty simple. And once you find the proper fit, all you have to do to step in and out of the sandals is loosen the ankle strap. Then when you want to use the sandals again, step on in and tighten the same strap down. You can also slip the sandal on and off without undoing the strap.
In fact, small adjustments are so easy to make that I really believe that this is the first sandal that I've owned where I've been able to get that perfect fit. If you know how many times I've thrown off a huarache in disgust, you know that's saying something.
My first wear test involved standing and walking around. Disclaimer: while walking around in the sandals, I had my expectations set pretty low. I know from my experience with Invisible Shoes that I don't enjoy the feeling of walking around on very flexible soling material. Generally it is so bendy that I end up folding the material over on the heel and toe and stepping on it. Either that, or it flexes in weird ways at weird times. Not very comfy. That happened a few times, and for me it just goes with the territory. I prefer stiffer sandals if all I'm going to be doing is walking around. I won't be wearing these for casual wear. Then again, I didn't expect to.
On the bright side, I found the webbing exceedingly comfortable across my foot. With huaraches that use laces to secure the sole to your foot, the tighter you get them the more the lace digs into your foot. Huaraches that use webbing don't have this problem. You're able to secure the sandal to your foot very well without feeling like you're cutting off circulation. The webbing wasn't as smooth as the climbing webbing used on my Unshoes Wokova sandals, but it was a lot smaller. So, unlike the Wokova, it gave me that "barely there" feeling that I enjoy with huaraches.
Running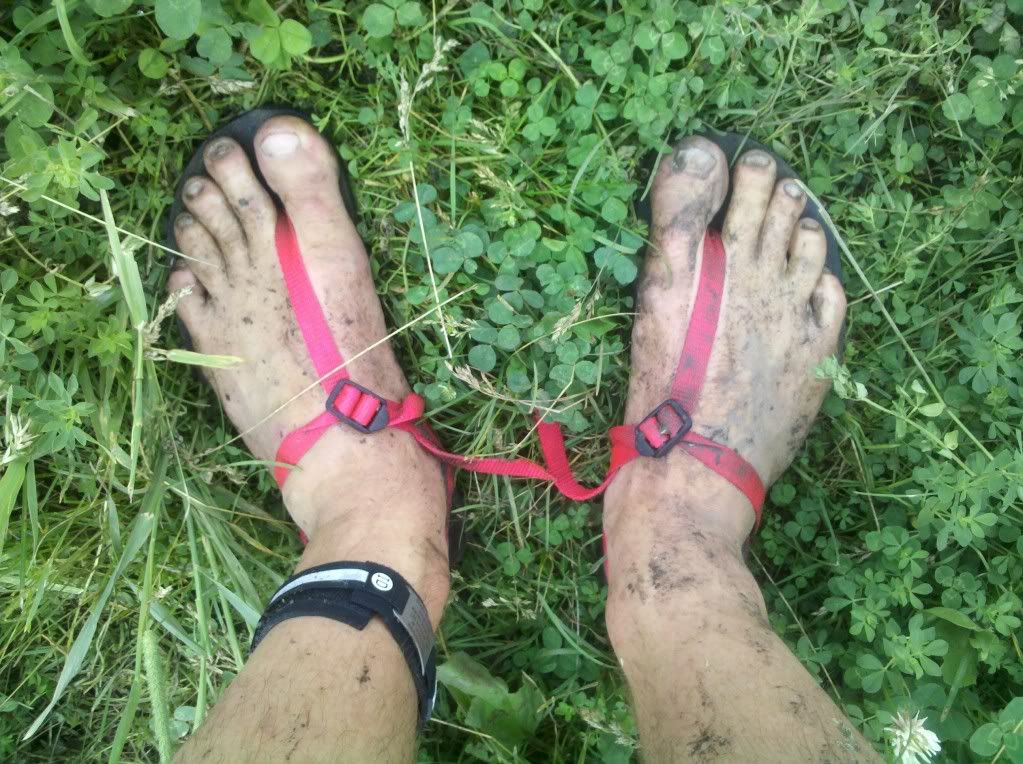 One of my friends commented that this picture makes me look like I'm in a gay chain gang. I like wearing pink. Just because I go minimal doesn't mean I can't look metrosexual! Though you can't see it, I was also sporting a faux hawk for this trail run.
It's pretty clear from the company logo as well as their marketing materials that this sandal has been designed for use on the trail. And when I first started testing these sandals, I could see why. Now although these sandals are thicker than something like the
Invisible Shoe
, it's still very flexible. As a result, the thickness doesn't diminish groundfeel terribly. But it does to it enough so that I found my road runs to be complete snoozers. Not to say that it was a bad experience. As you'll see in a minute, I love many of the features of these sandals. But if you do mostly road running, and like to feel the ground beneath your feet like I do, there are better options out there.
So it didn't take long before I was out on the trails. And I'll admit, I was a little worried about it. These sandals seemed to lack a lot of things that I though I needed fon the trail. Like ankle stability. My Unshoes perform well on the trail because they have thick webbing around your ankles and feet, so that the sandal doesn't shift around and cause you to roll your ankle. The webbing on these were tiny by comparison.
I was also worried that they would have too much flexibility and groundfeel. Again, I'm used to the heavy 6mm sole on the Wokova or the even thicker Merrell Trail Glove on the trails. Despite all of my barefoot miles, I can be a tenderfoot at times when it comes to gravel and rocks.
It took about three steps in these things to learn that these worries were non-issues. In fact, these sandals are incredible on the trail. The fit was so good that the sole of the sandal hardly moved beneath my feet. And I was able to run over even sharp rocks without discomfort. I would put the groundfeel on these right above the Invisible Shoe and the 4mm Unshoes, but below thicker sandals like the Original Luna and 6mm Unshoes.
I enjoyed that I could get the protection I needed in a trail sandal while still having that light and "barely there" feeling I get from less substantial sandals. Folks who are new to running trails in huaraches might want a little more protection. The sandals also probably wouldn't work for long, technical trail runs where more protection is necessary to prevent things like bruising. But they work like a dream for the everyday trail run.
Hmmm...superior on the trail, but not so great on the road. Sound like any shoe I know? How about the
Merrell Trail Glove
?
As for grip, I find that I don't usually need a whole lot of traction on the bottom of my huaraches. So I didn't think the tread on these sandals would make much of a difference. I can run trails just fine in most of my huaraches. I did notice a bit of a difference in traction, and tt was nice to have a bit more grip for loose and muddy surfaces. Although this increased grip came at a price. The nubby caused more mud and dirt to become lodged on the sole. This made the sole heavier and more slippery. But nothing that cleaning the tread won't fix quickly.
So what issues do I have with these sandals? Not many. And most have to do with the soling material. It's thicker than standard 4mm Vibram Cherry, so I didn't derive much pleasure from the sandal outside of trail running. The Gumlite material is also a bit more squishy than other soling materials, and a bit more slippery when wet. I actually had to take them off during one particularly muddy test run. This problem exists with virtually all huaraches though. I just found it a bit more noticable here.
In fact the folks at Bedrock have been asking me to be critical about the sandals, and it's really been hard. I don't have a lot of bad to say about them. That's the sign of a good product. These guys have a great future, and I wish them the best of luck.
Price
Since Bedrock is currently operating through Kickstarter, you can't just run down to the store and pick a pair up for yourself. They won't be available until July 6th. But right now you can pledge $35 to get a custom pair. That puts the price of this sandal below any other custom huarache on the market. At that price, they are a steal of a deal.
Conclusion
As I mentioned above, I would refer to these sandals as the Merrell Trail Glove of huaraches. They are absolutely incredible on the trail. They are super stable without sacrificing that light and free feeling folks come to love in huaraches. And on the road....they are so-so. Again, great stability and comfort. There just seems to be a bit too much between you and the ground. Of course, I absolutely hated the Trail Glove on the road. I can tolerate these. So if you can too, they'd be a great purchase as an all-terrain sandal.
I would give them a solid 10 out of 10 for trail running. On the road, I give them a 7. Still a great sandal though. So overall, they get an 8.5.
Giveaway!
Now is your chance to get the hookup with a free pair of these sandals for yourself! The rules are the same as all of my other giveaways. You get one entry for each of the following that you do:
1. Follow my blog (click on the "Follow" button on the right-hand side of the site)
2. "Like" the Maple Grove Barefoot Guy
fan page
on facebook.
3. Follow me on Twitter
@mgbarefootguy
4. "Like" the Bedrock Sandal
fan page
on facebook.
5. Follow Bedrock Sandals on Twitter
@danops
6. Share the link to this review on your facebook page.
7. Tweet/Retweet the link to this review to your Twitter followers.
You will get one entry for each thing that you do (if you've already done it, it counts as one entry). Then post a comment to the end of this review to let me know what you've done. A winner will be selected at random using Random.org on
June 28, 2011
. As always, bribery is accepted but whining is not. You get more with honey than vinegar people! I will announce the winner in a later post.
Thanks for playing citizens, and
good luck
!