So I've been doing this shoe reviewing racket for almost a year now. In that time I've probably reviewed, or am in the process of reviewing, well over 30 pairs of shoes. At this point, it takes a lot to blow me away. There are only a handful of ways to put together a shoe. Especially when it comes to minimalist footwear. Everyone in that market is rushing to put out a product in order to capitalize on this new cash cow. So they all slap a thin piece of rubber on a normal running shoe upper and call it a minimal shoe. Snore...
That being said, the folks at
STEM Footwear
have managed to blow me away. And they did so in a very unexpected way.
Best. Groundfeel. Ever....
This is one area where I thought I had experienced it all. With every other shoe that I'd tried, groundfeel was enhanced by using thinner and ever more flexible rubber soling material (usually some type of Vibram cherry). If you wanted more groundfeel, you got thinner soled shoes. For more protection, you got thicker ones. Some shoes had a little less flexibility despite their thickness because of their tread. But in reviewing these shoes for groundfeel my job up to this point has been comparing pretty much the same product with a different upper.
Introduction to STEM Footwear
Of course, that isn't the only thing to like about these shoes. They have a ton of features that a good minimal shoe should have. I actually like them so much that I've been bumming around in them for pretty much everything. This is coming from the guy that usually can't stand to put anything more than sandals on his feet during the hot summer months.
I received a complimentary pair of the Survival Origins model. That's a cool way of saying, "I got the brown pair." STEM offers three different models of men's shoes (Primal, Survival, and Natural) as well as two models of women's shoe (Primal and Survival). However, the only difference between the models are the colors. Primal is gray, Survival is brown, and Natural is green. I dig the earthy color palette of these shoes. They certainly look like a lot of casual shoes that I've owned over the years.
To me, STEM shoes are in direct competition with products like the VIVOBAREFOOT Aqua and Lucy. They are intended to be more casual shoes, but could be used for running. I think they one-up the Aqua in almost every category. They are lighter, cheaper, and have better groundfeel. Though the Aqua has the tried and true VIVOBAREFOOT puncture-proof outsole...which is the gold standard of the minimalist market.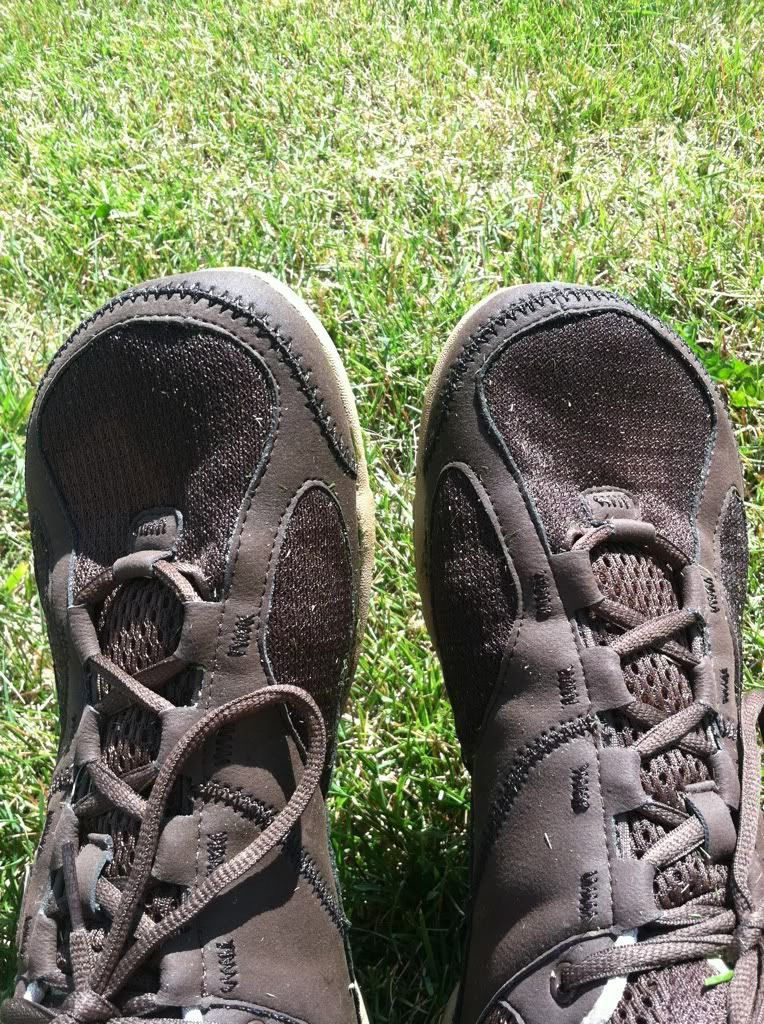 Here's a close-up of the upper of these shoes. The upper is a combination of a microsuede and an air mesh for breathability. The pair I received does not have the microsuede on it yet, but STEM informed me that it will be softer to the touch. The laces are standard athletic laces.
One thing to notice is that the toe box isn't all that big compared to other minimal shoes. There is plenty of room here for your toes to splay, but no "clown shoe" effect. I like that the toe box fits snuggly, but still allows my feet to function normally. This means no extra material, and also less of the flopping around that can come from a larger toe box. At the same time, these shoes might not work well for the oak-tree footed people among us. Although my feet are becoming more and more Tarzan-like every day, and they still fit just fine.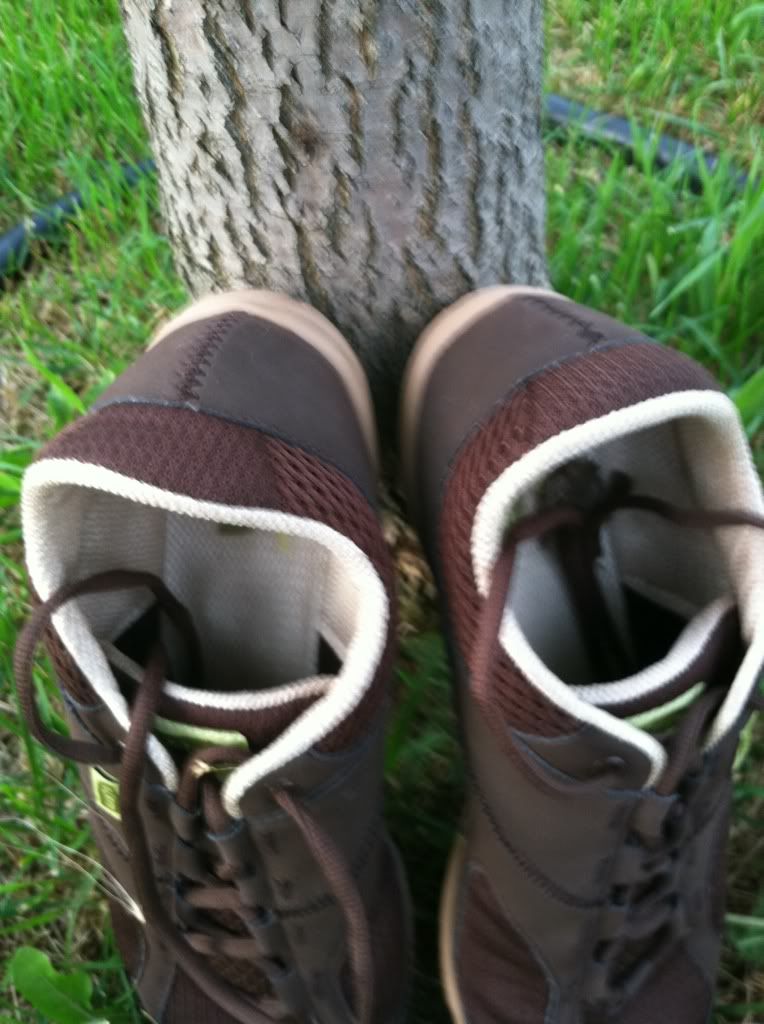 The heel of the shoes is about as substantial as the rest of the upper: not very. It gives way very easily and it, like the rest of the upper, contributes to the flexibility and light weight of the shoe. My size 11 pair tipped the scales at a whopping 6.0oz. The white lining seen in this picture is very soft polyester. The shoes are meant to be worn without socks in my opinion, and that's how I tested them.
The Origin features a 6mm air-injected rubber outsole. When I heard the thickness of the soling material was 6mm instead of the traditional 4mm, I thought I was going to hate them. But don't let the numbers fool you. As I learned with this shoe, thickness isn't the only aspect to good groundfeel. I'll get to that in a minute.
The sole isn't black as shown in this picture. I was so anxious to test them while running that I forgot to take my review pictures first.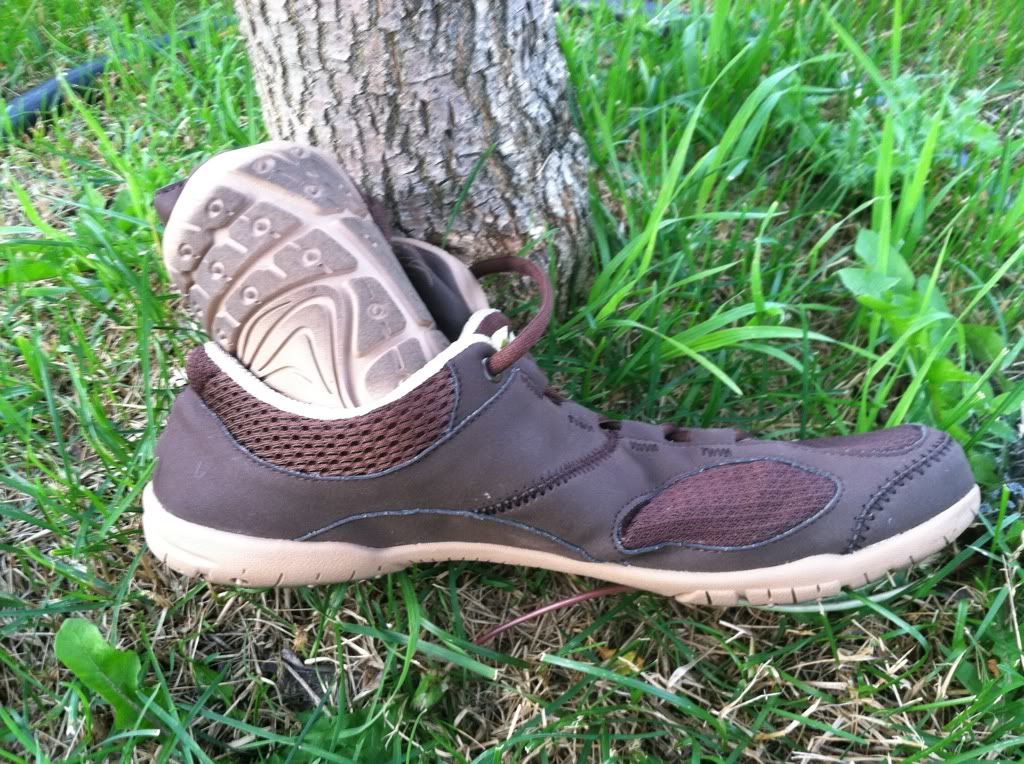 The old shoe in another shoe trick! Brilliiant! Now you can't wear either! These shoes are so flexible I could practically wringe them out like a wet towel. Not only is the soling material flexible, but so is the rest of the shoe. You could crumple these things up in a ball and put them in your pocket if you wanted to. Although, then you'd be the weird person with shoes in your pockets.
Comfort and Feel
Chilling in my yard while my neighbors wonder why I'm taking pictures of my feet. That boy ain't right!
The gem of these shoes is their air-injected rubber insole. Despite its thickness, it provides a groundfeel experience that is unlike anything I've ever worn. It really blows shoes that use a Vibram cherry sole out of the water; even the 2mm and 4mm options. Seriously, it made me want to start a slow clap. Or a letter writing campaign.
That's because the way you seem to experience groundfeel is different. It is much softer material than the very dense Vibram Cherry. So in addition to bending and flexing like the Cherry, it also collapses in on itself slightly. This seems to allow it to give in more places, allowing you to perceive more subtle variations in terrain. But at the same time, it's not spongy like an EVA rubber (like the kind I hated in the VIVOBAREFOOT Ultra). So it's squishy, but not bad squishy.
For a while I was a bit disappointed that they didn't go with a 4mm sole. I think that would make the groundfeel borderline epic. But I'm guessing that the decision to go thicker had something to do with safety. Unlike the soling material on brands like VIVOBAREFOOT, the sole of the Origin is not puncture-proof. Going thinner on the insole would probably also increase the likelihood of getting impaled by debris.
Another design decision I was initially unhappy with was the shoe's molded arch. Those familiar with my Merrell Trail Glove review know that I'm not a big fan of things touching my arch while I walk or run. When I first put these shoes on, this was a source of disappointment. However, as I've worn them I've gotten used to the arch. And I must say, now I like it. It allows the shoe to fit more snuggly. And the arch was never noticeable to me while walking or running.
Running?
Now one thing to note is that these shoes are not intended for running. These shoes are being marketed as casual lifestyle shoes similar to the New Balance Minimus Wellness. I reviewed them for running, because I assumed my readers would want to know that information. But STEM has cautioned that these shoes will last a lot longer if worn for their intended purpose. STEM also recommends against using these shoes on the trail, and I tend to agree. Since the soles aren't puncture proof, you could wind up with some broken shoes if you hit a sharp rock.
Here's my biggest source of disappointment in these shoes: I wish they were intended for running. They were pretty stinking awesome during my runs. Again, the best part about them during my test runs was the groundfeel. I found myself searching for different surfaces and textures to see how I would experience the ground through the shoes. I haven't done that since I was a noob in my Vibram Fivefingers. The groundfeel experience was just so different for me, I couldn't help myself. I really enjoy these shoes.
Snagging a pair
You can't get these puppies in stores folks! Yet. Right now all STEM models are available for pre-order on the
STEM website
. I've been informed that select retail stores will receive shipments of the shoe in August 2011, and pre-orders will go out in September. So if you want a pair, you'll have to wait. But the wait is well worth it. They retail for $89.99.
Conclusion
As I mentioned above, the only fault I have with these shoes is that they aren't necessarily designed for running. I think a shoe with these characteristics that could log a lot of miles would sell like hotcakes. But hey...nobody wants my opinion on these things before the shoes go out. They want my opinion afterwards. That's okay. I like swag.
Anyway...another weekend is almost upon us. Go forth ye swag ninjas and get yourselves some gear! A
hearty cheers
to all of you!