This is Part II of a series of posts entitled "Ask Me, I'll Answer". It's a chance for you to ask me whatever you want. I will answer any question, no matter how lame. If you missed Part I, click on the link for all the answer awesomeness.
I had a lot of fun answering your questions citizens. I'm glad you all are at least somewhat interested in getting to know the man behind the cape. I had such a great response that I have enough material for two posts. So here is the second installment of Q&A with saypay!
1. What kind of shoes do you wear to work?
I get this question a lot. So much so that I've been toying with the idea of a post focused on minimal dress shoe choices for men. The problem with a post like that is that what works for one person at work is completely inappropriate for another. So I haven't made it happen.
Anyway, for most of my time as a barefoot runner I actually wore normal dress shoes to work. The reason is this. A good portion of my career is about image. As much as I want to believe that juries try to listen to the facts of the case and apply the law, I'm not overly convinced that they don't just decide who wins a case based on which attorney has the better outfit. In case that's really how it goes down, I'm not going to take any chances.
Then in February dress shoes started causing me wicked pains in my ankle. At that point I made the switch over to minimal footwear. I currently have two pairs of minimal dress shoes: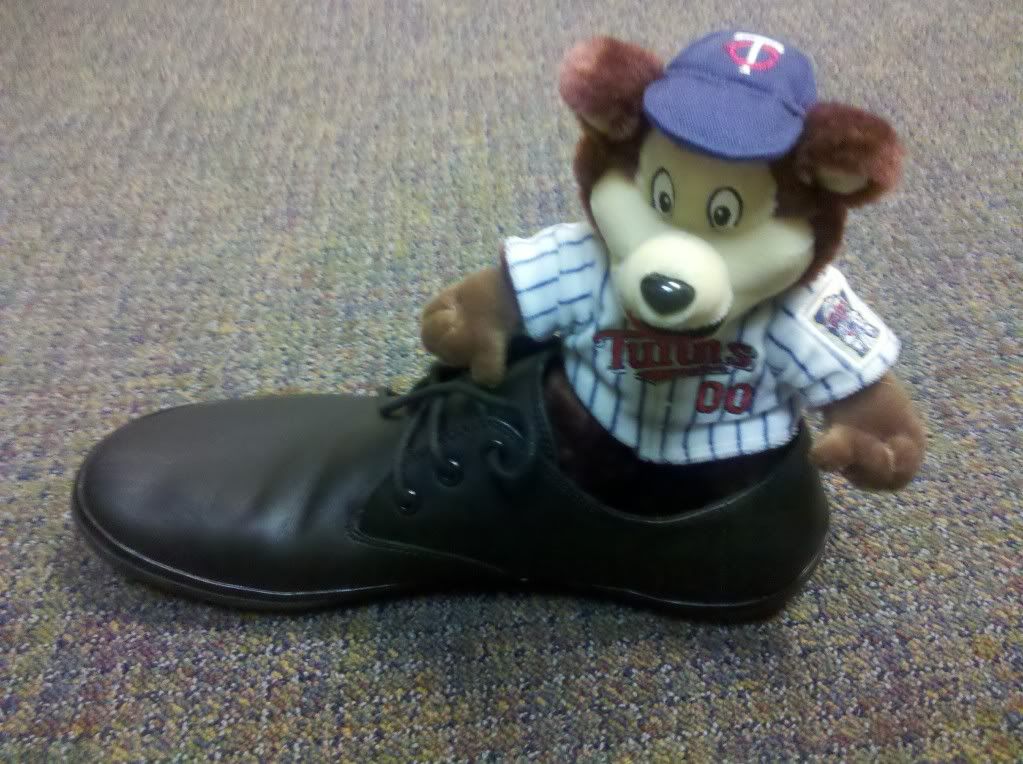 The
VIVOBAREFOOT Ra
(Go Twins!), and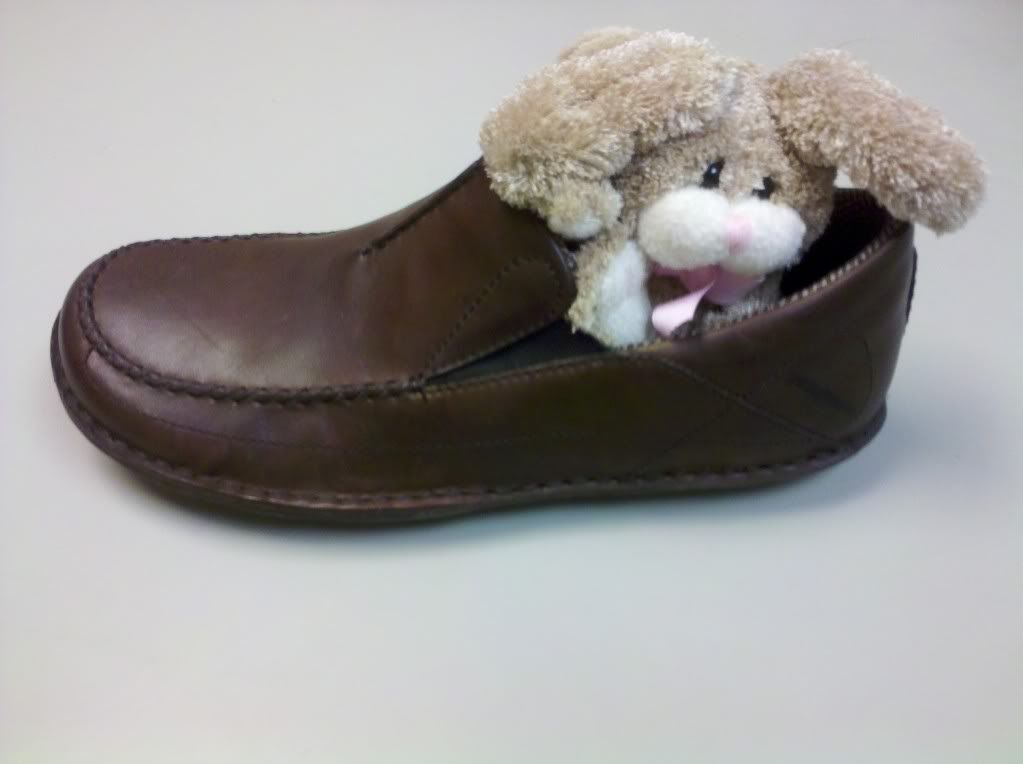 the
Patagonia Pau
.
Neither are a perfect solution. The Pau is pretty much a loafer, and a casual one at that. It's borderline appropriate for the courtroom in my opinion. The Ra is much more formal, but for a $160 shoe is made with pretty crappy materials. The leather is of such poor quality compared to other shoes I own in that price range that someone once asked me if they were my rain boots.
For my birthday, I may be treating myself to a pair of all chocolate brown leather
Softstar Runamoc Dash Smooth
. My theory is that these shoes already look a lot like an oxford. If I get them in all solid leather, they'll probably look pretty darn close to the real thing. If they are I might get another pair in black or light brown and rotate out my current dress shoe stock.
2. How did you get the nickname "Maple Grove Barefoot Guy"?
Instead of just repeating the story here, I'll direct you to a
blog post
I did on it a while back.
3. Tell me more about your family.
Sure. Let's start with the folks who put up with me on a daily basis. My wife's name is Amy. She is 26 years old. As of July 1st we've been married for 5 years. We've been together since 2002. We met at my fraternity. She was actually dating another member of the frat that I wasn't so fond of at the time. I had the reputation in the frat as a bit of a girlfriend stealer. Not that I stole Amy from him. They were already broken up. But it did make things interesting in the house for a while. In my defense...I can't help it if your girlfriends would rather be with me than you! It's only natural. I'm a superior physical specimen. Anyway, he and I are good friends now...I owe him one after all.
My wife is a material science engineer, and she works in a lab in Eden Prairie, Minnesota. Companies send her lab products that they would like tested to see if they comply with various product standards. She oversees that testing and compiles reports on results. She tells people that she "breaks stuff and then writes a story about it."
This is one of my favorite pictures of my wife and my daughter. Anyway, there's too many reasons to list why I love my wife. The biggest is how much joy she brings to the lives of others. Everyone that meets her instantly loves her. We get each other. Well...I get her for the most part. She would say that I'm getting weirder as the years go on. She also has a smart mouth...which I very much enjoy.
My daughter's name is Clara Noelle. She will be 3 years old in October. As you may have gathered from my last Q&A post, I think she's pretty awesome. She is a very sweet and sensitive toddler. She is a huge girly girl. I imagine I'll be taking her to things like dance class instead of soccer practice when she's older. She has no desire to do tomboy things. She cries when her feet brush up against weeds.
As I mentioned in my last post, I'm an only child. I grew up in a little house in Plymouth, Minnesota, which is about 10 miles away from where I currently live in Maple Grove. My mom's name is Susan. She's been 29 years old for as long as I can remember. She manages several physical therapy clinics in the Twin Cities metro area. I wanted to get into PT work like her, but I don't like to touch other people while they're wearing gym shorts. I got the insatiable need to push myself beyond what I thought I was capable of from my mom. I also got my stick straight blonde hair that I can't do anything with. Thanks mom!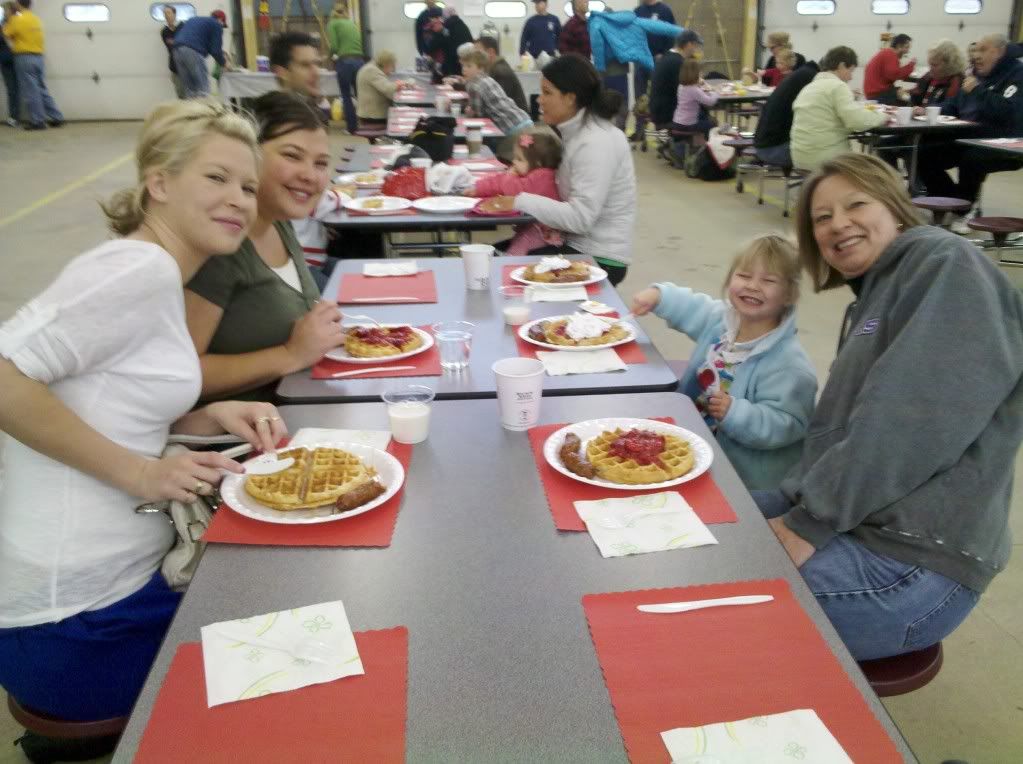 My mom is on the right by Clara. That's my sister in law Rachael on the left by my wife. My mom is very involved in Clara's life. She takes care of her every Friday, and usually ends up taking her to the zoo. Clara wants nothing to do with us on Grandma Day. My mom will retire early at the end of the year, and will probably take care of Clara an awful lot more.
My dad, Lu, passed away in October 2010. It wasn't a huge surprise to me. His health had been on the decline for many years. He smoked cigarettes from age 13, and didn't really take care of himself. I get a lot of my desire to be active to avoid what he did to himself in old age. By the end, he could barely walk up the stairs.
Except for the physical fitness thing, I'm more like him than I am my mom. My dad was an artist his whole life. He was a graphics designer, and specialized in doing drawings of inventions involved in patent applications. He's the person who put me in tough with the first lawyer I ever knew, and thus got me interested in the law. I also get my creative side from him. He encouraged me to pursue my talents in music. Up until college, I planned to major in music, and played four instruments at a very high level (clarinet, saxophone, piano, and percussion).
I read at his funeral that his gift to the world was love. That's how I want people to remember him. The way he loved me is how I want to love my daughter and my wife. My exact quote sums him up nicely: "If I love my daughter and my wife half as much as you loved my mom and me, my life will be full of blessings."
I miss him a lot.
I also have two dogs, Brett and Darby. We got them at a shelter in East Central Minnesota where we used to live. They are black lab mixes. Both are very sweet and obedient dogs. And not too much in the smarts department. But that's okay...they're still very lovable. We also have a cat named Kitty. She was actually named Ivy by the folks at the Humane Society. But we never could pick a name for her ourselves, and just ended up calling her "Kitty". Now she responds to that...so I guess it's her name. Whatever...
4. What are your long-term running goals?
I don't really have any. I'm not a big fan of having long term goals in the area of fitness because I'm always learning more about it. Last year I ran 6 races and logged almost 2000 miles. This year I've run one race and will probably just break 1000. That's because I'm incorporating more strength training and biking, and cutting out a lot of running from my weekly workouts. And I'm just not interested in racing, or even running this year. I'm actually pretty big into biking and more natural fitness like MovNat this year. Maybe next year will be different. If I can't decide what I'm going to do a year from now, I don't want to decide what I'll do 5 years from now.
That being said, one of the things I'll always enjoy is running obscene distances occasionally. I loved my first ultra and I'd like to run more. I have tentative plans to run an 100K (62-ish miles) on the Luce Line next year to top my 50K last July. There's also a trail from Hugo to Duluth with my name on it. Maybe some day I'll run an actual ultra race...maybe even Western States or Leadville. I'm not sure if I'll ever get to that level of crazy.
5. What's it like where you live?
Well we live in a development in Maple Grove that I like to call "identical house land". It's one of those areas where there are only 3 different kinds of house for as far as the eye can see. Ours is a little different because we have the only green house in the neighborhood, for what that's worth.
I love everything about our house except that stupid satellite dish on the roof. It's a 5 bedroom, 4 bathroom two story. I've nicknamed it "the hotel", because we don't actually use 3 of those bedrooms, except when people come over to stay. I also liked it better when there was a red Ford F-150 in the garage, but I'll deal with it. I really like my old person car (i.e. my Buick Lucerne).
When I was growing up, Maple Grove was a farm town. It was also really far away in my opinion. It takes a good 15 minutes just to get out of Maple Grove by car. Now it's still really far away, but it's also one of the fastest growing cities in the nation. We've been lucky here (or unlucky, depending on how you look at it) that the housing crisis never really happened. There are still developments going up everywhere.
At the same time, Maple Grove is on the edge of the Twin Cities. So it's only about a mile from my house to Corcoran, which is a very rural community. I go biking over there a lot. It's nice to have a bit of the city and a bit of the country in your backyard.
We love Maple Grove because it's one of the only cities in Minnesota where you have access to pretty much any business or service that you need. It also has an amazing trail system. It's right in the middle of the Three Rivers Park district, which is the largest trail and park system in the Twin Cities. We have access to a TRP trail about a half mile from my house.
6. You've mentioned you were in a frat before. What was that like?
I actually had a pretty unique fraternity experience; mostly because I joined a unique fraternity. I am a brother of
Omega Nu Alpha fraternity
. ONA was actually created when another fraternity at the University of Minnesota, Theta Chi, closed it's Minnesota Chapter. I was one of the first members of this new fraternity.
It was pretty exciting to be a part of a start-up enterprise like this. The fraternity will celebrate its 12th year in February, and its still doing pretty well. I'm not active as an alumni, but I am proud of what we created.
As for what it was like to be in a frat, it's everything you see in movies times 100, except that we wrestled in pools full of pudding, not KY jelly. If you think it could happen in a frat, it probably did. You find yourself asking questions like, "How did the toilet get spray painted orange?" Or, "Why is there a camping tent in the great room?" Or, "Why is that person peeing out my window?" Let's just leave it there shall we?
7. Why don't you post stories about work anymore?
When I first started this blog, I had about 10 followers and about 300 pageviews a month. Now I have 141 followers, and my site gets about 20,000 pageviews a month. I'm not comfortable with taking the chance that one of those people will be my boss, and I get shit-canned. I like my job. Sorry. I have a lot of funny work stories, but you'll have to hear them in person.
8. I quit reading your blog because you always post about shoes.
That's not a question.
Here's why I post a lot about shoes. Look at the side column of my blog at the list entitled "Popular Posts". You'll notice that all of my popular posts are shoe reviews. About 90% of the views my site gets are for shoe reviews. So I might not be posting things that you, Mr. Can't Form a Question, don't like. But I am posting things that most of my readership like.
And stick around. I don't post on that stuff all the time. I try to mix things up. I'm always willing to listen to suggestions on good topics. Shoot me an email if you'd rather I post about something else. But you are following a barefoot and minimalist running blog here. Shoe reviews kind of come with the territory.
9. Do you feel like you've sold out?
I think selling out implies that I am compromising my principles in exchange for massive compensation. I make absolutely no money doing this blog, other than the money that some nice people pay me to help me with gas money when I travel for clinics and coaching. In fact, my principles would dictate that I stop giving away my time and start charging for this shit! I'd love to find a way to sell out for real to tell you the truth. Maybe then I could quit my day job.
In return, this blog has become somewhat of a part-time job for me. I write two to three blog posts with unique content a week. I make appearances on the weekends to do clinics, coaching, and group runs. I give presentations at events like the upcoming Twin Cities Marathon or the NYC Barefoot Run. And I do it all for free.
I'd like someone to explain to me how giving my time and knowledge to help and educate people is selling out. But regardless, I wouldn't have it any other way. I love the places I've gone and the people I've met because of barefoot running. It's been a great ride.
Also, I'm a fan of the quote, "Selling out is what poor rockers say to describe those that have actually done something with their lives." Don't hate me because I'm awesome...that's all I'm saying.
10. Do you ever get emails from people with foot fetishes?
This question came from a dude who proceeded to tell me he had a foot fetish...so yes....
11. How did your blog get so popular so quickly?
I slept with Jason Robillard. Like...a lot. I've had better...
Actually if I knew that answer, I'd probably be somewhere cashing in on my success. I'll have a blog post at a later time with some tips to help your blog get out of that dark corner of the internet though.
12. What are you going to do when you meet your twin (Jason Robillard) for the first time?
I'm envisioning running towards each other in slow motion and doing something similar to the beach hug in Rocky III between Apollo Creed and Rocky
I get to be Apollo. I'm even thinking about buying a pair of knee-high socks and short-shorts for the occasion.
If you folks haven't noticed, I kid with Jason a lot on my blog. We are facebook friends, but we've never met in person. But we'll be hanging out in a couple of weeks for the
Naked Foot 5K
. With some people you just know you'll get along. That's the way I feel about my bro-friend to be.
13. What was your best pick-up line before you got married?
I actually didn't have one. I rarely picked a girl up in a bar or somewhere else. But I did develop a way to get dates that I called "The Hot Girl Method". I used it to great success in courting my wife.
You see, hot girls don't respond to the normal way that guys try to pick them up. That is, if you show that you're interested in them, they immediately shut you down. That's because they are used to getting asked out a lot. What they're not used to is getting the same treatment that they give someone they're interested in. When that happens, the tables turn and they start pursuing you. Congratulations, you just picked up a hot chick.
The method is a combination of showing the special lady that you are an awesome person, while at the same time being standoffish and noncommittal. It's incredibly time consuming, so it doesn't lend itself well to environments like bars. Luckily I lived in a frat, and the hot chicks came to me. It's also difficult to do, especially since you actually like this girl. But does it work? Just ask my wife.
14. What is your superpower?
I can reach high places. Don't look to
Vanessa Runs
if you want something off the top shelf.
15. How do you balance your blogging and running with your family life?
Well I blog over lunch at work, so writing doesn't interfere with my family time. Although my blogging has become more than just writing, and moved to public speaking and events as well. For those things, my family understands that I consider the time I put in an investment right now that will hopefully pay out later. So I try to limit those activities to the weekends so that it doesn't interfere with family time too much. I also try to spread those engagements out so that I don't always feel like I'm working.
As for working out, I have three tips. I'm able to work it into my life first and foremost because I schedule my workouts. That way, fitness isn't just something that I hope to fit in somewhere. It's an actual appointment that I've made with myself. That makes it more likely that I'll do it.
Second, I do my workouts when it is least likely to interfere with family time. So I lift weights in the morning before my family wakes up (generally around 5am). If I don't get it done then, I go to the local gym over the lunch hour. Then I run after my kid goes to bed at around 7 or 8pm. My wife likes having that half hour to an hour at night alone to relax and recharge.
Third, I make the most of the time that I have when I work out. Going to Crossfit Endurance full-time has done wonders for the amount of time it takes for me to get in a good workout. When I was logging 50-60 mile weeks, I would spend an average of 10 hours per week working out. Now I probably spend in the area of 4 hours a week.
In order to make up for the difference, my workouts are more intense. Instead of running for an hour to two hours per night, I'll do a 15 minute high intensity interval weight workout in the morning, then a 30-45 minute running interval workout at night. Studies that have been done on interval work show that it will give you the same aerobic workout in 15 minutes as long slow distance will in an hour. So I'm getting the same benefits in a fraction of the time.
16. If you could only have one huarache, what would it be?
I would choose the Invisible Shoe Connect. I haven't reviewed these huaraches yet, but I love them. Although it's a very close call between that and my Bedrock Sandals.
17. If you could only buy one minimal shoe for road running, what would it be?
I would buy the Softstar Runamoc. It's my favorite closed-toe shoe for the road.
Note that I think my answer will change once I've tested some of the new shoes out there. I have high hopes for the Softstar Moc3, the Altra Adam, and the ZEM 360. I think my answer will change once I try those.
18. What sole of the Softstar Runamoc do you prefer?
The 2mm road. I am of the opinion that grip on a minimalist shoe isn't all that necessary for 90% of all applications. I ran the past three winters in a pair of Vibram Fivefinger KSOs. They have zip for grip, and I was still able to run in them even on glare ice. I found actually that I had better grip than with a thicker soled shoe that had some tread. Because I could feel when I was slipping better, it was easy to make adjustments.
So except in really nasty conditions like mud, or rough rock, there's no need for the 5mm trail sole.
19. How big is your....
My cape is three feet long.
20. What was it like growing up in Sparta?
It's exactly like the movie 300. Everyone talks dramatically and has excellent abs.
21. What do you think about the elitist attitude of some barefoot runners that if you're not a barefoot runner unless you're barefoot 100% of the time?
I think they are full of shit.
First, that attitude is just like...their opinion man. And that opinion doesn't even make sense. Not being barefoot all the time doesn't deprive you of the label of "barefooter". If that were the case, are you not a runner because you don't run all the time? They are trying to define the term "barefoot runner", and that term really doesn't have a definition. The word "runner" doesn't even have a definition for that matter. They are trying to define something using their own values.
Not only that, but although they might think they are a full-time barefooter, but I doubt they really are. If so, they can come up to Minnesota in January and run outside barefoot in the -20 degree windchill. They can run with me next year when I plan to run all 62 miles of limestone and rock of the Luce Line trail. They can run on blacktop at noon on the hottest day of the year. Simply put, they think that they are a bad-ass because they run the same 3-mile loop of concrete barefoot every day and think they're something special. When they push themselves to extremes like most barefooters eventually do, they'll be wishing for some shoes.
That being said, there will always be folks like that out there. And they will look down on you for reaching for shoes occasionally. But being a barefoot runner doesn't depend on what others think of you. You have to define that label for yourself, and decide whether you fit.
22. What is your favorite memory of your dad?
It isn't really one memory really. It's just remembering that when I was little he was always there for me. For example, when I first started playing soccer in the traveling league I had some interest in playing goalie. My dad would take me out every day during the summer and kick the ball at the net so that I could practice saving it for hours. We drifted apart as I got older and he became less healthy, but that's how I like to remember him. The dad who was at every one of my soccer games.
23. Is your writing style the way you act in real life?
Yes.
Keep those questions coming folks! Post them in the comments section or email them to me at sayapy45@gmail.com. I will keep these posts going as long as I have questions to answer!