Citizens, the commercial huarache market is exploding. Not only do you have several different companies to choose from, the companies themselves are expanding their line-up based on customer needs. One of those companies adding cool new options to their sandal collections is
Branca Barefoot
.
I wrote a review of the original
Branca Barefoot Running Sandal
back in May 2011. I've always considered these sandals very unique in the huarache market. For one, they are somewhere between a DIY kit and a custom sandal. Although they will create a hole for the laces of the sandal based on the distance between the heel of your foot to the space between your big toe and second toe, it's up to you to trim the tops of your sandals to your preferred fit. And instead of using some elaborate tying method, Brancas tie on top of your foot similar to a traditional athletic shoe.
I've always liked these sandals because of all huaraches that use laces, these are the easiest to tie and the most comfortable across the top of your foot. Well it looks like Branca is improving comfort even more by introducing a series of leather-topped huaraches.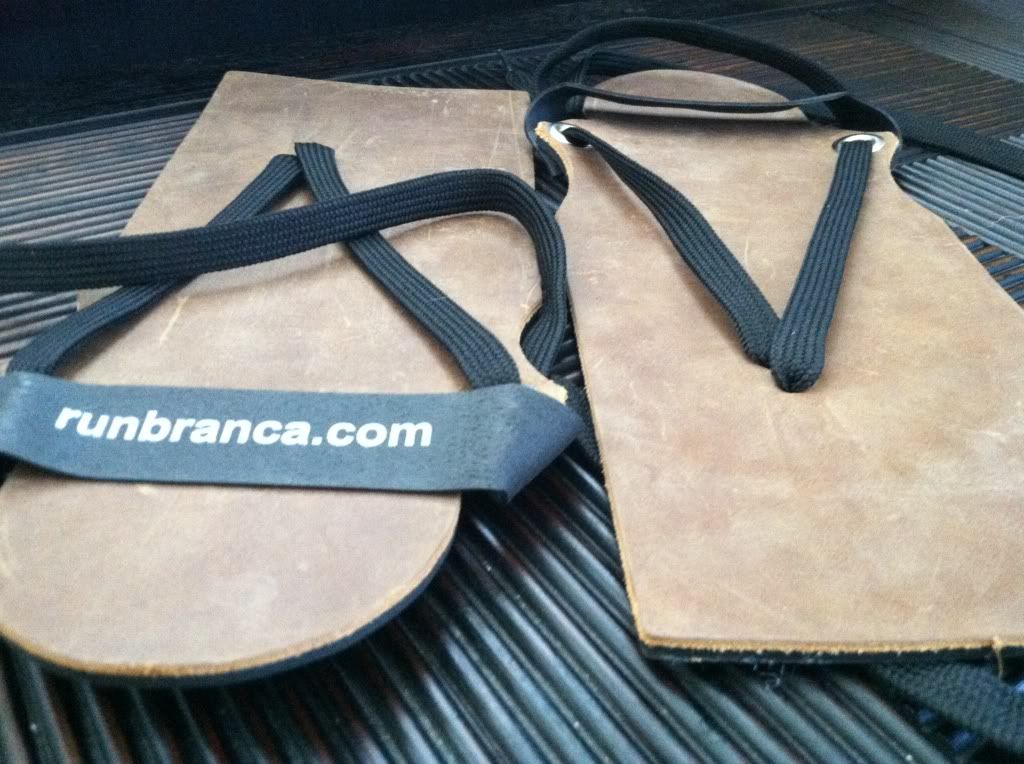 The pair I received for testing was the
Stone Oil Leather Top
model. It came equipped with a pair of standard black athletic laces for tying. As with my Original Brancas, it also came with a black UV heel strap to secure your foot in the sandal.
I am really impressed by the quality of the leather on these puppies. I find it to be a higher quality than the suede top of the Luna Sandal. My problem with that leather top is that it was just a thin strip of suede glued to some rubber. It looked somewhat cheap, and after a short period of time it began peeling off of the sandal itself. This is a solid piece of stone oil leather, and it's really attached on there good.
For those of you who are wondering why you'd want a pair of leather sandals, here's the scoop. Leather tops give the footbed of your sandal a much softer feel. This makes the sandal more comfortable for casual wear, though I've been unable to find much of an improvement in comfort while running. This softness is somewhat short-lived though. The natural oils in your foot will break down the leather over time, and it will become less soft. Getting the footbed wet will accelerate this process.
I've also found that a leather top makes it easier to use the sandal during long distance runs or in hot weather. In both instances, the sun or the friction from your foot will cause the rubber of your sandal to heat up and start frying your foot. The leather does not absorb heat from the sun like the black rubber naked top, nor does it create as much friction. The downside to a leather top is that it becomes slippery when wet, much moreso than the naked top. Water also completely trashes the softness of the leather.
Do you need a leather top? Not really. But I think it's a nice touch and I prefer it.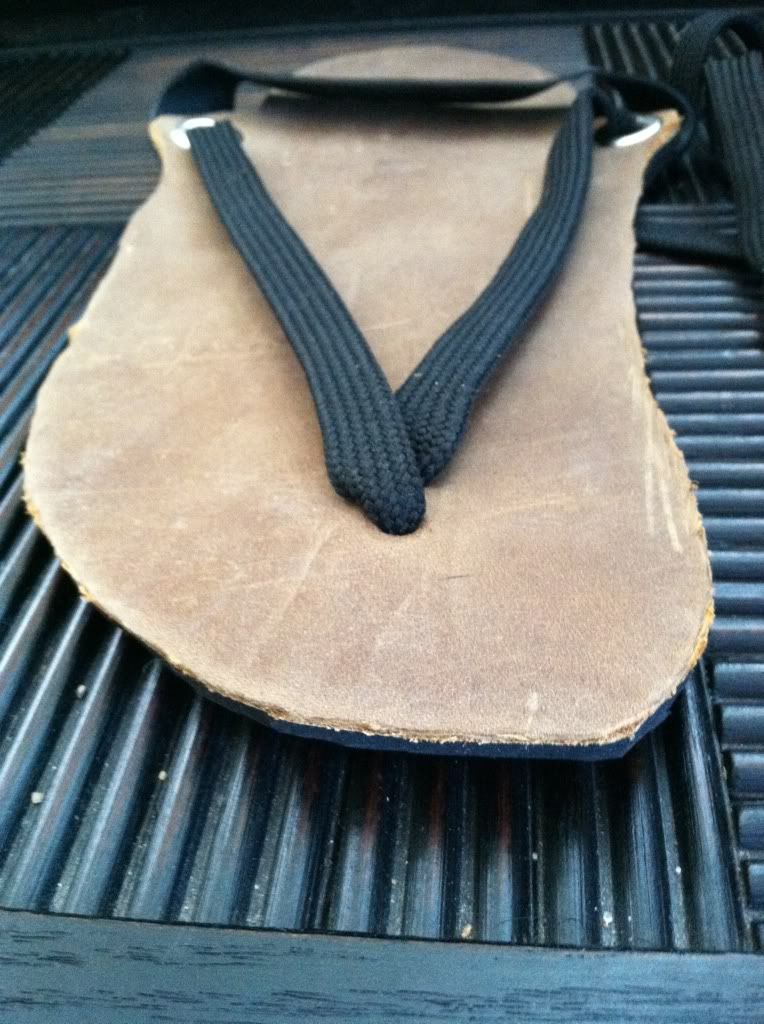 My only issue with this leather was that it was hard to cut. Cutting leather and rubber is a lot harder than cutting just rubber. As a result, my scissors flailed around a bit while I was cutting and marked up the leather. It also left a bit of frayed edges that left my sandals looking a bit trashy. I'm not sure if some sandpaper will clean it up or not, but I was a bit sad after seeing the finished product. It's probably mostly my fault, but I'm worried that folks with the same lack of artisitc skills will have the same problem. These sandals may be for the more crafty among us.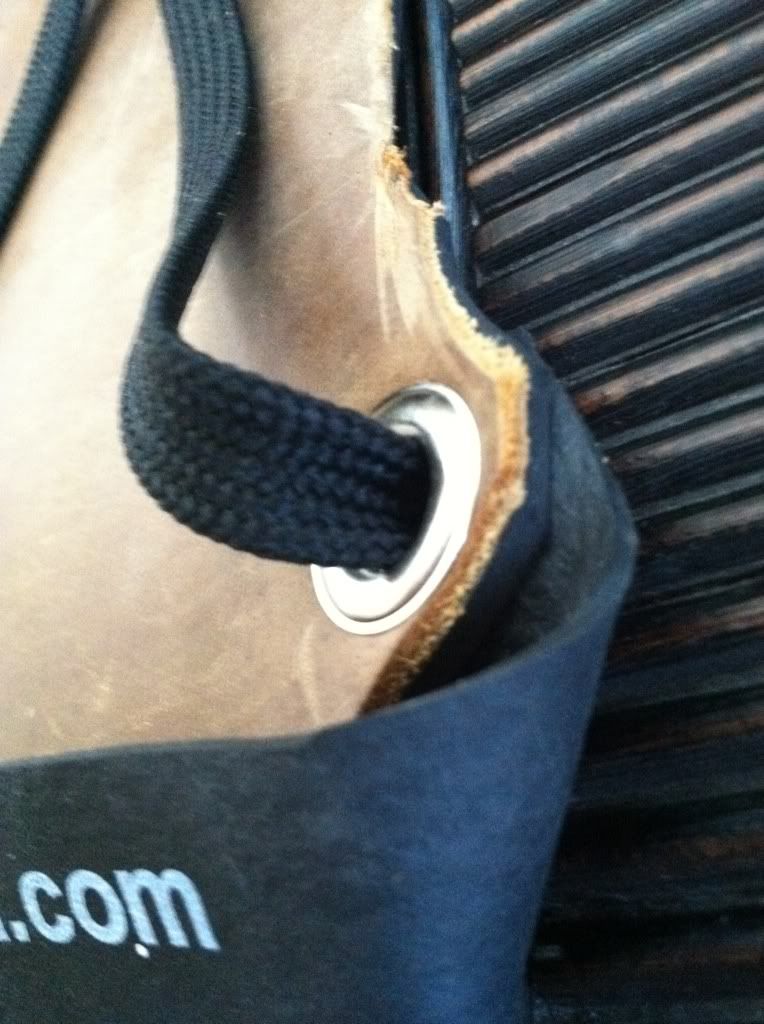 Branca has made a couple of other modifications to their new sandals that I like. The first is in response to my comment about the eyelets for the laces. The eyelets on the Original Brancas had a sharp point on the end that would dig into your skin if you tied the sandals too tightly. Branca fixed the problem in all of their sandals, including these, by squaring off the corners. The sandals no longer dig into my flesh as I run. Upgrade!
Branca has also changed up some of the materials that they use. First of all, they now give you the choice of the standard UV heel strap (shown in my sandal pictures) or a leather strap. The leather is recommended for folks who do more trail running, as it isn't as elastic as the UV strap. Therefore it will do a much better job of keeping your foot stable in the sandal. I find that my foot moves around a bit with the UV strap, and would recommend the leather strap to those who like a snugger fit.
Branca has also started using 5mm Vibram Newflex as their soling material of choice for all of their leather sandals. The Newflex is a lighter and more durable soling material, which also has a better tread for traction. These were all things that I was somewhat critical of with the Original Branca. The material used there is a styrene/butadiene mix. It had no tread whatsoever, and weighed approximately 5oz. (on the heavy side for a sandal). Newflex has a criss-cross tread pattern, and is about half the weight of traditional huarache soles.
A pair of the Stone Oil sandals will run you $74 plus shipping. By comparison, a pair of Luna Sandals with a leather top will run you around $85. Which sandal is a better deal here will depend on your own preferences. In my opinion Branca uses better materials. But Lunas come pre-finished, saving you the agony of destroying your sandals yourself.
Anyway, I already love these sandals, and these improvements make me love them even more. And Branca is letting me do some cool stuff so that you can get your hands on some. Keep reading to find out more!
Leather Sandal Giveaway!
The second new offering from Branca is the
Limited Edition Perforated Leather Sandal
. The sandal has the same construction as the Stone Oil Leather model, except that the top is made from a honeycombed leather. The purpose is to increase breathability as well as improve grip between your foot and the sandal.
Only 30-40 of these sandals will be made, and they are retailing for $97 plus shipping. But you loyal citizens can get your hands on a pair by entering this giveaway!
This isn't one of those "do a bunch of stuff for me" style giveaways. Okay...it still kind of is. But instead of liking a bunch of stuff, and tweeting about how much I'm awesome, in order to enter you'll need to leave a comment on this post and answer one or more of the following questions:
1) MGBG....awesome, or mega-awesome...and why. Discuss.
2) What would you like to see talked about on this blog.
3) What would you like to see improved on MGBG.
4) What feature(s) would you like to see in a huarache that is/are not currently offered by any company?
5) What do you like best about Branca Sandals?
6) What would you like to see improved on Branca Sandals?
7) What's the coolest/weirdest/most incredible/dumbest thing you've ever done in huaraches?
I will be picking a winner at random on
August 22nd, 2011
and announcing that winner on my blog along with the winner of the
Naked Foot 5K giveaway
.
The MGBG Citizen Discount!
Right now Branca is doing a discount deal where anyone can buy a pair of leather sandals and get a pair of Original Brancas for free. That's cool for mere mortals, but you folks are swag-hunting, awesomeness-loving, world-domination plotting citizens of the MGBG nation! For you loyal blog ninjas, Branca will be doing a buy one get one free on
any of their leather sandals
! That's way cooler! You knew that wasting your time on my blog would pay off eventually.
Here's what you have to do. When you are building your Branca Sandals in their "Shoe Builder", enter two sizes in the box marked "Foot Measurement" as well as the code
Maple Grove
. That's awesome code by the way. I would have chosen something like "Foxtrot", or "Constantinople" or "Niner". Then again, this one makes more sense. This deal is only good until
August 18th, 2011
, so do it...DO IT NOW!
You will get two glorious leather sandals for the price of one! Get together with a friend and save some money. Get a pair in case you commit sandal homicide with your first pair. Or use them both and become an aspiring sandal whore like me! The possiblities are endless.
Anyway, may all your sandal purchases be happy citizens!
Cheers MGBG nation
!