We had a great response to our giveaway of the brand new, limited edition, ultra exclusive, VIP, MVP,
perforated leather sandals
from Branca Barefoot. In order to enter the contest, I had you all describe my awesomeness, as well as tell me what I could do better. The sucking up that occurred afterwards was epic in proportion. I didn't know you had it in you citizens! Well I did...at least when free shit is on the line.
Also, thanks for all of your comments about how I can improve my blog. I took all of them, implemented them, and pretended that I thought of them myself.
Anyway, much like The Highlander, there can be only one. And the winner of a pair of Branca Sandals is:
Smuddpie!
You have until September 2, 2011 to contact me at
saypay45@gmail.com
and claim your prize. Please also leave a comment on this post with your full name to confirm your identity. If you don't claim your prize, you're SOL, and I will probably just trade your swag for booze.
Review
So for those of you who didn't win, you might want to know how these things perform in case you want to purchase them. Well Branca was nice enough to bestow a pair upon me for my reviewing pleasure. As I mentioned in my review of their new
leather sandals
, Branca has made some good improvements to their sandals over their previous products. I think some of the changes they made in these keep that innovation going.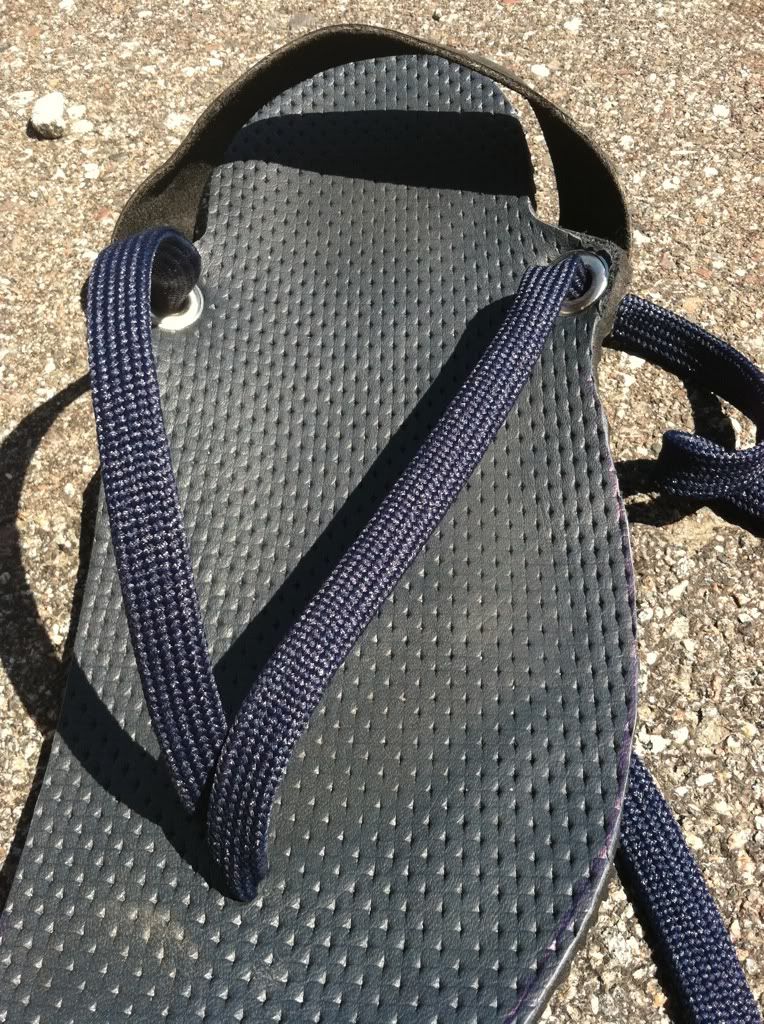 Here they are in all of their glory. Or should I say, "Here's the left one in all of it's glory!" Anyway, there aren't a lot of differences between the stone-oiled leather sandals that I tested and these. But the upgrades that Branca did make, I like. First is the perforated leather top. Whereas the stone-oiled leather is soft and a bit fuzzy to the touch, the perforated leather is smooth and silky.
It's a cool feeling, and a cool material to use in my opinion. And coolness was the intention (A pun! Brillant writing Christian!). The perforated leather is designed to provide better ventilation for the bottom of your foot. I wasn't aware that I needed such a feature. And in my testing (all on bitchen hot summer afternoons), I really couldn't tell the difference. I guess I'm not much of a foot sweater. But if you have overly sweaty feet, these may be the way to go. You are also moderately disgusting to me.
What I did notice about the perforated leather is that it prevented my foot from sliding around quite as much when the footbed was wet. Usually a wet footbed on a huarache is slicker than Charlie Sheen at a massage parlor (looking back on this post, I have no idea what that means). This footbed seemed to stay relatively dry even after running through ankle deep puddles.
The feature I was more impressed with was the leather heel strap. Previous versions of sandals I've tried from Branca have all had a UV elastic heel strap. The UV was always a bit too elastic for me, and made my sandals feel unstable during a run. With this strap, my foot always felt firmly held in place.
So much so that these sandals came close to becoming my favorite sandals for the trail. That's because they fix a major problem I have with using huaraches on the trail; namely, the laces never hold the footbed under your foot very well. Half the time your sandal slips to one side or the other, and you end up barefoot on the trail. It's also pretty uncomfortable to have a sandal tweet on your foot every couple of steps.
Brancas do a great job of keeping the sandal on your foot because the eyelets that hold the lacing cause the sandal to fold around your foot and mold to it really well. Now with the leather strap on back, these sandals don't move an inch during trail runs.
The only reason why they haven't vaulted above the competition is that the same things that make the sandal great also caused me some issues. Since the heel strap doesn't give as much as the UV elastic, it made my heels a little raw after a while; especially after it got wet. It also fell out of place a few times, and felt looser overall than the UV strap.
All the jostling from the rugged terrain also pushed the sandal eyelets against my instep causing blisters. This was a problem with
my original Brancas
as well. Branca has addressed the problem somewhat by cutting down the material around the eyelet. I don't know that it's completely avoidable though unless you just stay away from trail running (I don't get blisters from them on the road). And what fun is that?
As with their other leather sandals, Branca has replaced its old soling material in favor of 5mm Vibram Newflex. This stuff is awesome for a couple of reasons. For one, it's feather light. My perforated leather sandals are half the weight of my original Brancas. It also has pretty aggressive tread, which made trail running in these a possibility.
Branca also developed a better way to secure the lace to the bottom of the sandal. Previous versions used a small rubber patch to cover the laces and protect them from wear. The patch would come off after a while though. So Branca now covers the laces with a heavy coating of Shoe Goo. This is similar to the adhesive used on the bottom of Unshoes, and is super durable. And although there is a small bump on the bottom of the sandals that wasn't present on the original Brancas, it is not noticeable while running.
Otherwise, the things that are great about the original sandal are also present in this one. It has the same tying system which makes getting Brancas on your foot easier than with any other brand. But the leather footbed and strap makes them a bit more classy. I even wore them out casually a few times. I never would have done that with the original.
Branca is selling a limited number of these sandals (between 30-40) for $97. And right now they have a deal where if you buy them, you'll get a free pair of original Brancas. That way you can start on a box of sandals in your garage that rivals my own.
Anyway, if you are looking for a pair of sandals, the new leather line from Branca is now among my favorites. Happy Friday and Happy Sandal Hunting citizens! See you on the flip side!