NYC Barefoot Run and Merrell Barefoot Jam Report, Part One
Merrell Barefoot Roundtable
Although it sometimes seemed like all I did all weekend was to meet cool people and have a great time, I actually was here to work. Merrell had brought me in as one of several bloggers, professionals, and athletes to get input about their products and talk about where the barefoot running movement is going.
I felt pretty small-time going into this event. The cast of characters involved made me pretty intimidated. Here's who ended up attending (along with a link to their website, if they have one):
I joked in a previous post that I thought we should make t-shirts that said "Barefoot B-List" for the event. I was relieved when a lot of people said that they felt the same way.
The event started out with Merrell unveiling their new 2012 barefoot line. We also got a chance to talk to Snowy and Art, two of the barefoot line designers. It was an amazing opportunity. When else do you get to talk directly to a shoe designer about what you'd like to see in a shoe? Although I'm not sure that there is a market for my ideal shoe: one that shoots lasers and has built-in water skis.
A table full of shoes made it hard to stop salavating. Jason already previewed a lot of the 2012 shoes on
his site
. But basically, they are looking to add products for lots of different sports an audiences. That includes a whole line of water shoes, as well as some more transitional models.
Then we sat down for a moderated discussion about a couple of the big questions for the future of barefooting. The conversation blew my freaking mind off. My friends and collegues are ridiculous smart. You folks who follow their blogs really are reading the best of the best in this movement.
I'll be writing more about some of the issues we talked about in more detail in later posts. But the big idea we agreed on is that the barefoot/minimalist running movement needs to become more of a barefoot/minimal life movement.
I made a few points during the conversation, and I hope they weren't just babble. There was free booze there, so I imagine I might have rambled a bit. Apparently I also became known as "the one that tells random stories to make points".
Sorry about the bad lighting on these pictures. We had the roundtable in a room that was part bombshelter, part hashish den.
Not only was the conversation amazing during the roundtable, but before and after as well. I didn't miss the chance to talk to these people about how they do what they do. I learned how all the journalists got started writing for their various publications. I learned from all the bloggers who have been at it for longer than me how they got where they are today. It was a bit like a barefoot runner masterclass. I felt honored to have been a part of it.
Merrell Barefoot Party
After the roundtable and dinner at a local tapas joint, we were off to the South Street Seaport for the Merrell Barefoot Party. The party featured lectures from some "Kudus"; big names in barefoot running like Ken Bob, Barefoot Ted, and Lee Saxby. It also featured an open bar party under the beautiful NYC skyline.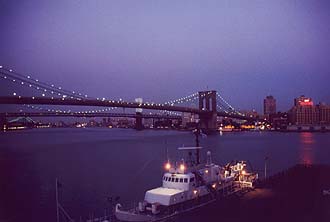 The view was breathtaking. Not only could you see all these cool ships going by, but also the Brooklyn Bridge.
I didn't listen to most of the presentations to be honest. Most of my peeps (and the rest of the Kudus) were outside taking in the scenery and the free booze. Plus...OPEN BAR DUDE!! So I partied like a rockstar with my friends.
The montly crew: Me, Jason, Jesse, Krista, Kate, Trisha Reeves (
Barefoot Monologues
), and Shelly. Again, sorry about the picture quality. It's hard to snap a photo when everyone is wobbly.
I also got to have really good talks with some great folks, and generally act like a complete barefoot fanboy. I hunted down and cornered Christopher McDougall and John Durant (Hunter Gatherer, and founder of the event). Chris actually is a regular reader of my blog, and used my
huarache guide
to purchase a pair of Branca Sandals. How cool is that? The answer is...cool, but even cooler would be if he reposted that link. Just a suggestion Chris. I also met and briefly talked to Caity McCardell (
Run Barefoot Girl
), Patrick Sweeney (
Bourbonfeet
), Barefoot Ted, and Erwan Le Corre (MovNat).
Towards the end of the night I learned several things. I learned that my liver has very close to the same tolerance as it did in college. I learned that it is very hard to walk in a straight line while anywhere near an intoxicated Kate Kift. I learned that the lighting in the subway make everyone look completely sober in pictures.
Point proven. Okay...maybe not for Jesse. And the best/worst lesson of the night....I learned that New York bars close at 4:00 a.m. Although we had been at a party with an open bar for around 4 hours, we thought it was completely reasonable to go back out for round two.
It was the best lesson because I further confirmed that my friends are the coolest. It was a bad lesson because our group was scheduled to go to the NYC Barefoot Run at 6:45 a.m. Fuck my life. This was going to be a tough morning...
To be continued...
NYC Barefoot Run and Merrell Barefoot Jam, Part Three
Go Barefoot with Merrell
Free Shipping and Return