Citizens, even a local superhero can be wrong from time to time. Back when I reviewed the
Softstar Runamoc
, the company was about to release their next generation running shoe: the
Runamoc Dash
. A lot of customers loyal to the company were excited about these shoes because they promised to fix a major problem that a lot of folks had with the Original Runamoc. Namely, the Dash would have laces, thus helping to eliminate the complaint that the Runamoc was nothing more than a floppy leather footbag.
When I talked to the company, they felt that the change would be more cosmetic than anything. And that's what I reported to readers. More than one of you called shenanigans. Well folks, mark this day on your calendars. It's the day I was wrong and you were right. The Dash is a lot more than just a Runamoc with laces. It's also another big home run for Softstar. They are now three for three on my score sheet. I love this shoe just as much as their other offerings (the Original Runamoc and the
Moc3
), but for completely different reasons.
Check out my sweet bowling shoes! Normally the Dash comes in either lite or smooth models, both of which feature two-toned black leather. The lite has a perforated leather toe for increased ventilation, whereas the smooth model has solid leather or suede. I had a custom pair made in all caramel leather because when I first decided to snag a pair of these shoes, my intentions were to not use them for running at all. One day I got the idea in my head that if you took away the whole two-tone thing, I might not look like a complete three-holer and I might actually be able to wear them in a business situation.
Well in the end, all I really got was a pair of really formal bowling shoes. But I've been wearing them to work anyway because they're comfortable. And actually unless you're really paying attention they look pretty much like a pair of low-cut dress shoes.
AAAAAAANYWAY, the features on the Dash are all about securing your foot in the shoe and preventing floppiness. Of course, the main way the shoe accomplishes that is its laces. These shoes lace up using a traditional athletic lace through traditional athletic lace eyelets.
The construction of the shoe itself is also all about securing your foot. The piece that holds the lace eyelets is thicker, providing rigidity to hold your foot in place. It reminds me very much of a men's dress shoe.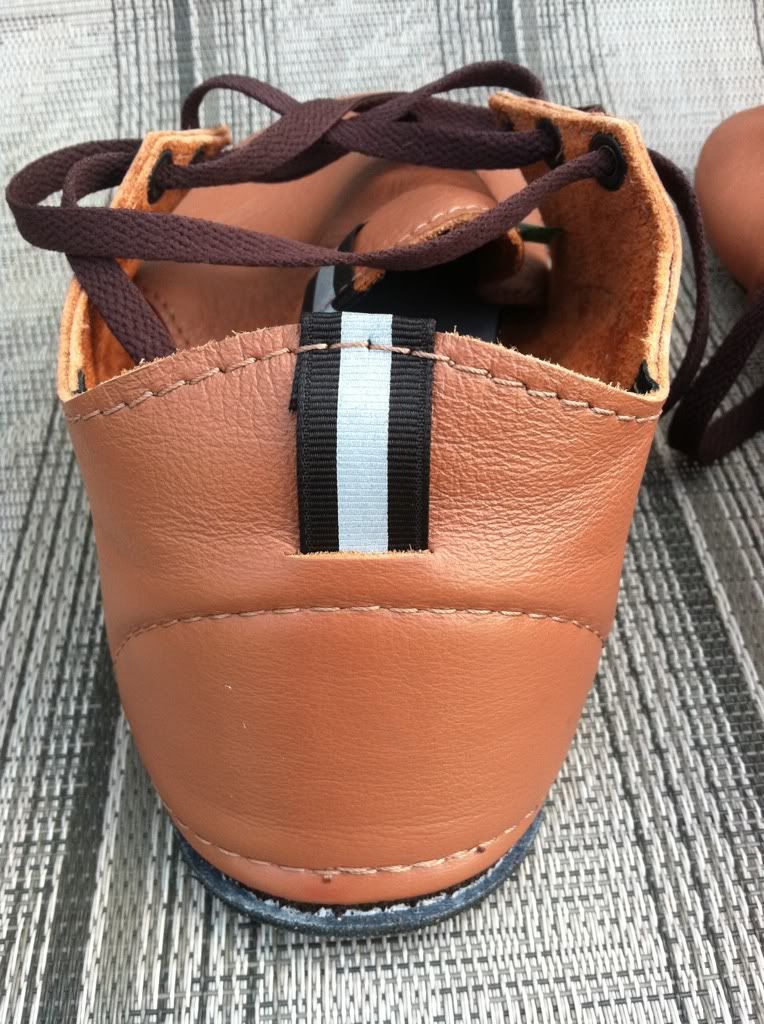 The Dash also has a more substantial heel cup than the Runamoc. I heard a lot of complaints from folks that the Runamoc heel cup did little to keep one's foot from mashing over the back end of the shoe. I've never experienced that problem, but my Runamocs aren't floppy footbags either.
The profile of the Dash is also more streamlined than the Runamoc. Whereas my Runamocs provided ample room in the toebox and throughout the length of the shoe, I had to stretch my Dash out significantly in several places before they fit me properly. For those who have this same problem, you can fix it by jamming a wet towel into the toe of your shoes for a few hours. This will allow the leather to stretch out a little. They will also stretch naturally as you wear them.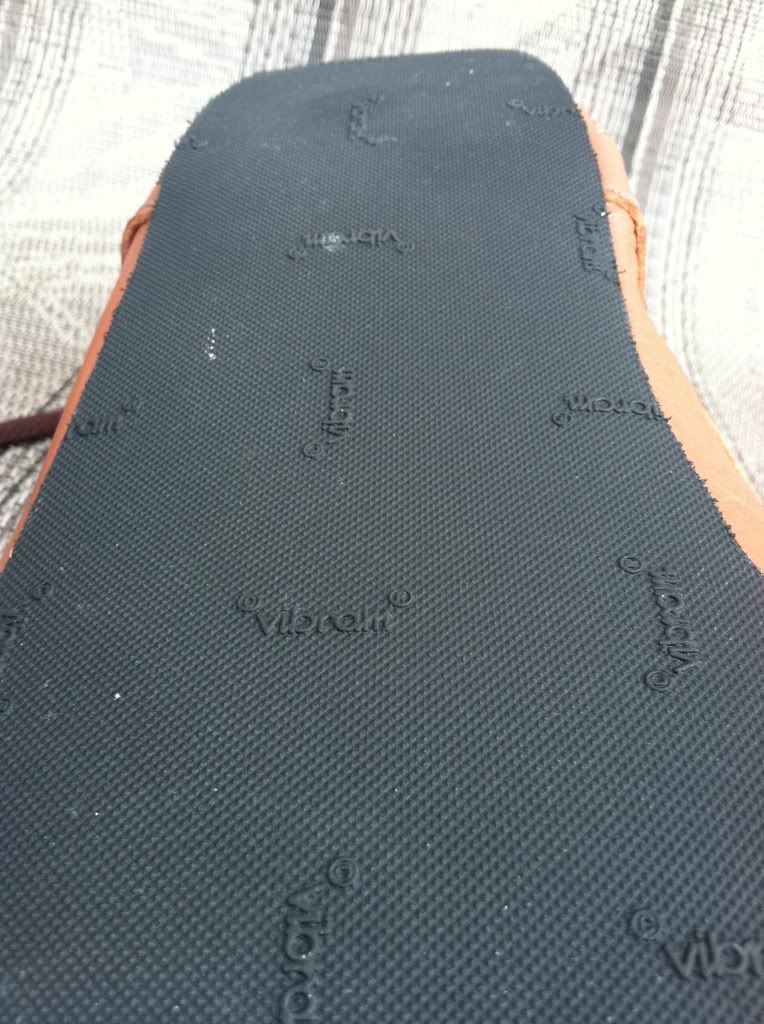 As with the Runamoc, the Dash comes in either a 2mm street version (shown above) or a 5mm trail version. The trail version features a nubby sole rather like the bottoms of my
Bedrock Sandals
. I toyed with getting the trail version for these shoes, and decided on the street version. I've done practically everything in my street soles, from road runs in the rain to gnarly trails. It's fine for most applications, and it has groundfeel that's second to none. I feel like the trail sole is unnecessary for most applications unless you're a heavy trail runner. Even then, the street sole will work for about 90% of your runs.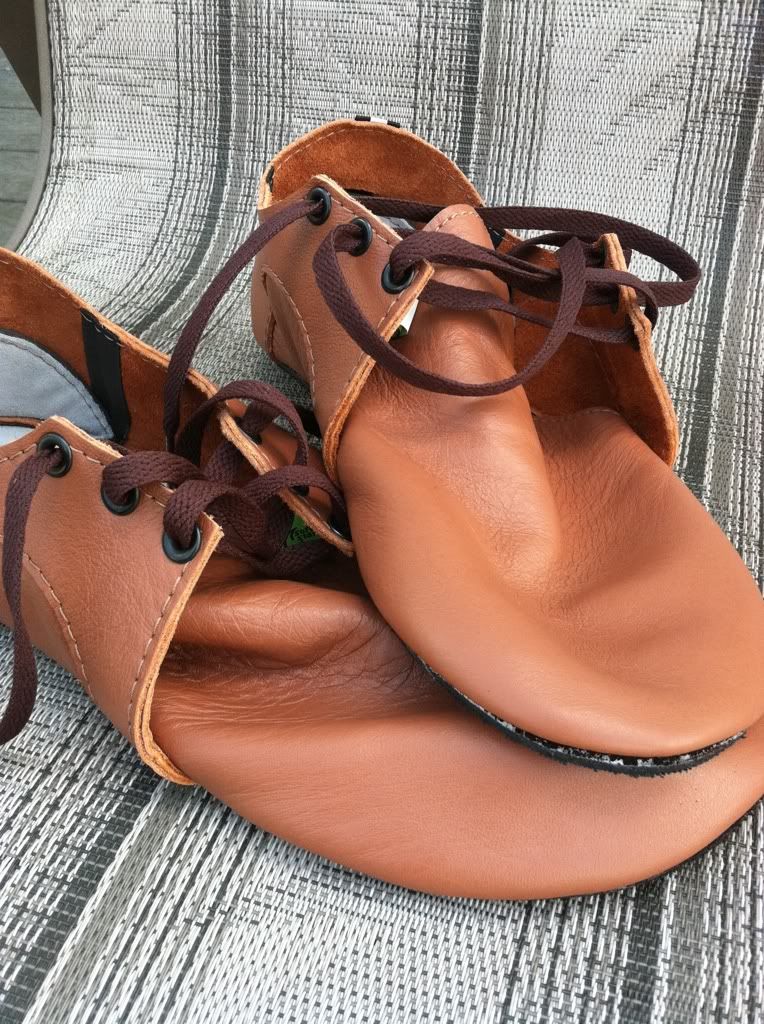 So where do these shoes fit within Soft Star's ever-growing running shoe line-up? I think these shoes are for people looking for a bit more structure. What I enjoy about the Runamoc and the Moc3 for both running and casual wear is that there's not a whole lot going on. You feel the leather draped softly over your feet kind of like a slipper or a sock. And that's about it. With the Dash, there's definitely a "shoe feeling". I can feel all of the components that secure my foot in the shoe buckling me in. For someone like myself who doesn't like feeling shoes on my feet, this is definitely a negative.
On the other hand, that same feeling of liberation also makes the Runamoc and Moc3 feel a bit unstable. The Both shoes have a tendency to flop around on your feet from time to time. You definitely don't get that feeling from the Dash. You will feel very secure.
Not that this takes away from your running experience. In fact, I think that the Dash has close to the same great "ninja feeling" that I love about the Moc3 (although the groundfeel is not as epic...more on par with the Original Runamoc). But it gets there in a different way. Here it comes from that secure feeling combined with the shoe's light weight (my shoes clocked in at around 6oz) and small profile. It's different. Not good or bad different. Just different.
So besides the overall feeling of this shoe, what would make a person purchase it over the Moc3? Customization. The Moc3 may be the best minimal shoe yet created, but it has one glaring weakness: lack of options. Right now the Moc3 is only available in one color, has one kind of outsole, and is only available with a perforated leather top. Everyone gets the same black slipper. That means that it doesn't always fit exactly right. You can't wear it on really rough trails. And it's not a good shoe for wet and cold weather.
With the Dash, you can select options to fix any of those problems. You could get a 5mm trail sole and get a shoe that can conquer those technical trails. Or you could get a smooth suede upper and get a great waterproof and warm shoe for the winter. You get almost the same great shoe, but more tailored to your tastes. And if you don't like so much of a snug feeling, but still want customization, you have the same available options in the Original Runamoc.
Overall, you really can't go wrong with any shoe from Soft Star. Despite the appearance of all of their models (aka they are all ugly) They are fast emerging as my favorite brand of minimal shoe. Each shoe has a special place in my heart. Go try out some elf shoes today citizens! You won't be disappointed!
Cheers
!