If Vibram Fivefingers were an NFL player, they would be Chad Ochocinco. They are light, fast, and very flashy. They do a few things very well, and the rest not so well (ever seen Ocho block?). They pull a lot of crazy stunts. They have a funny name that needs changing. And in the end, we find them endearing because at least they're not Terrell Owens.
Get'cha retirement party ready T.O.!
If VIVOBAREFOOT shoes were an NFL player, they would be something more like a fullback or a tight end. They are the workhorse of the offensive unit. They aren't super in any particular category, but they can do anything that you ask them to fairly well. They are a bit on the husky side. And they don't do much to call attention to themselves. They put in quality performances game after game, and quietly earn their paycheck.
This is the fourth shoe that I've had the pleasure of reviewing for the VIVOBAREFOOT company. And if there's one word that sums them all up, it's "consistency". Every shoe I've ever tried from the company hasn't had any features on it that have really wowed me. But at the same time, they don't really seem to have any glaring weaknesses either. They are just rock-solid, quality shoes. The
Neo Trail
is cut from that same cloth.
Now when I read the specs on these shoes, I must say I was a little disappointed. I and several other reviewers of VIVOBAREFOOT products have been practically screaming at the company to make a lighter shoe. They did make a lighter shoe in the
Ultra
, but it sucks. So after all of that feedback (which I know they read...my reviews went up on their website), they came back with what appeared to be an even more clunky product. Huh? Even dogs learn through repetition.
In fact, if VIVOBAREFOOT shoes are normally the fullback of the minimal shoe world, the
Neo Trail
looks like "The Refrigerator" Perry (sorry about all the football references...I'm assuming a lot about my readership demographic). They are chunky monkeys for sure. When I took them out of the box, I couldn't help but think of how much they looked like regular trainers. Their boxy look certainly make them look more "shoe-y".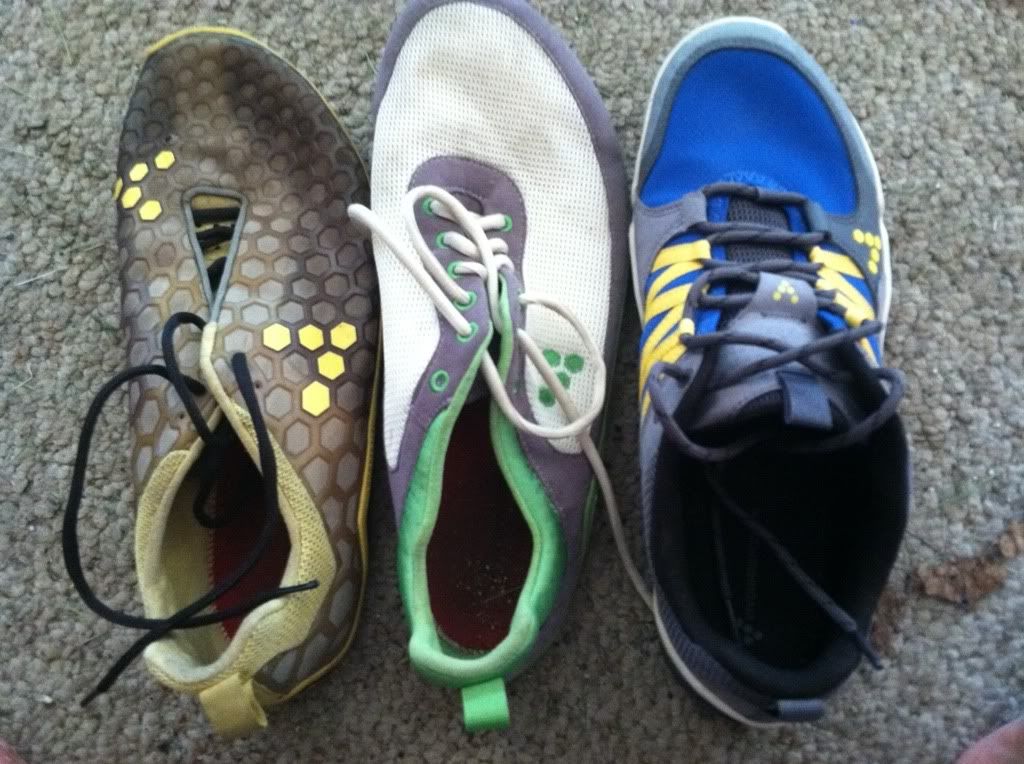 I think the best way to see the
Neo Trail
chub is to look at it next to other VIVOBAREFOOT offerings. Here it is next ot my pair of Evo Is and my original Neos. As you can see, the Neo Trails have a bit wider footprint than the Evo and Neo.
Good thing looks can be deceiving. Once on your foot, they don't feel like chubby bunnies. My size 44 Neo Trails came in at 8.5 oz on my uber-accurate plastic kitchen scale. That's still heavy for a minimal shoe, but it's what I've come to expect from VIVOBAREFOOT. Also as I've come to expect, they are so well balanced that you don't really feel the weight while you're running until you've gone quite a long way.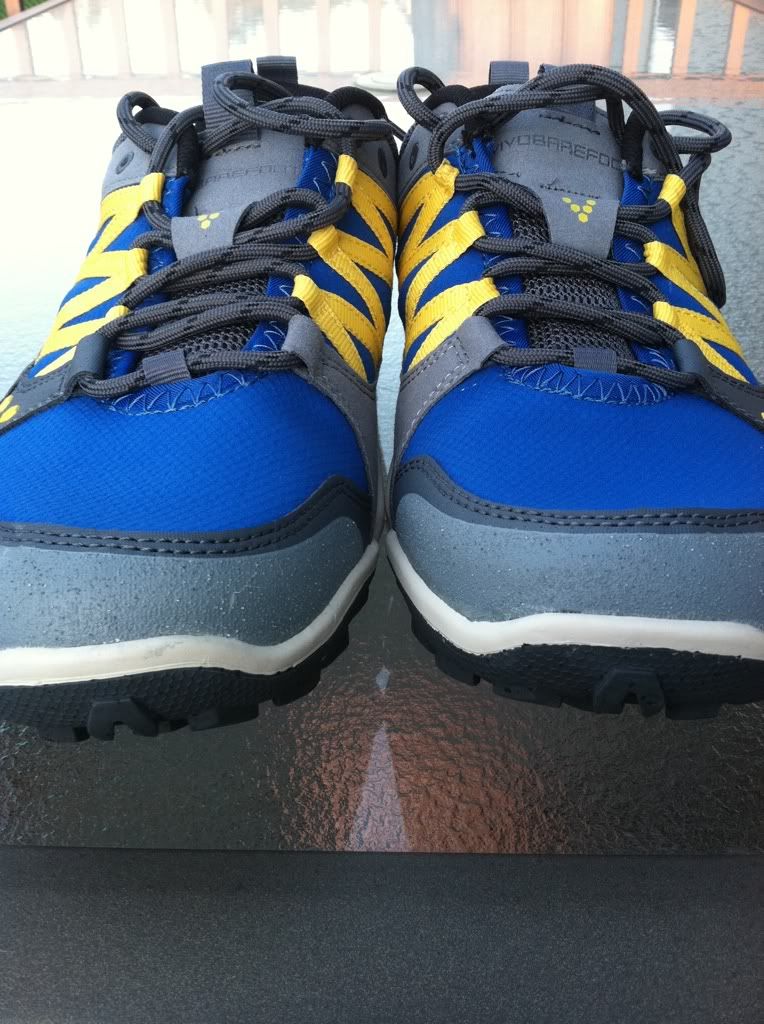 That wider appearance also didn't translate to a sloppier fit. Owners of the Evo and Neo have often report that their feet slide around a lot within the shoe because the laces are set too closely together. This isn't a problem in the
Neo Trail
. The laces on the shoe are set at the traditional distance, resulting in a much snugger fit. And the shoe's wider footprint translated to a feeling of greater stability for me...which is important considering the outsole, which I'll describe in a minute. Overall I found it more comfortable than the Evo and Neo.
Speaking of snug, you've probably also noticed that the shoe has a smaller toebox. It is just a hair smaller than that of my other VIVOBAREFOOT shoes. My toes still were allowed to splay naturally, but some of my toes rubbed against the toebox during testing, causing some irritation. You should know better VIVO!
While we're on the subject of wonky fit issues, let's talk toe spring. Another thing VIVO has never put into a shoe before. Double shame! There is a slight toe spring in these shoes, and you can feel it while standing. This is annoying. You can't feel it running, and I'm one of a handful of people that thinks that toe spring does nothing to affect your running in a minimal shoes (see
Jason's article
on the subject). But in case you're not...it's there.
In terms of materials, the Neo Trail upper is comprised of a closed-mesh that is hydrophobic, much like the Merrell Sonic Glove. The purpose is to prevent the insides of the shoes from getting wet. Well mission accomplished when it's raining, but not when you're wading through standing water. In fact, once these shoes get wet, they stay wet. Since the mesh is closed, there's no way for water to drain once it gets in the shoe except through evaporation. You'll be okay hopping through some puddles in these, but stay clear of anything ankle deep.
Another downside to the closed-mesh: these shoes are bitchin' hot. There is no ventilation to speak of. I've been roasting during my training runs, even when the weather was in the 70s. For those reasons, I think the
Neo Trail
will make a better fall and winter shoe.
The heel collar and interior of the shoe are identical to the rest of the VIVOBAREFOOT line-up. That is, the heel collar cups the back of your foot to keep it from moving around while running. And the interior is seamless, allowing the shoe to be worn without socks. There is also a removable memory-foam insole that I find completely useless.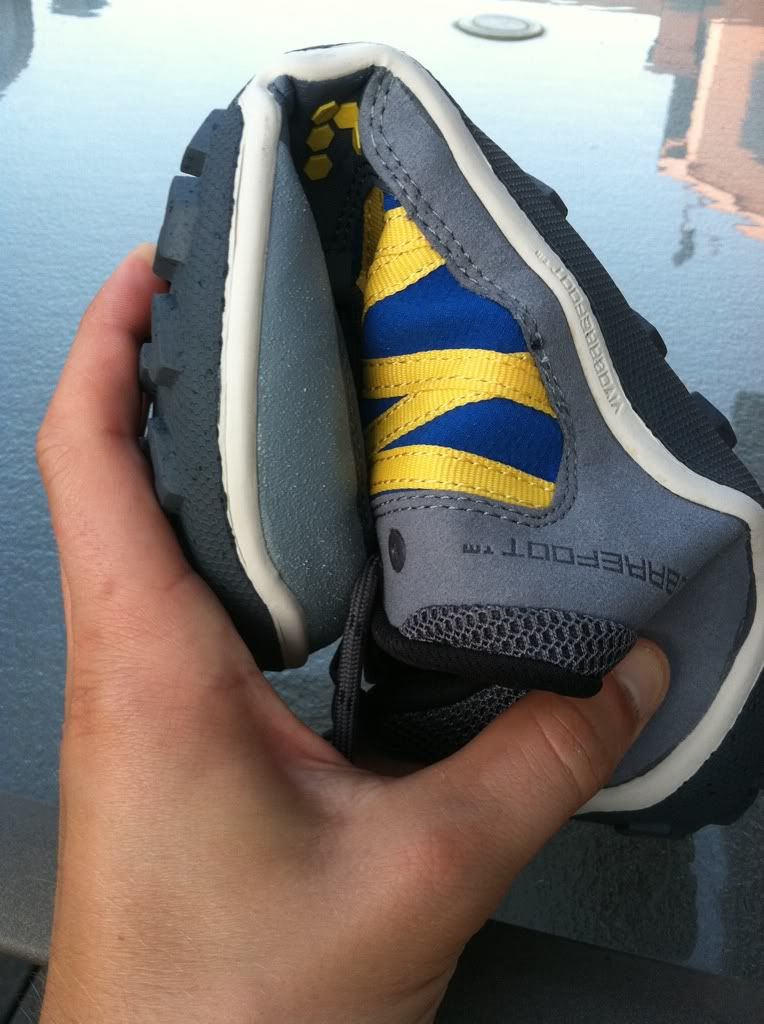 Flexibility was about on par for other shoes in the VIVOBAREFOOT line. That is, it's not great, but it'll do. The VIVOBAREFOOT soling material tends to be a tad on the stiff side anyway. Then there's a little less flexibility in the
Neo Trail
because of....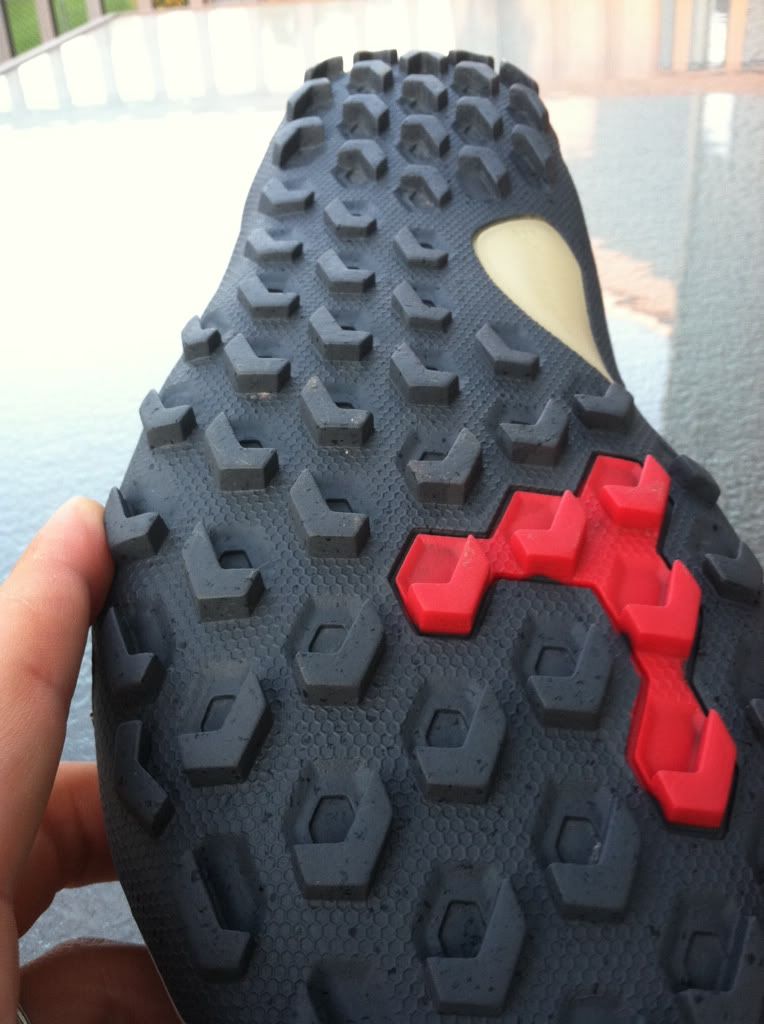 TREAD!!! You could climb up my living room wall with tread like that! I love an aggressive lug pattern on a trail shoe because it grabs the dirt like a reporter for the National Enquirer at the Hilton residence.
Then again, I usually don't appreciate lugs on a minimal shoe, as they often come at the expense of groundfeel. And really, for the most part they are completely unnecessary except really sloppy terrain. But it's not really a tradeoff with the Neo Trail. The sole of the
Neo Trail
is a mere 2.5mm, with the lugs standing out an additional 4mm. The result is all the benefits of aggressive tread while maintaining groundfeel similar to the Evo or original Neo. That's the feature that makes these shoes worth buying in my opinion.
I worried that with such a thin sole, I would feel the lugs on my foot on hard-packed ground or the occasional road. That has been a problem on cleated shoes like the Inov-8 Bare Grip 200. But since the lugs are evenly spaced, you usually can't tell that they are there unless you really pay attention.
So where does this shoe fit into a minimal shoe landscape with the twin towers of the
Merrell Trail Glove
and the
New Balance Minimus Trail
? I think they are a solid contender, offering some unique new features. At the same time, I don't see anything about this shoe that would vault it ahead of those choices. Whether you will like this one over the other two depends on what features you value in a shoe.
The people that will like this shoe are those who are looking for an all-around consistent minimal trail shoe. Nothing flashy, but no glaring weaknesses. You can't get that with any other trail shoe on the market. The Merrell Trail Glove is light and flexible, but lacks grip when the trail gets messy. The New Balance Minimus has great grip and protection, but with its 10mm sole has no groundfeel to speak of. This shoe is for those who value groundfeel, but don't want to sacrifice grip in order to get it. Those who want more foot protection, a lighter shoe, or something more flexible should look elsewhere.
Where I think this shoe will really shine is as a winter shoe. The hydrophobic mesh will take care of a common problem I have in the winter: wet feet from mesh uppers. And the tread will likely make short work of any amount of packed snow. But it's 75 degrees and sunny today, so let's not start down that path just yet.
You can buy the
Neo Trail
at any of the links or banners in this review. Happy trails
citizens
!