I've been looking forward to doing this review for a while. At least in my mind,
my first Merrell product review
is what started it all for me. I actually established my reputation as a blogger by criticizing Merrell. I became the blogger who would say exactly how they felt about a shoe, regardless of whether I put companies off. Merrell has been good to me, whether they like it or not.
And Merrell has responded to my tough love. First by begrudgingly sending me to act a fool in NYC in Jason Robillard's play-at-home version of the show "Entourage". Then by developing their their new Road Glove. Okay...they developed the Road Glove first. But if I said it the other way it would interrupt my flow.
How did they respond to my critiques of the Trail Glove? By only kind of listening to me. Good call Merrell. It's pretty clear that listening to MGBG all the time isn't a good business model.
But that's okay. Citizens...the folks at Merrell are smart. Really smart. They get this whole minimalist movement thing. In fact, I think they get it more than I do. They get that most people who will buy a minimalist shoe in 2012 will not be like me. They won't want something that looks like a big leather sock or ninja-turtle feet. They will want this: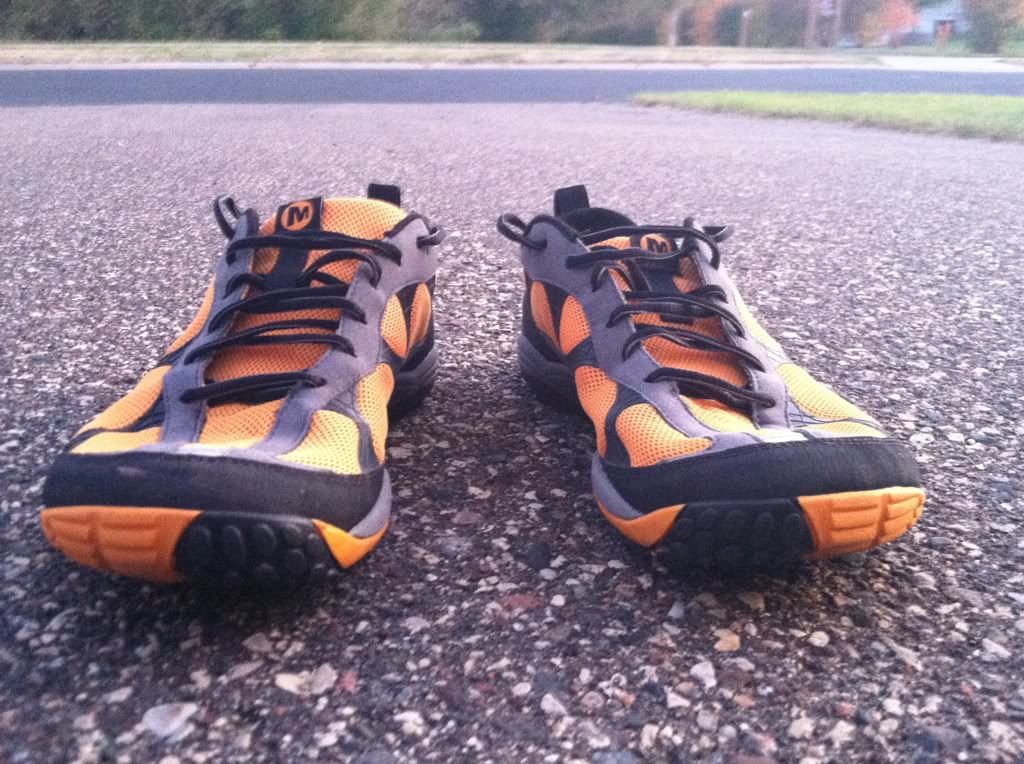 Now if you've been paying attention, you'll notice that minimal shoes generally fall into two camps. There are the shoes that look and act more like shoes, and the shoes that look and act more like slippers. A VIVOBAREFOOT shoe would certainly fall into the former category. A Soft Star shoe would fall into the latter. I'm more of a fan of the latter. The Merrell Road Glove is more of the former.
In fact, the best way I can think of to talk about the Road Glove is to compare it to its older brother:
the Trail Glove
. Especially when it comes to the shoe's upper. Except for some minor differences, the upper of the Road Glove is nearly identical to that of the Trail Glove. The graphics and color schemes are of course different. The mesh used on the upper is slightly different (but not enough to comment on further). It also uses a more traditional lacing system. Otherwise, the Road Glove has everything the Trail Glove has, right down to the slight toe spring. And, just like with the Trail Glove, the toe spring isn't noticeable. So don't be complaining about it!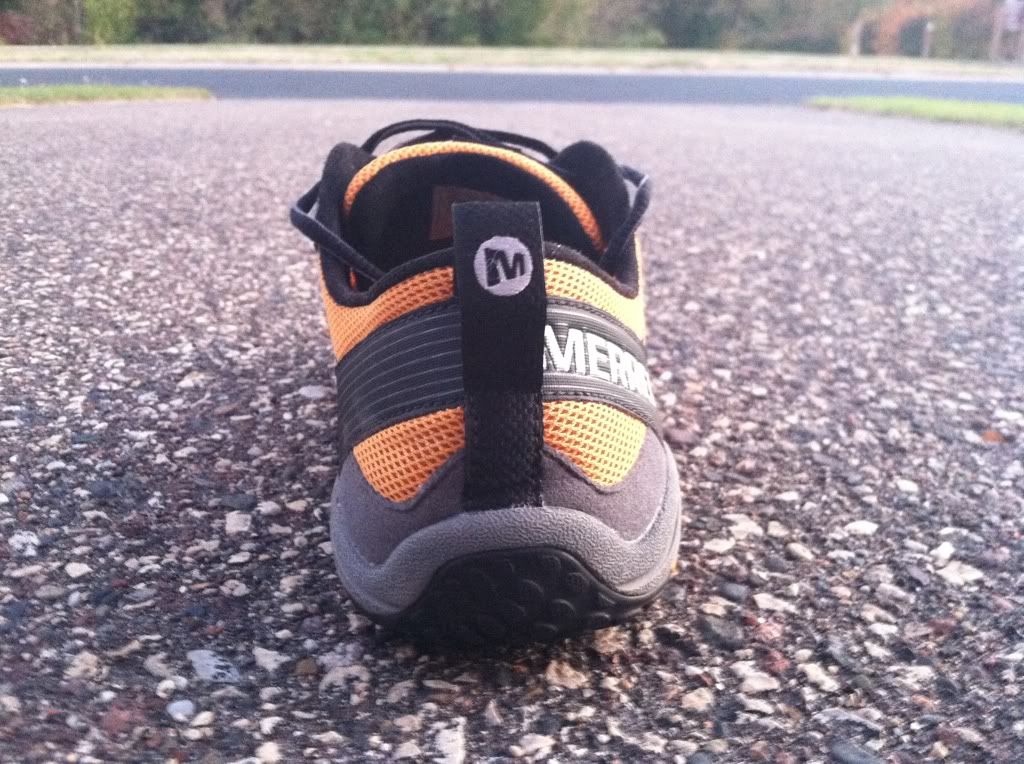 Still looking familiar? The Road Glove also looks almost identical to the Trail Glove from the back. Same heel collar. Same seamless interior that allows you to wear them without socks. So that's all I'm going to say about that.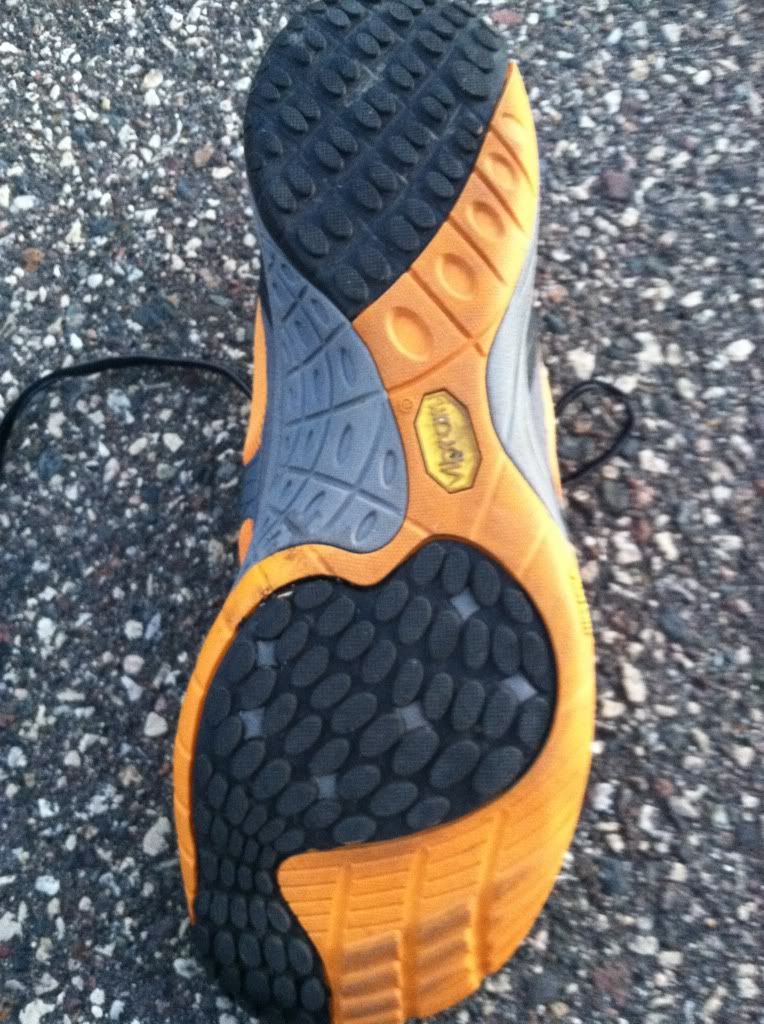 The real differences start when you turn the shoe over. What you'll find at first glance is an outsole not unlike it's older brother the Trail Glove, but with tread more conducive to gripping asphalt. But look closer and you'll see that this outsole is actually more built-up. The Road Glove has a more pronounced heel; a fix to complaints that the Trail Glove is too "top-heavy" to be used on the road. I believe my exact words were, "It feels like running in clown shoes." Which by the way, it doesn't. Running in clown shoes looks more like this: