How many times have you heard something like this: "Vibram Fivefingers are great shoes. But I can't get past the toes!"
Now complaining about shoes for looking like feet is a lot like complaining about pants for looking like legs. And yes...that isn't my joke. But I digress. To me, Vibram Fivefingers will forever be the shoe that all other minimal shoes should be compared to. The Vibram KSO was the first minimal shoe I ever owned. It remains one of the best minimal shoes I've ever tried. It has the best combination of groundfeel, weight, fit, and flexibility of any shoe on the market.
And yes...if it weren't for those damn toes it would be perfect. Sorry Vibram. That's just the way it is. If we all liked stuff between our toes we'd all have webbed feet. So I for one have been waiting a long time for for a shoe company to make the "Vibram Onefinger". I've waited over three years. Is it really that hard shoe companies? Really?
Anyway...FINALLY! The Vibram Onefinger has arrived!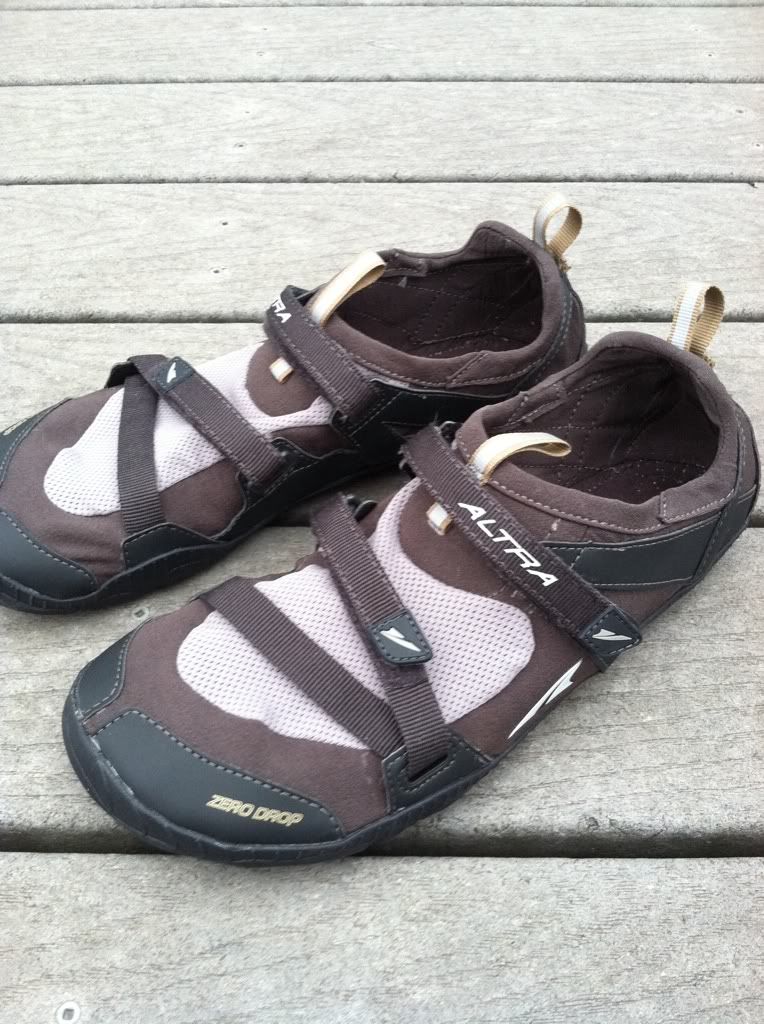 Well sort of. The Vibram Onefinger is still a dream shoe of mine. The Altra Adam isn't my dream shoe. But it's a good first effort at a truly minimal shoe by Altra Running. And it's worth checking out.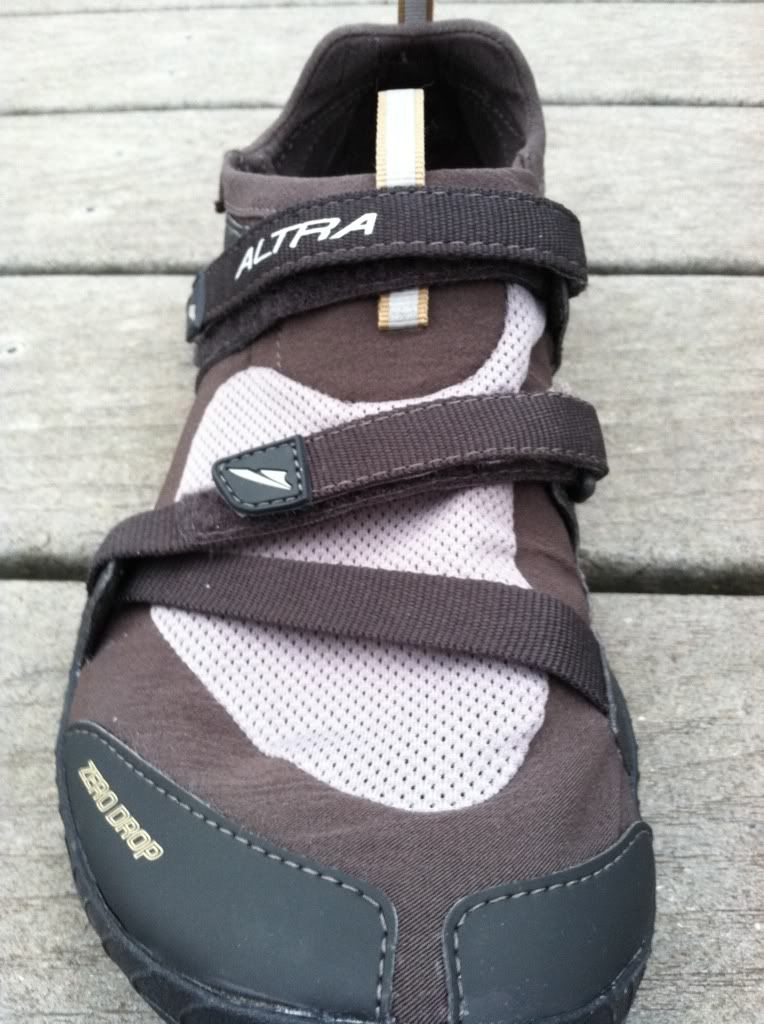 On first glance, it's not hard to see why this shoe draws comparisons to Vibram Fivefingers. Besides the closed-toe, it feels nearly identical to a Vibram while on your foot. Especially in terms of its shape. Vibrams have a unique last that closely mimics the shape of your foot. No other minimal shoe company comes close to matching it. In fact, I find most closed-toe minimal shoes to have a lot of unnecessary room and use devices such as a heel claw to keep your foot from moving around.
The Adam comes very close to matching the last shape of a Vibram, especially through the heel, arch, and toe box. I find the fit very comfortable, much more so than many other shoes on the market. The downside to this approach is that this won't be a shoe for folks with wide feet.
For folks who find the forefoot too wobbly, the Adam has two straps across the top of the foot to adjust tightness. I'm not a fan of either, for reasons I'll explain in a minute.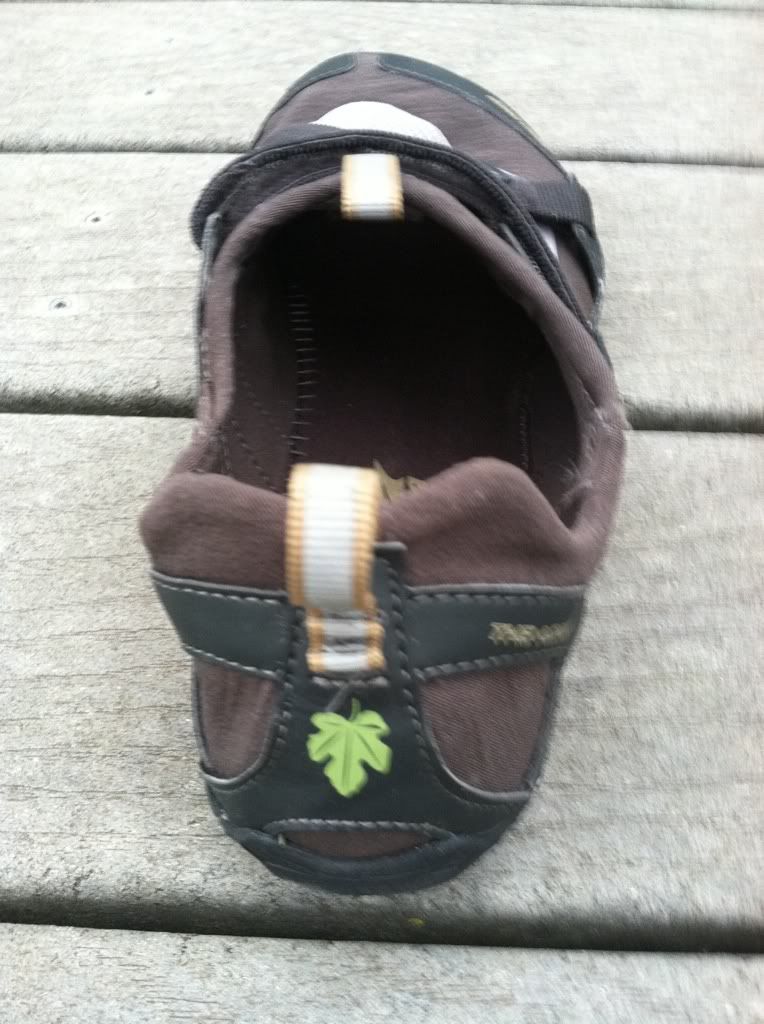 The heel collar also draws comparisons to Vibrams. It is very similar to that of a Vibram Bikila.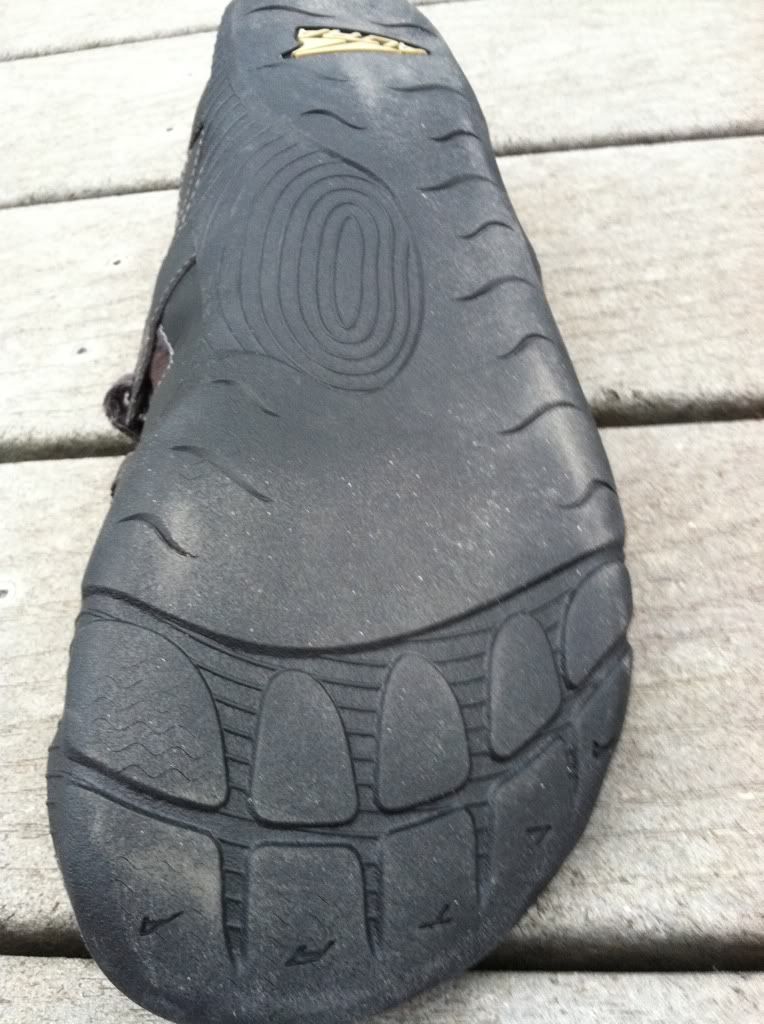 Again, anything look familiar? Cut out the individual toes and you have the sole of the Vibram KSO...all the way down to the slight molded arch. And like the KSO, the Adam's sole is a razor-thin 3.4mm.
AFTER POST EDIT: One thing I forgot to mention...these shoes are noisier than most. I find the noise they produce comparable to that produced by most huaraches on the market. It doesn't affect how I feel about the shoe, but I know some people would rather move more silently.
But while most Vibrams have some kind of insole, the Adam does things a little differently. Instead of a sewn-in insole, the Adam comes with two removable ones: the Support (left) and the Strengthen (right). The Support is a squishy insole with a bit of arch support, where the Strength is more dense, similar to the standard Vibram insole. I hated the Support insole (as expected) after the first couple steps, and found that the Strengthen insole took away too much groundfeel for my liking. I would compare the groundfeel with the Strengthen insole to a Vibram Bikila.
In fact, I wish it didn't come with either insole. I know what Altra is trying to do here. They are trying to do the old "gradual transition to minimal shoes" thing. You're supposed to step down from the Support insole to the strengthen insole, then on to the Strengthen insole. Then eventually you can wear them without any insole at all.
The concept of a "gradual transition" is complete mumbo jumbo. The way to transition to minimal shoes is to start running (slowly) in minimal shoes. You don't need any extra equipment. Anyone who tells you otherwise is trying to feed you a line or sell you something (Saucony Kinvara anyone?).
Besides my objections to the concept of insoles in minimal shoes, I also think making them a removable feature throws off the fit of the shoe. The Altra website warns buyers to buy these shoes a half size smaller if you intend to wear them without the insole. I'm not sure that adjustment would do much of anything. Taking out an insole doesn't much affect the length of the shoe so much as the height of your foot within it.
That's certainly true in my case. With either of these insoles in, I felt that my foot was much too high in the shoe. As a result, running in them made my foot rub against the shoe's upper. And when I took the insoles out, there was far too much space in the interior of the shoe. While running my foot would move uncomfortably forward unless I really clamped down on the straps across the forefoot. This made the shoe feel much too tight and narrow. I found the strap across the forefoot particularly irritating.
In my opinion, the removable insert is a cool idea, but not a great reality for this shoe. Especially with a shoe with strap closures where the ability to really tighten the shoe to your foot, you either design the shoe for use with an insole or without one...not both.
With the insole out, what do you see? If you answered, "SEAMS!" you'd be correct. The interior of the Adam is not seamless, something that's become pretty standard on most minimal shoes. Fear not though, you can still wear these shoes without socks for the most part. In my test runs, my only issue was that my foot rubbed against the buckle of the forefoot strap. According to other testers I've talked to, this is a very common area for blisters and hotspots in the shoe. Otherwise, the interior of the shoe is fairly comfortable.
Although I described my problems with the shoe in great detail, I want to point out that the good vastly outweighs the bad. Overall there were a few wonky fit issues, but they were minor annoyances in what was otherwise a tremendous minimal shoe. This shoe is full of all of my favorite things. The groundfeel and flexibility are vastly superior to almost all shoes on the market; second only to shoes from Soft Star. It also scores big points for it's light weight; clocking in at 5oz on my handy kitchen scale. And they have the same great fit and comfort that I came to love in my Vibram KSOs. I'd also note that any fit and hot spot issues that I experienced went away when I wore socks. Although who wants to wear socks?
But what makes me really excited about Altra shoes is their 2012 line. Behold the Samson!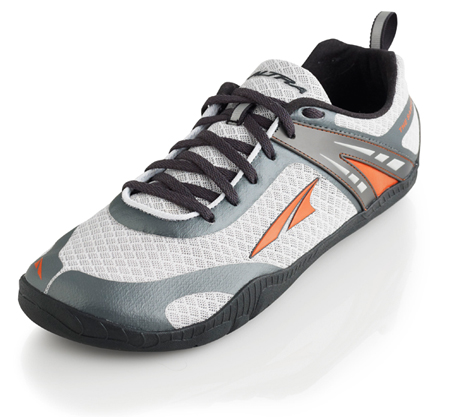 If Altra would have made the Adam with laces instead of straps, it would have been a home run. According to my sources within the company, laces get rid of all the fit problems I had with the Adam. As it is now, if I had to use a baseball metaphor, I'd call the Adam a triple. Or some kind of hit that bats in a couple of RBIs. Or if you're into defense, a cool double play where the shortstop throws from a kneeling position or something. You know...something that makes it to the middle spot on the Sportcenter Top 10 plays.
Anyway, the Samson is an Adam with laces. Therefore...home run... But if you like straps, or can't wait until 2012, this is a shoe worth checking into. Especially if you can't get over those toe shoes...
Cheers citizens