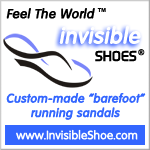 Steve Sashen over at Invisible Shoe does a lot of things right with his company. He has top-notch products and customer service. He provides tons of great how-to information on huaraches. He has luxurious long man-hair of which I am immensely jealous.
Doesn't this photo make you want to watch video of him running in slow motion? Maybe even give someone a slow-motion jump hug at the end? My hair by contrast looks like the bottom end of a corn broom.
He also makes a kick-ass sandal. The original Invisible Shoe huarache provides wearers with an experience that is as close to barefoot running as you can get. It's the only product that I will voluntarily put on my feet for road running. Everything else makes my feet fall asleep from boredom.
I also had a few minor issues with the original Invisible Shoe that made me hesitate to annoint them the greatest huarache of all time. I found the greatest strength of the sandal to also be a weakness. The incredible flexibility of the sandal also gave the sandal a bit of a wonky fit unless it was tied correctly. Therefore I opined that it was not necessarily a good choice for those new to huaraches.
Well Steve has a lot of brains under that mane of his. And it shows in his second generation of huaraches: the Connect and Contact sandal.
I was going to take my normal sub-par quality pictures for this review, but then I found this video on the Invisible Shoe website. It does a lot better job showing off the sandals than I ever could. My only criticism is that I wished he did more "hairography". Or at least tell us what kind of "product" you use. So shiney!
So as Steve explained in the video, the sole of most huaraches are just a piece of rubber cut in the shape of your foot. Most companies nowadays use some kind of Vibram product. Most, including the original Invisible Shoe, use Vibram Cherry which is prized for its flexbility and durability. Luna Sandals uses a stiffer kind of rubber known as Vibram Neoprene.
All of those products have their strengths and weaknesses. The Vibram Cherry provides excellent groundfeel, but at the same time is a bit too flexible. The Vibram Neoprene has the opposite problem. It has more rigidity (and more comfort when it molds to your feet) at the expense of groundfeel.
In my opinion, the FeelTrue sole on the Connect and Contact gives you the best of both worlds. It is flexible enough to still provide great groundfeel, and just stiff enough to make it easier to tie and more comfortable to wear. I found it very difficult to tell the difference between the groundfeel of the Connect and the original Invisible Shoe. That difference was a little more pronounced in the Contact sandal, but that was to be expected. The Contact sandal is a 6mm sole, whereas the Connect is a 4mm.
Another improvement comes in terms of fit. One thing I like about Luna Sandals is that after a while the neoprene sole molds to the shape of your foot, which is very comfortable. The original Invisible Shoe does this too if you tie them tight enough. But in that case the sandal has a tendancy to fold over on itself so that the footbed comes in contact with the ground. That's a major sandal felony.
The FeelTrue sole doesn't conform exactly to your feet as would the Luna Sandal. All FeelTrue soles of the same size are identical, and the top part is cut to the shape of your feet. But the FeelTrue is molded in the shape of a typical foot, making it more comfortable than if it were completely flat.
Stealing another picture from the Invisible Shoe website. Sorry Steve. I hope you don't think I'm phoning this review in.
The FeelTrue sole also is a significant upgrade in the grip department. The sole of the original Invisible Shoe was really only good on dry roads and light trails. I always felt a little unsure of my footing in wet conditions. And I wouldn't even think of taking them on a muddy trail. I found that the improved grip on the FeelTrue performed well on all but the most sloppy trail conditions.
With all of these improvements, I feel like Invisible Shoes are no longer just pieces of rubber with shoelaces attached (albeit a very effective piece of rubber)....something that you could make yourself. In fact, they had a DIY kit so that you COULD make it yourself. These sandals are a cut above...a very professional product.
So why would you want to buy the original Invisible Shoe? I would say you should buy them if you want a more custom fit. The only problem I have with these sandals is that even the custom-made option is somewhat of a stock product. Regardless of your foot shape, a majority of your FeelTrue sandal will be the same shape as everyone elses. That's because in order to make it fit correctly, you only lop off material at the top end. See photo that I stole from my friend Chad's blog
Unshod and Unashamed
(very good shoe reviews over there by the way...he is my finest swag ninja pupil...*single tear* I'm sooooo proud!).
This affects two things. First, some people will have more extra material around the edges of their sandals than others. Some might not care about this, but I prefer a very close-cut huarache. Close-cut sandals is something that Steve does very well with his original model.
Second, the lace holes don't necessarily line up with your ankles. I think that ankle-hole placement is the most critical part of getting a good fit in a pair of huaraches. When I get a sandal with bad hole placement, it's almost impossible to tie them so that they stay on my feet. Instead, they usually torque off your foot one way or the other. Sandal felony #2. Since the ankle holes in the original models are custom-placed, this sort of thing doesn't happen.
But overall, these sandals have replaced the original model for me as my favorite road sandals. They are a definite upgrade in terms of comfort and performance. I suggest you check them out
Cheers