You don't have to spend very long on my website to realize something. I've never done a review of any shoe from Vibram. That's because it's just never been the right time for me. I absolutely loved my Vibram KSOs, but I didn't feel the need to be the um-teenth person to do a review. And everything that Vibram has put out since then has been just so-so to me. If anything, I think everything since their original line-up has been a step backwards.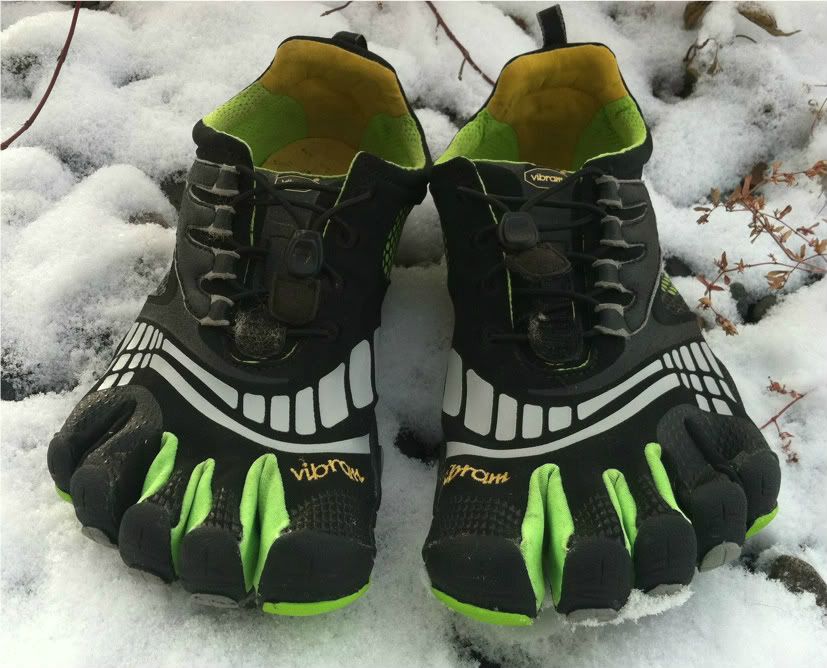 I felt that way until I took one look at the Komodosport. As soon as I saw them, something told me that I had to try them. Why? Let me put my feelings about the shoe this way. I'd compare the Vibram Fivefinger KSO to the first girl I ever liked in high school. She was very cool. Simple, low-key, down to earth, and good at everything.
I'd compare the Komodosport to what happened to that girl when she went off to her freshman year at college (just to put everything into context, I started college in the late '90s). She got an eyebrow piercing and maybe one of those stupid tribal back tattoos (now referred to as "tramp stamps", but then referred to as "cool"). She started listening to techno music and wearing those gigantic pants with lots of unnecessary pockets. At least part of her hair was dyed with some color of Manic Panic. She put on the freshman fifteen, but it didn't look bad on her.
I didn't know how to feel about the changes she'd made. At the same time, she looked kinda hot. Maybe it was worth giving the relationship another try. Who knows, maybe I'd be surprised. The Komodosport is a lot like that to me. Not because it's Vibram's version of a raver chick. But it was the model that intrigued me just the same. This seemed like the model I should use to give Vibram another chance. And I'm glad I did.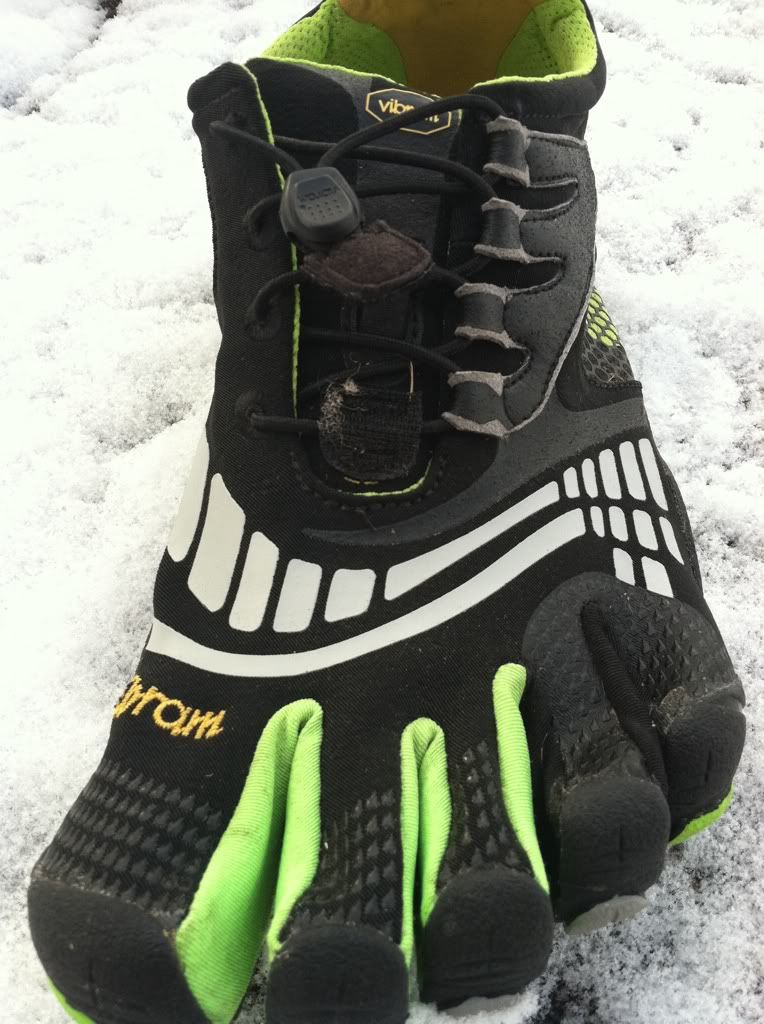 If the KSO is low-key and simple, the Komodosport is the opposite. It's loud, flashy, and full of features. The KSO does have some more bold color options, like those that sport a camoflage sole. But even those have nothing on the Komodosport. The color combo I received is actually one of the more tame options. I dig a colorful running shoe; especially a Fivefinger. You're going to make a statement wearing these shoes. It might as well be a good looking one.
Like all LS models, the Komodosport LS sports a quick lace rather than a strap to secure the shoe to your foot. I've tried on other LS Fivefingers such as the Bikila LS, and I much prefer the laces to the strap. It allows for a more secure fit across the top of your foot. But if you prefer a strap, you can always buy the original Komodosport.
Vibram has also added a lot more substantial upper to the Komodosport model; especially in the toes. The KSO comes with a thin polyamide upper that claimed to be "abrasion-resistant". Of course, I kicked a big old abrasion in the toe during my first run. Not exactly truth in advertising. Slight improvements were made with the Bikila, which sported the same fabric but with TPU toe caps. But these always seemed like stickers more than actual protection.
The Komodosport upper is a combination of polyester and nylon that feels much more sturdy in comparison. And each toe is freckled with several rows of TPU dots. In my opinion, these shoes are second only to the kangaroo-leather upper of the KSO Trek in terms of durability. I've already abused my test pair terribly without so much as a hint of wear in the upper.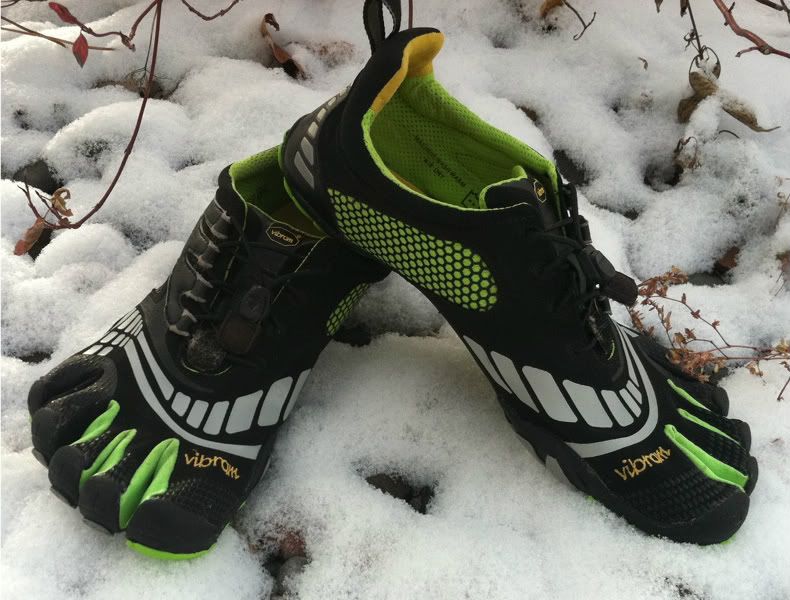 The downside of this more sturdy fabric has been poor ventilation. Even with the nylon-mesh side vents pictured above, the shoe doesn't breath as well as other Fivefinger models. In fact, I would say the shoes are downright insulated. I've been wearing them in temperatures down to 10 degrees F without socks, and my toes have been nice and toasty. On the other hand, in wearing them around town in normal room temperatures my feet have been pretty sweaty. So if you're a hot foot, these shoes might not be for you.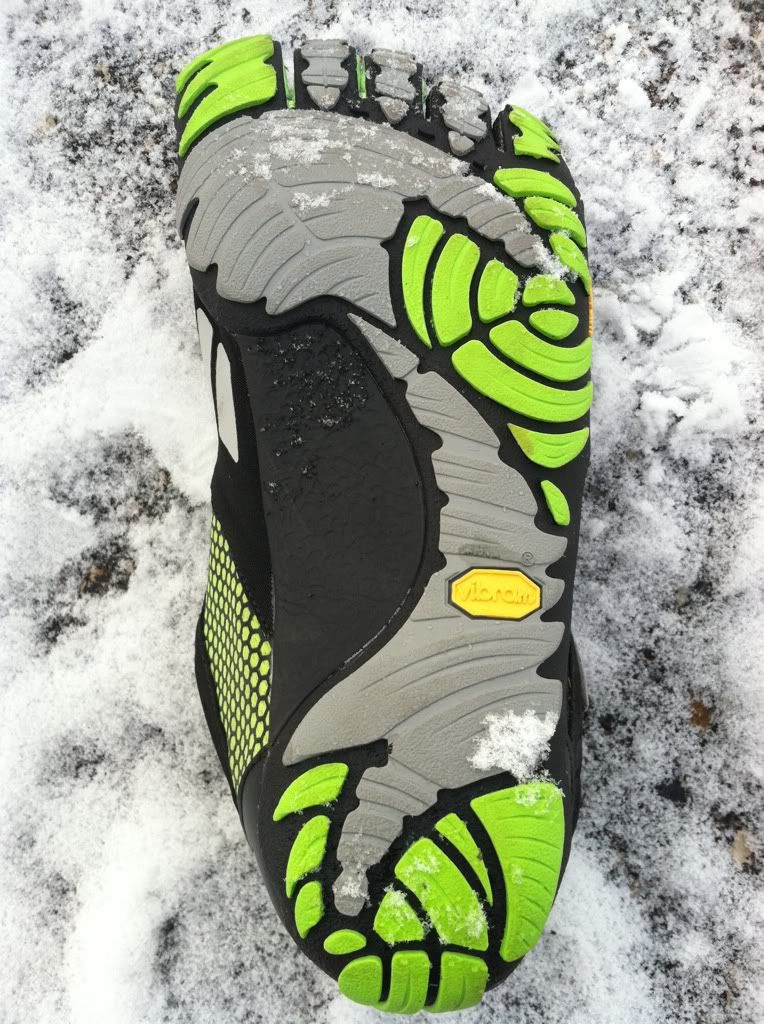 The reason I keep comparing this shoe to the KSO is because, like the old KSO, this shoe is billed by Vibram as a "do everything" shoe. Except that the Komodosport is said to have many "functional improvements that appeal to the most active fitness enthusiast". I would say what Vibram means by that is "this shoe's got a tricked-out sole". Whereas the sole of the KSO is completely flat with a bit of laser sipping, the Komodosport sole is super aggressive. All that tread is supposed to make the shoe good for just about any fitness activity; especially those involving a lot of lateral cuts. Such activities are where the KSO reportedly fell short.
I would agree with that assessment. I would never dream of doing any sort of quick cuts or turns in my KSOs. I've slipped and fell just going in a straight line in those puppies. So in order to see if the Komodosport would do better, I took them out for some fitness workouts involving lateral cuts in addition to my normal run testing (similar to drills you might find in a football practice). I also tested the Komodo on multiple surfaces, including asphalt, trail, and grass. In doing so I will say this: the aggressive tread does it's job. The Komodo provided vastly improved stopping and cutting ability over the KSO on asphalt, dry grass, and packed trail. It also provided modest improvements in traction on wet grass, sand (loose trail), and mud.
In fact, I think this is the first minimal shoe on the market that provides the requisite grip needed for such activities. People always ask me for my recommendations for shoes for court sports (basketball, racquetball, etc.) and Crossfit. Especially for those who do a lot of quick starting and stopping, I don't think there is another shoe on the market that will perform like this one. Every other minimal shoe either has tread designed for running, or has no tread at all. This is the only minimal shoe for you folks in my opinion.
What about the Komodo as a running shoe? Here I was surprised. I thought the Komodos would be a great all-purpose running shoe. But it turns out I don't like the Komodo for straight-up road running. The sole of the Komodo is only 4mm thick, which is thin by minimal shoe standards. But I found the tread to be a bit too stiff for my liking, thus reducing the groundfeel. This was especially true in the forefoot near my big toe where the tread is the thickest. That's also the place where I think you want groundfeel to be the best. So as a result...I wasn't a fan.
What surprised me more is how much I enjoyed the Komodo as a trail shoe. While that stiff tread makes road running uninspired, it's the perfect amount of protection for trail running. I've never been a fan of the tread on the KSO Trek or Bikila. I could always feel it poking me in the foot through the footbed. The tread on the Komodo has enough grip to withstand most trail conditions, but not enough that you can feel it on your foot. That combined with the 6 oz. weight makes it on par with most minimal trail shoes on the market. It certainly can't keep up to an actual trail shoe in sloppy conditions, but it's fine for most trail applications.
But what really put the icing on the cake for me with these shoes was the interior. I've never felt a more comfortable interior on a pair of minimal shoes. And it all starts with the removable footbed. Footbeds of various materials are standard in all Fivefinger models, but this is the most comfortable I've yet experienced.
Note to purchasers: I know I just said that the footbed is removable. I encourage you not to remove it. There's really no reason to do so. For one, the footbed has toes, so putting it back in the shoe will be like putting toothpaste back in the tube. Also, the material underneath is not comfortable to the touch. The shoe really is meant to be worn with the footbed. Sorry if you don't roll like that.
The Komodo is also the first Fivefinger model that I've felt comfortable going sockless in. The KSO interior is not seamless, and as such gave me blisters after only a few miles. The Bikila footbed was seamless, but the Dri-Lex interior felt like the equivalent of a foot condom (not that I know what that would feel like). Like the footbed, the interior of the Komodo is very soft and luxurious. Let me put it this way. If the KSO were a car, it would have a cloth interior. The Bikila would have vinyl...the kind that sticks to your skin in the summer time. The Komodo would have a some kind of exotic leather interior that would make PETA bust a gasket. Actually, the Trek is made out of something that makes PETA bust a gasket. But hey...it's just a metaphor. Point is...it's a real step above in terms of comfort.
So is the Komodosport the second-coming of the all-purpose Vibram Fivefinger as the company claims? I would say yes and no. Yes because the shoe does what it's meant to do. Both shoes are excellent multi-taskers. And the Komodosport has some definite improvements over the KSO. No because those improvements don't necessarily make it better than the KSO. It's just different.
And whether you'll prefer the KSO or the Komodosport will depend on what features you're looking for in a shoe. If you value groundfeel, breathability, and simplicity, you should stick with the KSO. If you need a bit more grip, or you value comfort and sharp design, this is the shoe for you.
I'm glad I gave Vibram another try, and I'm excited about their 2012 line. Looks like they are back on track and headed in a better direction.
Cheers
to toe shoes citizens!