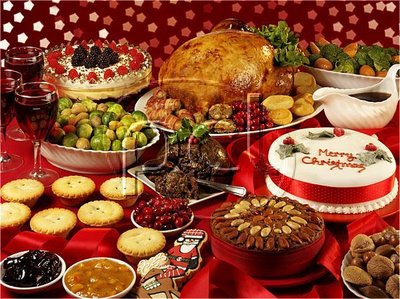 Happy Holidays to you citizens! We're fast approaching my second favorite holiday of the year: Christmas. I am partial to Thanksgiving because it's a holiday built entirely around eating. But Christmas comes in at a close second.
As is the case with Thanksgiving, it can be hard to stay on the paleo wagon in the month of December. Especially with all the cookies, candy, and other crap that everyone tries to shove down your face and get-togethers. The holiday meal itself is similarly loaded with paleo no-no's. So to help you get through it all without a gigantic insulin spike, I bring you some recipes that you'll find on my Christmas table this year.
Maple Glazed Ham
Does anyone eat ham outside of the months of December and April? They would if they tried this recipe. Once you have a nice glazed ham, you'll never want anything from Hillshire Farm again. Made extra delicious with a little maple syrup indulgance. Here's what you need:
8-10 lb Bone-in ham
cloves
1/4 cup maple syrup
2 tablespoons dijon mustard
1 tablespoon cider vinegar
First take the ham and cut a diamond pattern in the skin. This will let the awesomeness from the glaze seep into the meat. Stick the pointy end of the cloves into the skin of the ham between the diamonds. Then cook the ham in a roasting pan at 325 degrees F according to the directions on the package.
30 minutes before the ham is done, remove it from the oven. Mix the maple syrup, dijon mustard, and cider vinegar and brush around half of it onto the skin of the ham. Save the remaining glaze. Put it back into the oven for another 20 minutes. Remove and glaze again with the rest of the goods. Then let it finish cooking.
He's a big pig, you can be a big pig too! Oui! Come on folks! Remember the Lion King?! Anyway...enjoy!
Roasted Chestnuts
Since around Halloween time, every mall in america has smelled like roasted chestnuts and cinnamon-sugar. If you've never had a roasted chestnut over the holidays you don't know what you're missing. There's even a Christmas song about it people! Ingestion of chestnuts in December should be mandatory. And they are super easy to make! Here's the ingredients:
Chestnuts
Butter
Cinnamon
Salt
Slice the chestnuts on the flat part of each nut so that they don't explode and projectile all over your kitchen. Then bake them on a baking pan for around 30 minutes (they don't have to be brown, we'll be cooking them more) in a 375 degree F oven. Once they come out let them cool off and then peel off the shell.
Melt some butter in a saute pan on medium-high heat and coat those little bastards in the butter. Cook until the nuts are light brown. Then sprinkle them with the cinnamon and a little salt. You can do a sweet version with your favorite sweetener as well.
These are a great snack while you're watching the kids pretend they like the sweater grandma knitted for them. Gives you something to do besides act like you didn't raise them that way.
Bacon-Wrapped Figs with Goat Cheese
You can't have a paleo holiday without at least one item being wrapped in bacon. This one is bomb-diggity. If you don't like figs...you do now. Be sure to take one for yourself before serving or they will be gone. Here's what you'll need.
Figs
Bacon
Goat Cheese
Okay...I suppose that ingredient list was pretty obvious, but here's how to prepare them. Slit the figs lengthwise and stuff a small piece of goat cheese in there. You can use bleu cheese too if you're a candy-ass about non-cow dairy. Then wrap each fig with a half piece of bacon. Bake them on a baking sheet at 400 degrees F until the bacon is crispy. Bammy...done! Eat'em up...yum yum!
Cauliflower and Celery Root Mash
I'm pretty sick of the same old mashed potatoes for holiday dinners. For those who are with me on that, this is a surprisingly delicious alternative. First get this stuff:
1 large head of cauliflower
2 medium celery roots
butter
2 cloves garlic
1 teaspoon thyme
First cut the celery root and cauliflower into small chunks and place in a stock pot. Add enough water to cover the chunks and bring to a boil. Boil ingredients until soft. Then drain the water and mash them up with the butter and fresh thyme, and minced garlic until the mixture is smooth. Let that cook for several minutes to let the garlic and thyme incorporate into the mixture. I like these better than mashed potatoes!
Paleo-nog
I don't really do the whole paleo dessert thing. But I do make a mean adult beverage. Here's my recipe for everyone's favorite holiday drink!
Coconut milk (in the carton, not the can)
3 egg yolks
ground cinnamon, nutmeg, and clove
vanilla bean
honey
Mix the coconut milk, egg yolks, vanilla bean, and honey (to desired sweetness) in a sauce pan over medium-low heat until the mixture thickens and coats a spoon. Keep the heat low or you'll have scrambled-egg nog. Once it thickens add the spices to your desired level of holiday spirit. You can also add your favorite holiday spirit (brandy works best).
If you don't like coconut milk for whatever reason, you can use something like almond milk. If you're going to use dairy, I suggest you use heavy cream. Otherwise the texture gets a little off.
Now go make some bad decisions! Cheers and Happy Holidays to you all citizens!