Happy Monday folks! A little background on this post. A couple of months ago I attempted to review the G2 shoe by Sockwa. Sockwa is a water shoe company that has been on the outskirts of the minimalist running scene for a while. Their Amphibian water shoe was popular among barefooters back when there weren't a lot of minimalist choices on the market. They hadn't been a real contender compared to the big brands though because the toe box of their shoes was horribly small.
However, recently they've been trying to cater to the minimalist crowd by creating options with more features us barefooters would enjoy. Their first effort in that regard is the G2.
And I'd love to review the shoe for you. But they don't make it in a size big enough for my foot. So to help me out I enlisted the help of my buddy Chris Van Dyke. Chris has contributed to this blog before, and has his own barefoot running blog over at When I Talk About Running. He did a good job on this review. I hope you enjoy!
What's in a Name, By: Chris Van Dyke
The best and worst thing about the Sockwa may very well be its name.
Sockwa is a great name, because it describes the product perfectly – its pretty much a neoprene sock with just a hint of rubber on the sole for protection.
Sockwa is a terrible name, because, well, its "sockwa." It sounds like it should be sold on a late-night infomercial, preceded by the phrase, "From the people who brought you the Snuggie comes the next innovation in footwear!"
As a company, you want your customers to tell everyone they know how great your product is. "I love my Vibram Five Fingers!" "Have you tried the new Merrell Trail Glove?" But there's now way I'm responding to anyone's inquiries about what I'm wearing with a proud, "It's a Sockwa!" I'm more like Ash in Army of Darkness, attempting to trick the Necromonicron by mumbling his way through an incantation he was to arrogant to memorize. "Klaatu, Barada, mumble-Sockwa-mumble." I suppose it's too late to change it now, since they've got a web-site and a trademark and all that, but really – Sockwa?
Okay, enough snarky comments about the name. After all, this shoe is aimed at barefoot runners, an audience which obviously doesn't give a crap about what the rest of the world thinks about them or else they'd put on some damn shoes already. Let's get to some real reviewing.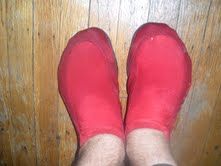 Basically the Sockwa G2 is a glorified water-shoe. Is the name implies, its just a rugged sock, a neoprene bootie with a thin rubber-sole. It's about as minimal as you can get, so Sockwa is clearly aiming at a hard-core barefoot audience. If you are looking for a minimal shoe, this isn't it; if you really want to be barefoot but feel the need for some protection, this shoe was made with you in mind. So let's talk about the things that hard-core barefoot freaks like you care about.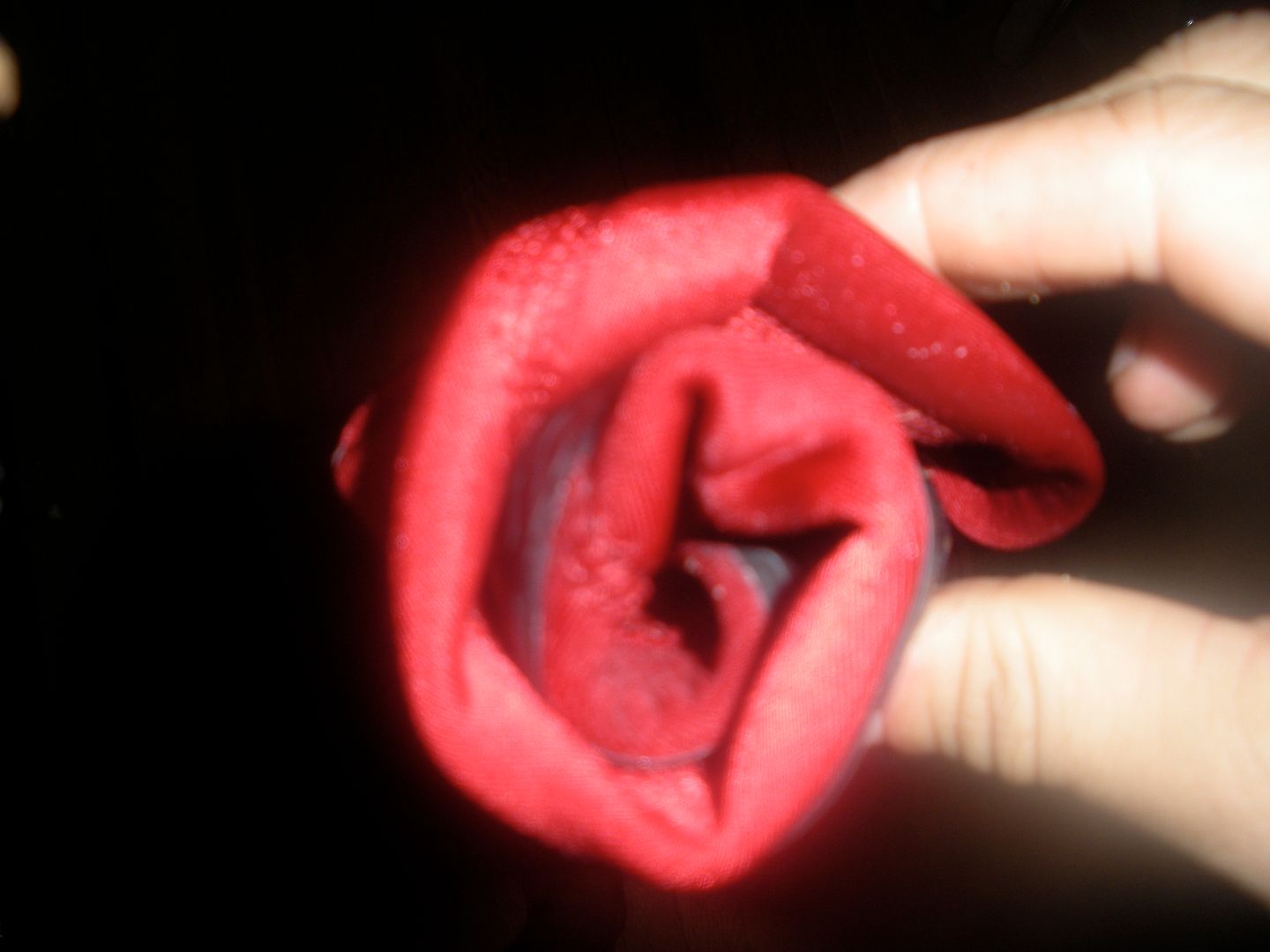 Can I roll it into a ball? Bloggers claim this is about testing flexibility, but let's admit it: rolling a shoe into a ball is just fun. The Sockwa rolls into a nice little cinnamon roll, so its as flexible as anything I've seen. So yeah, you can roll it into a ball.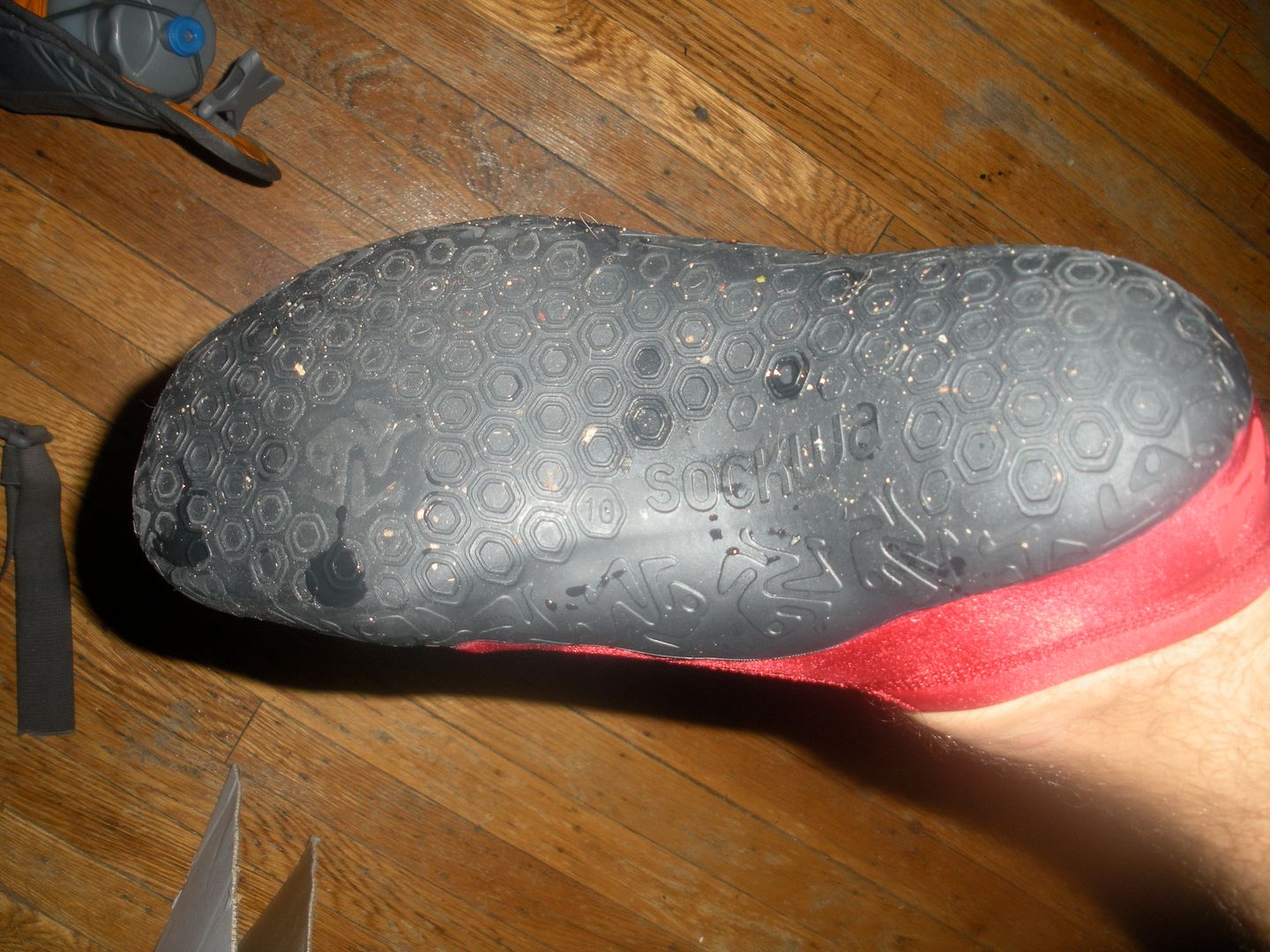 Does it hurt when I run over gravel? This is all about procirpir-waddaya-callit, or ground-feel or something. And the answer is yes: you feel EVERYTHING. You know that cocktail snob friend of yours, the one who says the only real martini is bone-dry, and he merely swirls the vermouth around in the glass and dumps it out so there's the barest hint of sweetness behind the gin? That's what the makers of the Sockwa did with this shoe, only the neoprene is the glass and the rubber sole is the vermouth. Or something like that. The sole on this sucker is 1.2 millimeters thick, meaning it's the thinnest sole on anything I own, nearly a quarter as thick as my Invisible Shoes and almost half as thick as the Softstar Moc3. You can feel the temperature of the ground, the change from asphalt to concrete, and yes, when you run over gravel or sharp stones, it hurts like hell. Which, as a barefoot freak, you think is a good thing.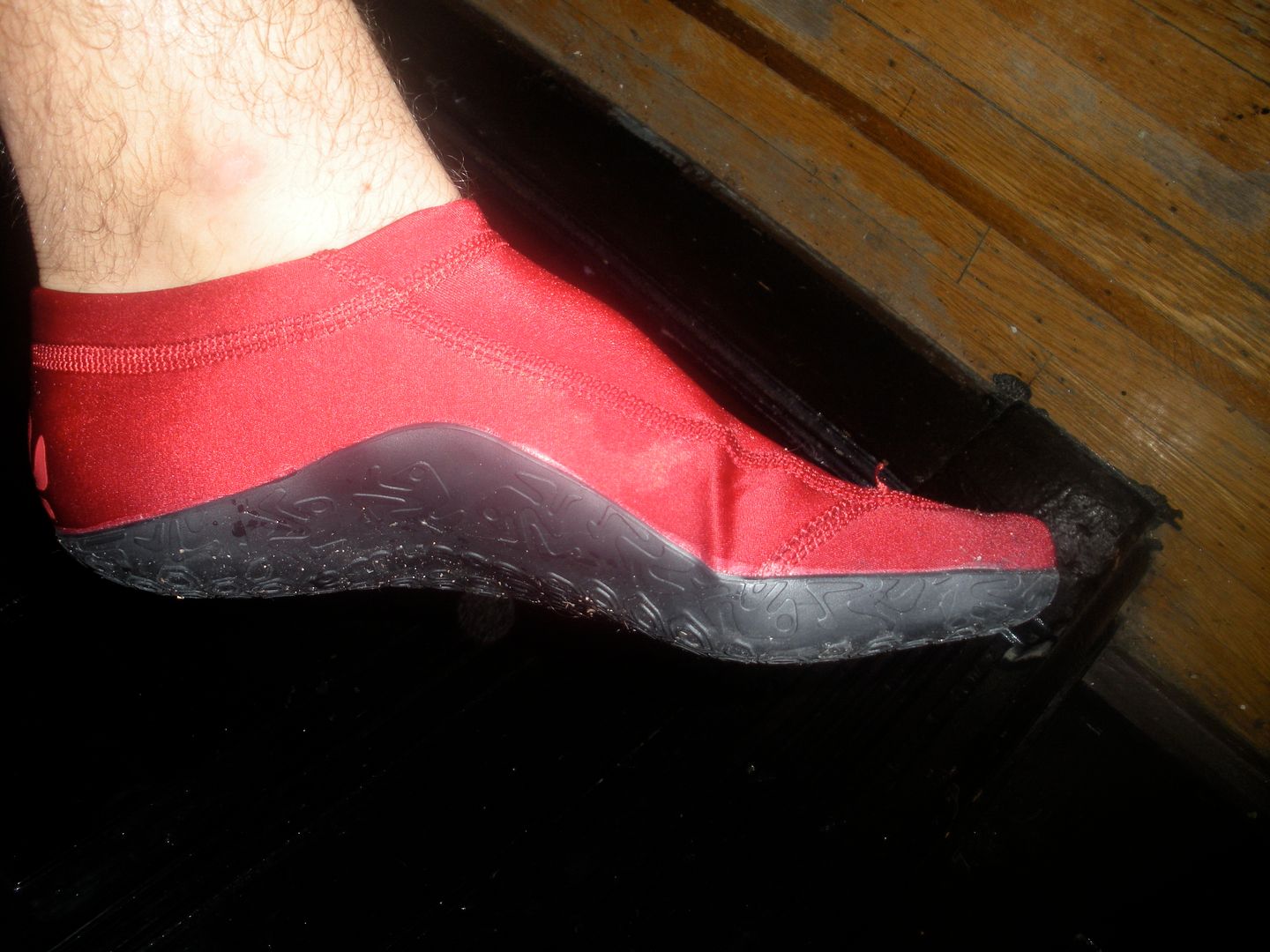 Can I wiggle my toes? This shoes doesn't exactly have a last per se, but it isn't exactly foot shaped either. It's a bit narrow, shaped more like an traditional shoe that I would like, as it was rather tight around my toes. The good news is since it's a neoprene sock, even my extra-wide, EEE feet squeezed in without it being actually uncomfortable. I would have preferred it a bit looser, since I'm a big fan of toe-splay and I've been spoiled by my extra-wide Softstar Dash, but after I'd been running for a few blocks I stopped noticing.
Do they feel like I'm running around with nothing on my foot? My pair was a bit small, so I'm not sure I can really judge their over-all feel. These size 10 shoes were actually sent to The Maple Grove Barefoot Guy, and since he wears a size 28, he passed them on to someone with more mortal dimensions like myself. I normally wear a 10.5, and the label on these suckers say they fit 10 – 11, but they were a bit small for me. Like the width, however, these shoes just sort of stretched to fit. If you like the free-air-toe-wiggling of a huarache, you don't get that with the Sockwa -- these are pretty much a glove for your foot, so the feel is closer to a Five Finger than an Invisible Shoe.
Will they last for 2,000 miles? I've run about 40 miles in mine so far, and they seem to be holding up well. There's a very tiny hole near the middle of my big toe on the right shoe, but it doesn't seem to be getting any bigger. It's too early to see how well the rubber holds up over time, but it seems durable.
Do they smell? What's the best thing about owning Vibrams? Never have to worry about burglars, since when you leave them outside your door at night the scent kills anything that comes within 5 yards of them. The Sockwa is a closed neoprene shoe you wear without socks. So yes, mine are already to starting to reek.
Can I wear them to prom? Or the office? Look, you didn't get into barefoot running to score style points, right? In fact, I'm willing to say you're pretty used to enduring stares from friends, co-workers, and strangers when they see you head out the door without shoes. And when you DO head out the door, you're footwear gets about the same reactions. The Sockwa G2 comes in seven colors; I have the bright red pair. They look like Peter Parker was having a picnic with Aunt May and then the Green Goblin attacked and Peter had to sneak off and change into his Spider Man costume, then after defeating the Goblin he quick switched back to his normal clothes before Aunt May even noticed he was missing . . . but he forgot to change out of his Spider-Man boots! I call them my "Spider-Man shoes." Last week a trio of middle-school girls on their way to school laughed at me.
Overall: The Sockwa is an amazing shoe for someone who is seriously into barefoot running. I wish the toe-box was a bit wider for a more natural feel across the toes, but you can't find a shoe that gives you a closer experience to actually running barefoot. I won't say its "the same as running barefoot" because no shoe, no matter how thin the sole, can fully replicate the experience, but the Sockwa comes close. Really close. I'd give it a 9 out of 10 if I did the whole rating thing.