I just got an email from VIVOBAREFOOT in my inbox with the following title: "It's Official: Barefoot is Best!" Oh goodie! It's official! When is the victory parade? I love parades!
BTW, I think our parade would look a lot like this too.
So I opened the email to see if us barefooters had won anything. Nope. Not even a trophy. The email was actually an article about some sciency stuff. It talked about the latest study by Harvard professor Daniel Lieberman regarding footstrike patterns and injury rates. Dr. Lieberman looked at the injury rate of 52 NCAA cross-country runners over several years. He found that during the course of the study heel strikers were injured at twice the rate of their forefoot striking counterparts (the full text is
here
).
Of course, the study had nothing to do with barefoot running. But VIVO likes to do that whole "barefoot is best" followed quickly by the "we sell barefoot shoes...same difference" switcharoo thing. I'd do it too. It's the best bait and switch since this:
After 40 years of this, you'd think Charlie would have learned. Never trust a woman with a football.
Now, I read the full study. I nerd out on stuff like this. And I have to keep on top of this stuff so that I can report back on it to the four people who read my blog who actually care.
I had read it before I got this email, and I must say...headlines like the one crafted by VIVOBAREFOOT didn't pop into my mind. This study is hardly a ringing endorsement of the forefoot strike, let alone barefoot running. Why? Another important fact in the study...over its course 74% of participants were injured EVERY YEAR regardless of footstrike.
That means that 3 out of 4 runners got injured every year, and 1 of those 3 had a forefoot strike.
Oh yeah...now I'm a believer...
The logic to extend it to barefoot running is a bit more strained. The headline about the study crafted by VIVO is, "heel striking causes two times as many running injuries as forefoot striking". I guess the logic that led them to their email title goes a little like this then: some people forefoot strike while barefooting....HEY LOOK OVER THERE...IS THAT BAREFOOT TED!!....barefoot is best.
How come Ted can make anything look badass? He even makes looking like a chimney sweep look cool.
I don't normally pick apart spam emails with so much detail. I just remember the last time something like this happened. You probably remember it too. It was back in the glory days of the study of barefoot running. You know...2009 and 2010. Those were the years that the same Harvard professor conducted and published his first study on the subject (full text
here
, and cool looking website with lots of pictures for non-smart people
here
). That was the one that made it's way into the best-selling book "Born to Run" by my brother from another mother Chris McDougall.
Then after appearing in BTR it subsequently became the barefoot running gospel and was paraded around for years as proof that barefoot running is the only way to run injury-free...hallelujah amen. Same stretched conclusions. Forefoot striking causes less injury than heel striking...therefore barefoot is best. Even though there's a statement in bold letters right on the
study website
that says:
"We emphasize though, that no study has shown that heel striking contributes more to injury than forefoot striking."

Here's what we barefooters think about your silly Harvard cautionary language DOCTOR DANIEL!
One thing I wish would stop happening is exactly what VIVOBAREFOOT did in that email. Folks, we're not finding smoking gun stuff in these studies to support a headline like "barefoot is best". We aren't going to be able to point to a study and say that we won the war against shoes. In fact, a lot of it seems to fly in the face of what we've been saying for years.
For example, here's something that will blow the hair off your nuts (or whatever you have down there)...heel striking might not be all that bad for you. SAY WHAT?! Read the stuff coming out of the
Natural Running Center
from Jay DiCharry sometime. From what he's found so far, footstrike doesn't seem to be nearly as important as things like stride length (here's
an article
on what he's discovered so far). And cushioning...actually does it's job (at least when it comes to reducing impact forces). I know...weird right.
These sorts of studies don't do much of anything to validate my decision to run barefoot. Rather, they remind me how much we don't know about the science behind the various bald assertions thrown around in the barefoot running community. Even though a lot of great work has been done by Dr. Lieberman and others, we're still just beginning to learn about why things like barefoot running and forefoot striking seem to cause less injury.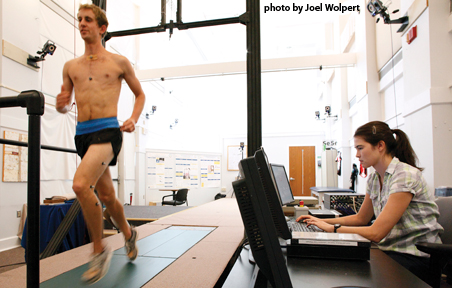 In Jay's lab...blowing up some running form bullshit...
What we'll probably find out is exactly what I'm about to say. And it will save you all the nerdy research that I've done.
Don't let some study or some self-proclaimed guru tell you that the way you run is wrong or that the shoes you own aren't "minimal" enough. If what you're doing makes you happy...go with it.
If you're 100% satisfied, that's the only statistic that matters...
Like the way I ended that? Pretty fucking clever huh? How about something more traditional? Like
CHEERS CITIZENS
!