Less shoe, more you! Right
Barefoot Josh
? For those who don't get that joke, Josh claims that ZEM stole their "Less shoe, more you" slogan from him. That sort of thing is the reason why I try not to say anything clever.
ANYWAY...
Some shoe companies get into the minimalist game by choice. I think others just fall into it.
ZEM
(which stands for "zone of endless motion" if you care) definitely fits that bill. This little company started out as a manufacturer of beach shoes used primarily by beach volleyball players.
Then mid-2010 some creative minimalist runners started running in their
original model
; most notibly my buddy Jimmy Hart (here's
his review
on the shoe). There was a lot to love about this shoe from a barefooter's perspective. At 2.2 oz, it was incredibly light. And it sported a soft, pliable rubber sole that provided amazing groundfeel. For about a week, this shoe was dang near the most popular item in the minimalist running community.
And as quickly as it became popular, it was discarded as a nonviable option. For all its good qualities, it also has features that made running in it for any significant period of time nearly impossible. Specifically, the upper of the shoe comes contact with the ground. So if used on surfaces like asphault the shoe has an incredibly short lifespan. The sole doesn't last much longer. Many of my friends reported wearing through the sole in around 50 miles.
But ZEM wisely saw opportunity in the initial interest in the original model. So it got together with Jimmy, stole Josh's slogan (right Josh?!), and got to designing a better running shoe. The result was the ZEM 360.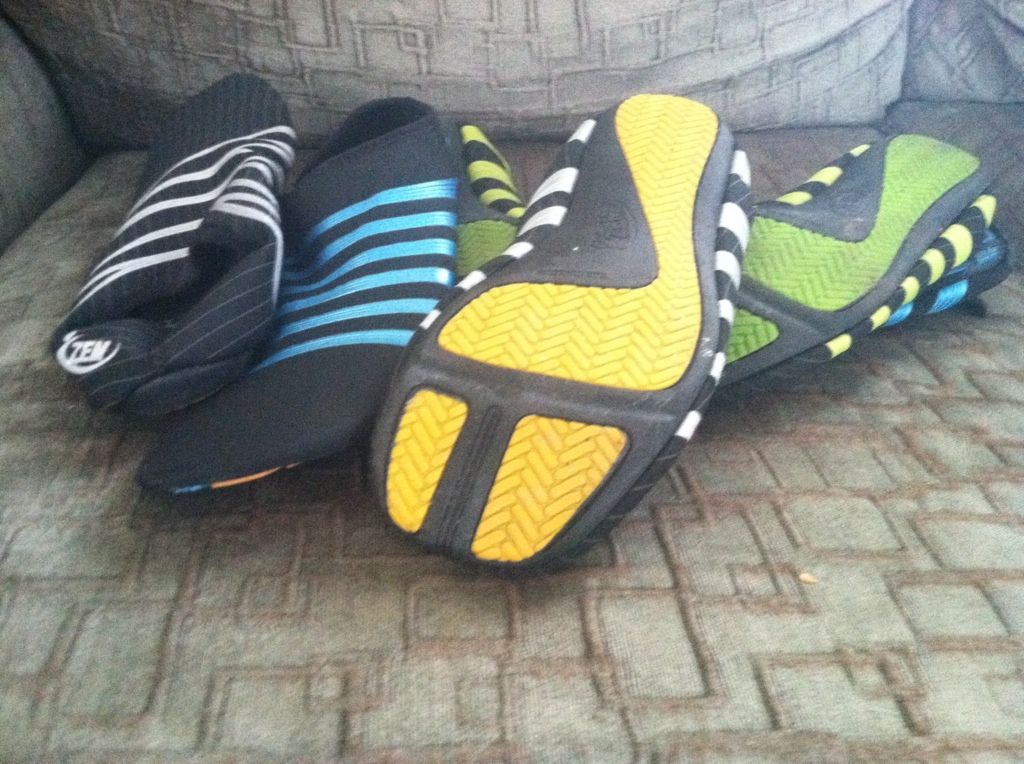 Finally, a shoe for my army of swag ninjas! Now the original series was essentially just a neoprene slipper. The 360 keeps that same design, and adds a few features to make it possible to run in. As with the original series, the 360 model comes in either split or round toe. The round toe resembles a traditional closed-toe shoe. The split toe looks like a cloven hoof or a ninja turtle foot. Both models weigh a ridiculous 2.5 oz. ZEM was kind enough to allow me to test both models.
In fact, as you can see, ZEM sent me a whole pile of shoes to review...including the new O2 model (which will be featured in a seperate review).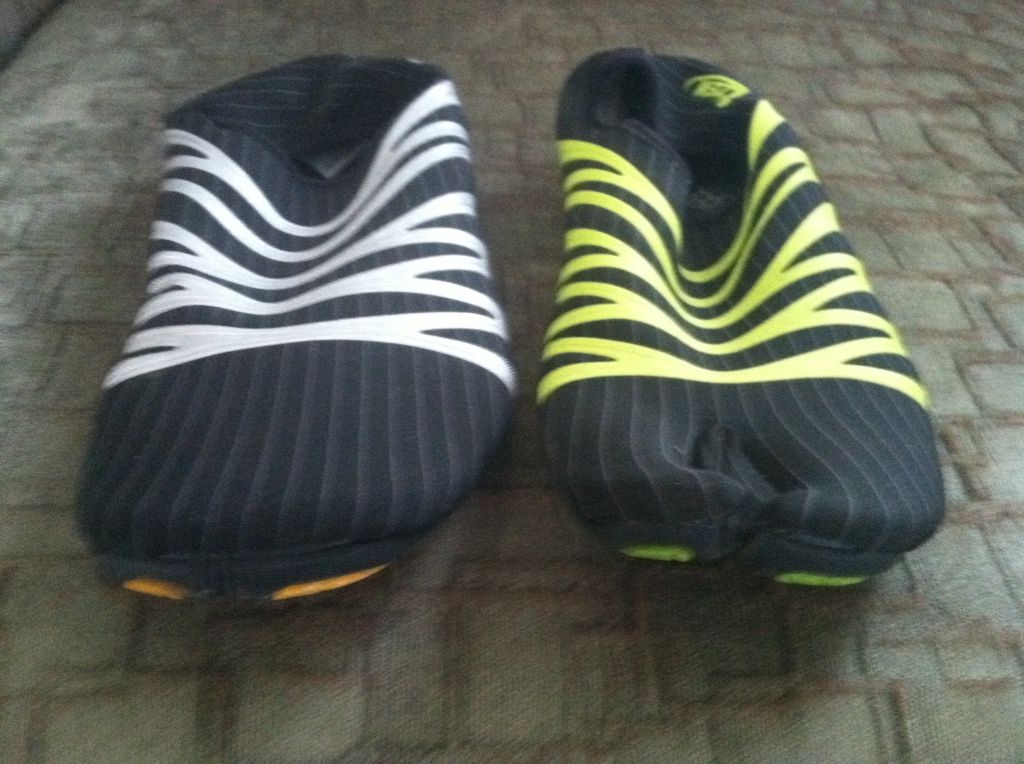 Besides the spliced toe, the construction of both 360 models is otherwise identical (the spliced toe model is on the right, and the round toe on the left). The upper is made from a four-way mesh similar to neoprene called phylon. The original model used a four-way stretch lycra that I found a bit too hot. This phylon material is intended to be a bit more breathable. I've been testing these shoes in the winter, and haven't noticed much of a difference. I can wear the 360s in temperatures down into the teens without socks. So I'm guessing their breathability hasn't improved.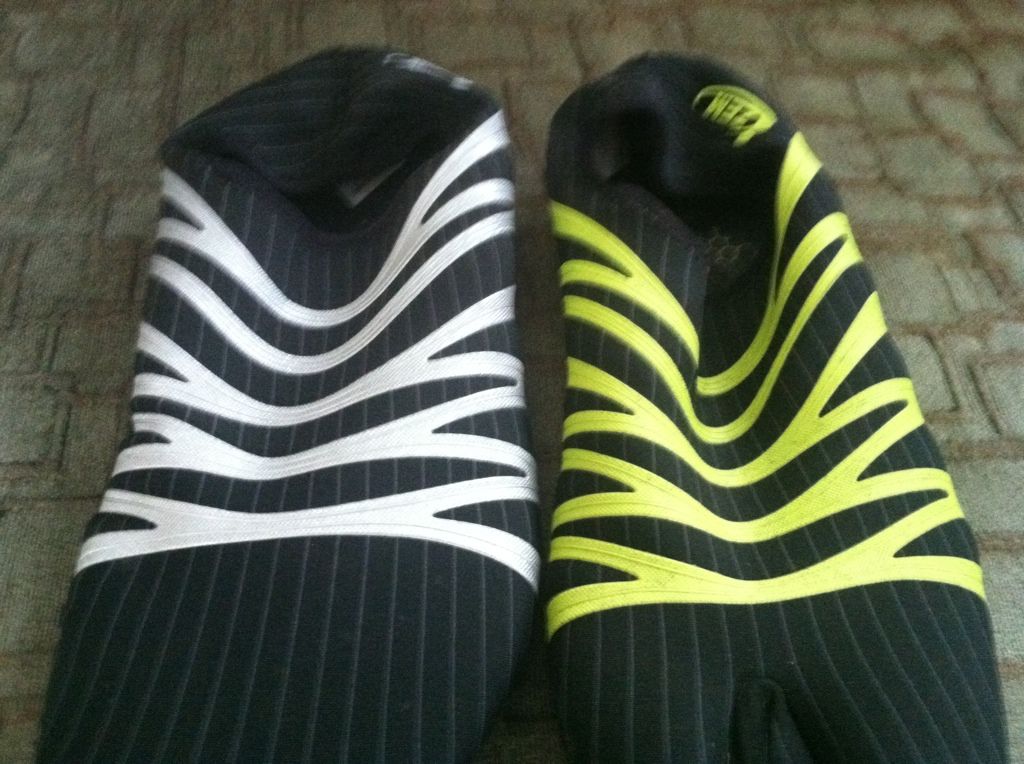 In order to hold the shoe on your foot, the upper features a series of elastic tech bands. The tech bands on the original series did very little to secure the shoe to your foot. So your foot flopped around quite a bit. There are twice as many tech bands on the 360, and the bands are significantly tighter. This is simultaneously annoying and fantastic. Your foot will not move an inch with these tech bands. But at the same time, they are a bit too tight. The tightness is not noticeable while running, but while standing and walking your foot feels like it's in a country ham casing (it's just an image people...I've never put a ham casing on my foot).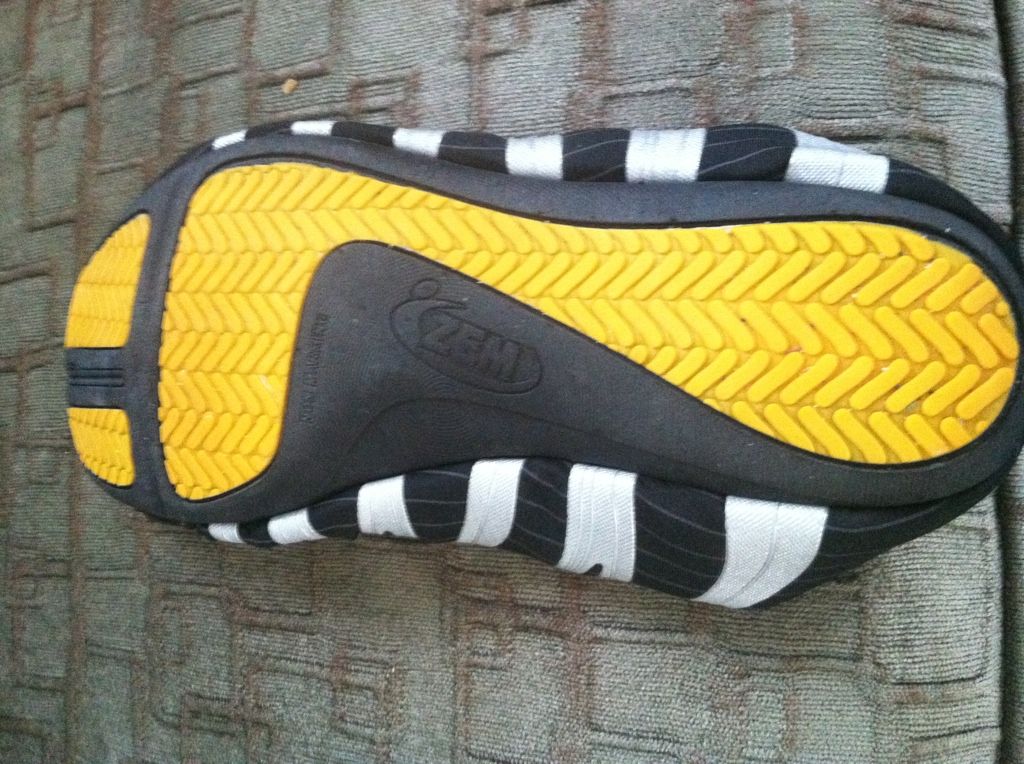 The sole of the 360 is made of a series of rubber pods made of "gecko rubber". Similar to the Soft Star Moc3, these pods are only located where your foot makes contact with the ground. The gecko rubber is supposed to be great for traction on asphalt. The remainder of the sole is made of a material similar to that used in their original model; a kind of soft rubber. The total sole thickness is around 3mm.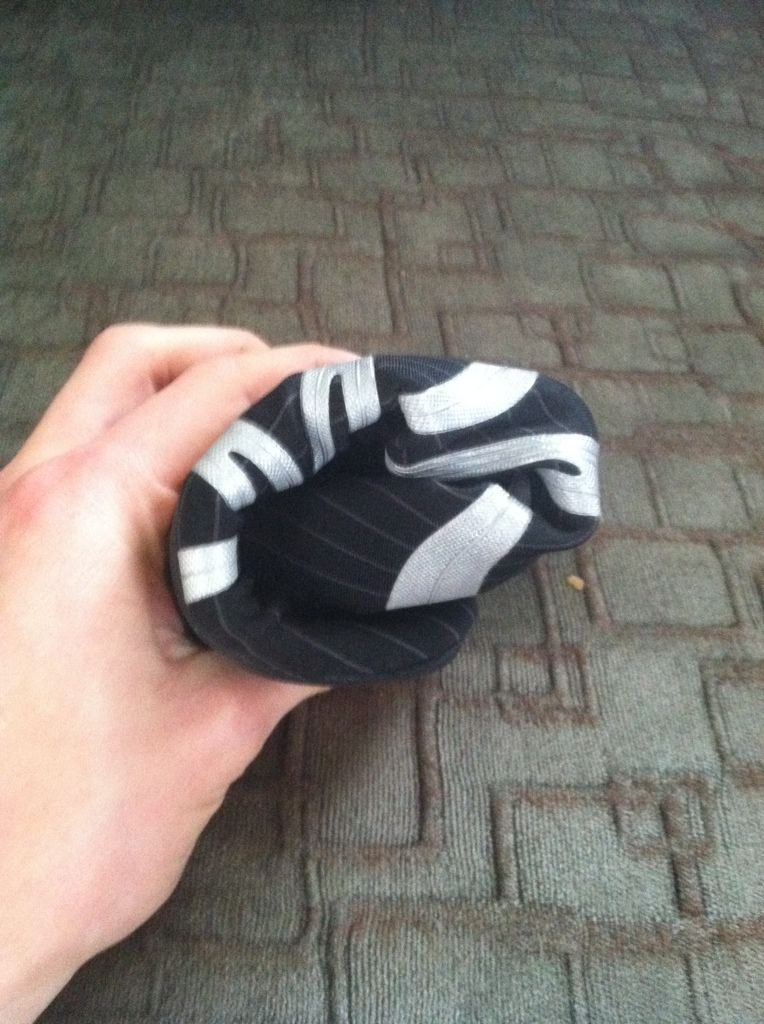 The design of the sole is great. Using pods instead of a continuous sole does wonders for the shoe's flexibiliy. The sole would have been perfect in my opinion if they hadn't used gecko rubber. It was a bit squishy for my liking. I'm used to the feeling of solid Vibram cherry under my feet. But if you haven't tested 30 pairs of minimal shoes before this, you probably won't notice and think the groundfeel is incredible. And you'd be correct. It's only a hair shy of the Soft Star Moc3 in my opinion.
My big beef with the 360 is the interior. One of the big complaints about the original model was that it was not seamless. It especially tended to irritate one's toes on the round toe models, and between the big and second toe on the split toe model. Well...not much has changed. In fact, I reckon that the seam in the 360 is more pronounced. Now I only noticed the seam while standing and walking, and found it unnoticeable during running. I can wear these shoes without socks...no problem. I have heard reports that others haven't had the same luck. A seamless interior is pretty much standard on a minimal shoe nowadays. In contrast, this is the most significant seam on any minimal shoe I've tested.
With all of that, the running experience in these shoes has been a mixed bag for me. The ZEM line does a lot of things better than any other minimal shoe. For one, it's the lightest minimal shoe; even lighter than some huaraches (with a weight of around 2.5oz). And it's sole design (minus the gecko rubber) is brilliant. But the fit issues from the tech bands and seams significantly detract from the overall experience. Fix those issues and ZEM have themselves a home run. Also, for reasons I'll explain later, I think ZEM saved it's best sole for the O2.
Not to mention, this would finally be a minimal shoe with an equally minimal price. Both models of 360 retail for $59.99. At that price, you can buy one in every color. Not that you should...unless you are a swag ninja full time.
This is definitely a company to watch folks. I look forward to seeing what they have up their sleeves in the future!
Cheers