Let's be honest here citizens. There are some decent minimalist trail shoes out on the market right now. But when push comes to shove and conditions get rough or sloppy, they are almost all pretty useless. You slip and slide all over the place in the mud. And you bruise the crap out of your feet on really technical trails. Mostly this is because in order to appease the minimalist crowd, shoe companies have to strip all of the good features out of a trail shoe in order to give us our beloved groundfeel.
At least that's what happened with shoes released in 2011. In 2012, I'm seeing shoe companies starting to put in features that add back performance. Of course that comes at the expense of a lot of things we barefooters hold dear. Stuff like groundfeel, heel raise, and weight are just a few things that may be sacrificed. To add performance and still appease the minimalist hardcores, companies will have to walk a thin line. And I don't know if any company more suited to the task than New Balance.
New Balance has been making stripped-down trail shoes now for several years with the help of ultramarathon great Anton Krupicka, starting with the very popular MT100. With Anton's guidance, New Balance has made a whole range of lightweight trail options, from MT100 and 101 to the Minimus line. Their newest collaboration is the MT110, which Anton
describes
as somewhat of a marriage between the two lines.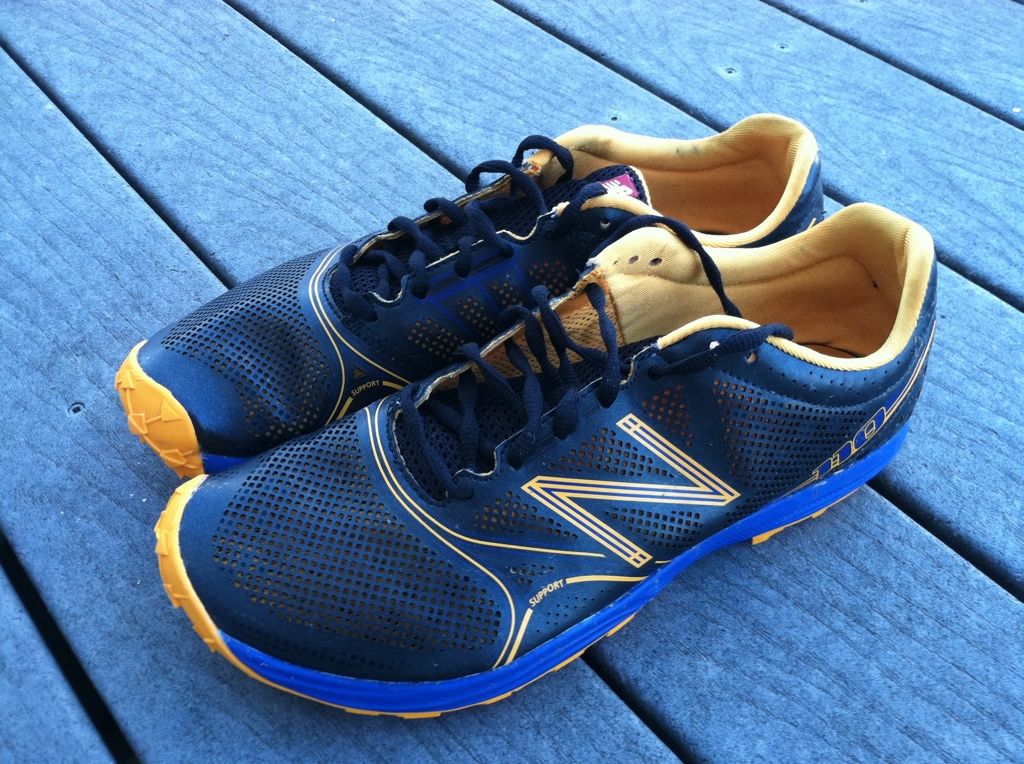 For those unfamiliar with either line, it's like this. The MT100 and 101 were New Balance's first attempts at a kind of an ultra-light trail racing flat back in 2008 and 2009. They featured an 8mm heel to toe drop, a rock plate, some pretty respectible cleats, and a slim 8oz weight. In a world with no other real minimalist trail options, these shoes were pretty awesome to us barefooters. Then in 2011 New Balance released the Minimus, which had a 4mm heel to toe drop, no rock plate, a more natural-shaped last, and weighed a slightly slimmer 7oz.
Awesomer? I never really thought so. Now don't get me wrong. I like my Minimus Trails. But whenever I wear them, I'm always picking features from the MT100 that I wished were on that shoe. So when I heard about the MT110, I got really excited. In many ways, the MT110 takes the best of both shoes and makes a kind of awesome shoe sandwich out of them.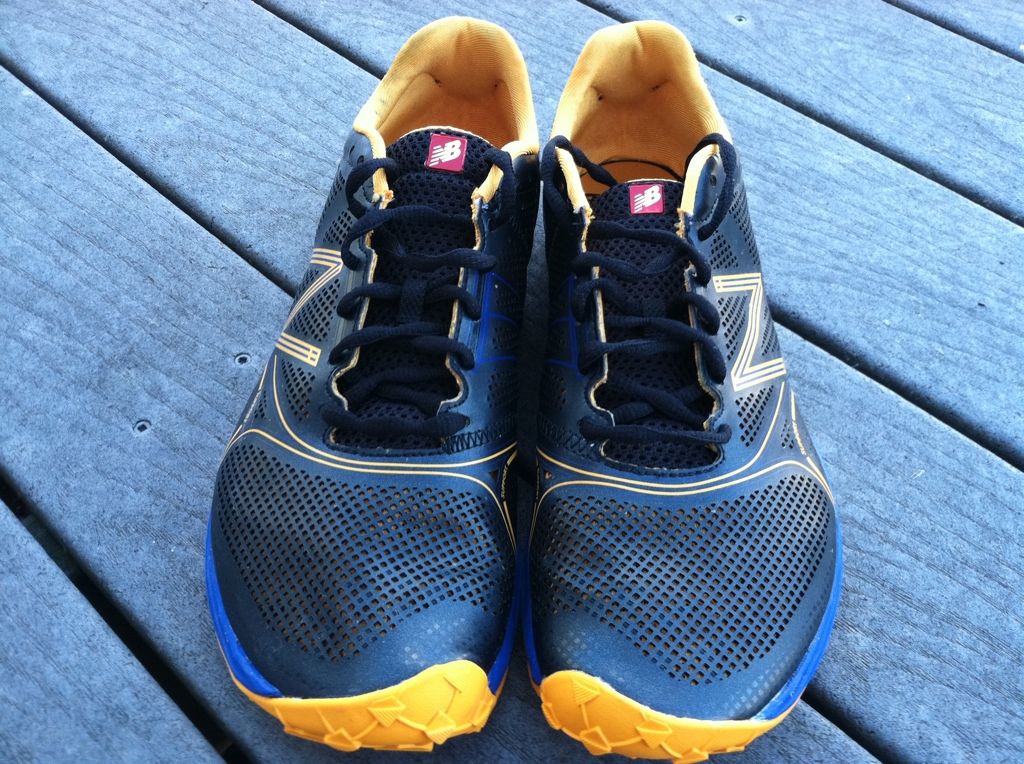 The MT110 starts with the Minimus last, meaning that it is larger at the toe box and smaller in the arch and heel than the MT100. Now I know that you thick-footed folks complain about the tightness of that last. But fear not! This shoe will be available in wide sizes right from the get-go. The shoe also trades the 8mm drop of the MT100 for the Minimus's 4mm drop. However, the MT110 also keeps the features that make the MT100 such a great shoe. Namely, it keeps a more aggressive outsole as well as a rock plate (in the forefoot only, not the midfoot).
So that's the lowdown on the guts of the shoe, here's a bit about the rest of it. The upper is constructed out of two materials. First is a synthetic mesh upper (black) that does very well to repel water while at the same time allowing for adequate drainage of the water that actually gets in the shoe. My first test run in these shoes consisted of an 11 mile run in ankle deep wet snow. My feet barely got wet through the whole ordeal.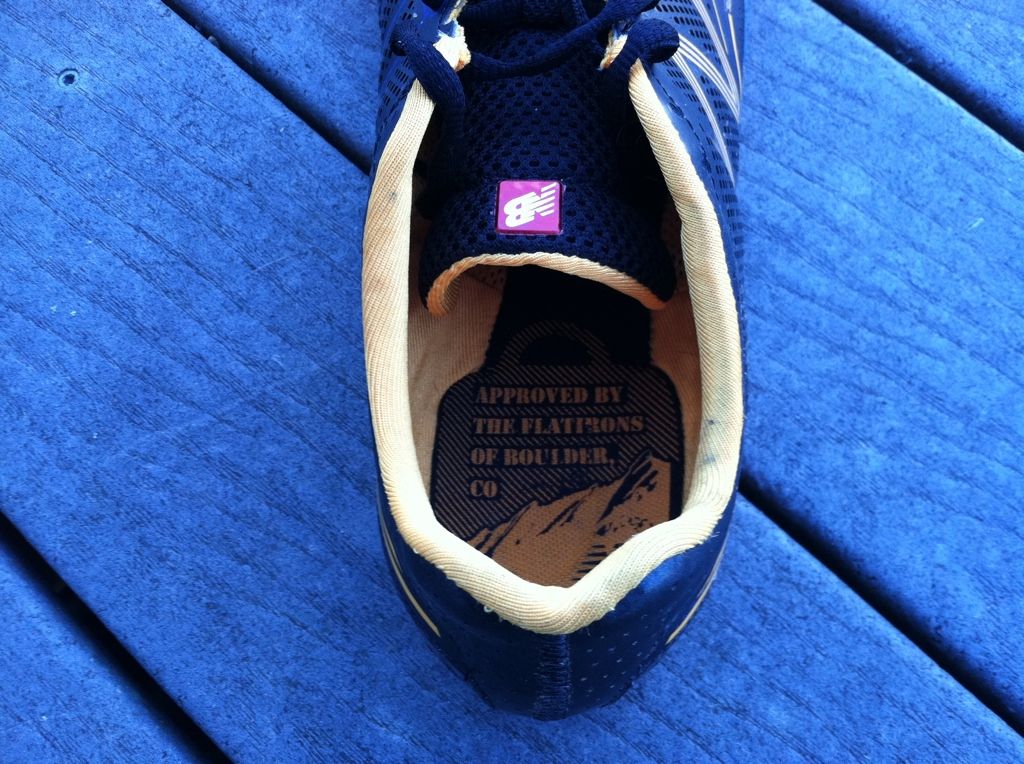 Underneath the mesh is the same seamless interior liner (orange) used on the Minimus line. That is, except for the heel cup, which more resembles the MT100 and 101 (i.e. it is substantial for a Minimus shoe). Having tried both, I prefer the Minimus heel. A lot of folks found that the MT100 caused a lot of heel chafing. Guess what...this heel cup has the same problem.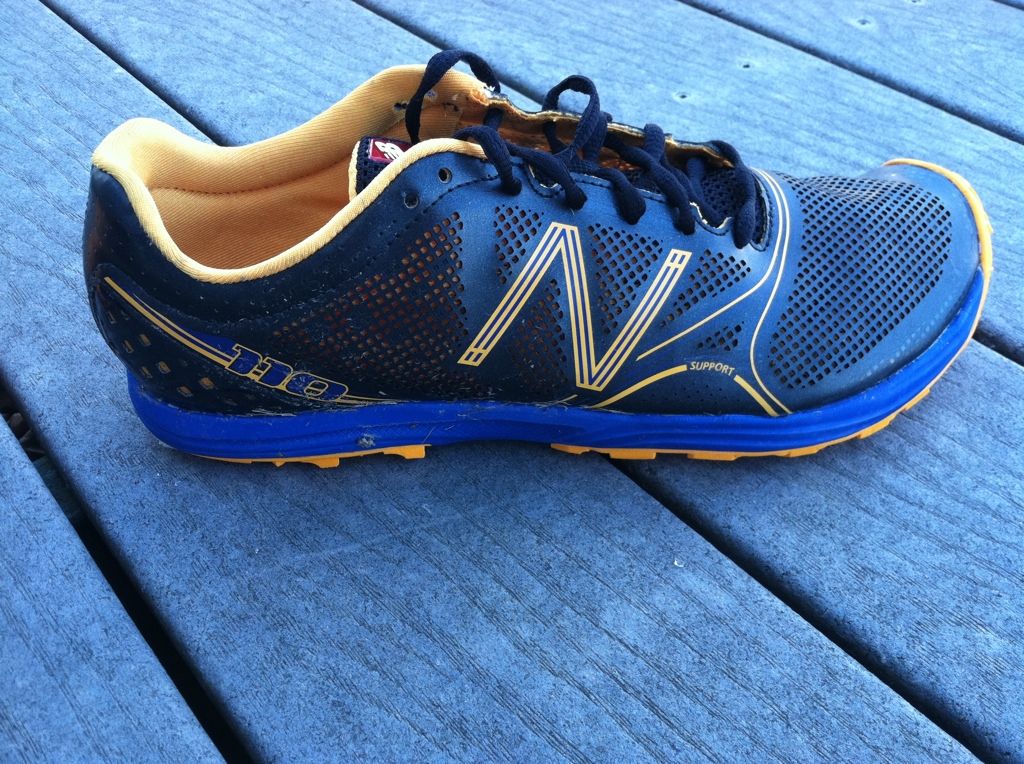 The midsole of the shoe (i.e. the blue stuff) is made of a foam called Acteva, which according to the company website is 12% lighter than traditional EVA foam. I'd prefer that the shoe not have any cushioning (duh), but I can't say that I really noticed it all that much while running. Fortunately all that the cushioning doesn't make the shoe overly bulky. My size 12 samples came in at a slim 7oz, similar to the original Minimus Trail MT10. The stack height of the shoe is also similar, rising 19mm in the heel and 15mm in the forefoot.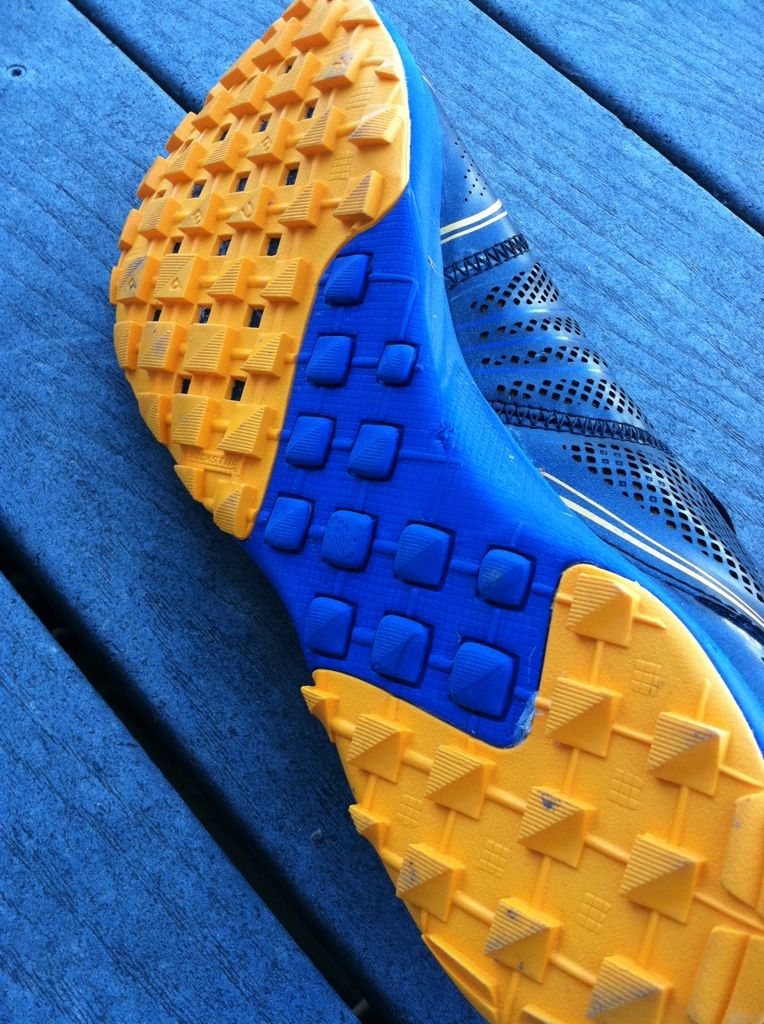 Awww...you big lugs! Where have you been all my minimalist life! As with other members of the MT family, the MT110 has a series of lugs on the outsole. Though these are more aggressive than those on the Minimus Trail (read...way better). Short of a full cleat like that available on the Inov-8 Bare Grip, this is the most substantial lugging produced on a minimal shoe (or a "reduced" shoe if you want to play the name game). And as with more recent iterations of the Minimus, the most substantial tread is located in the places where it is used most. Thus, there are a series of hard, molded diamond cleats on the heel and forefoot of the shoe, and soft blue diamonds in the middle.
These lugs represent a big improvement in traction over the Minimus Trail. The circular lugs on the Minimus didn't do well on loose dirt or mud, or any sloppy surface really. These on the other hand perform just fine most anywhere. Most of my testing for this shoe occurred on snow and mud covered trails (two of my least favorite trail conditions). The lugs worked almost as well as a heavy cleat. But I actually prefer it to a shoe with cleats, because as with other Minimus models it allows you to run on hard-packed trail or asphault without feeling the sole poking you in the foot.
Folks used to a traditional minimalist shoe will find the sole of the MT110 significantly stiffer than you're used to. The yellow portions of the outsole are quite solid. I literally could not bend the sole of the shoe unless I really used some force. So don't expect much in the way of groundfeel. In fact, I can't say that I felt much of anything underfoot. Though I can't say I minded too much. On trails where I usually had to watch my step, I could do things that shoddies do like crash down downhills...or not care so much about foot placement. Sometimes that's nice...and even necessary.
I went into this test wondering how I would feel about stepping back into a more traditional looking trail shoe. I thought that I would absolutely hate it and rip the shoes off in disgust like I did while testing the Newton MV-2. I was pleasantly surprised at how much I enjoyed running in these. New Balance has done a great job of treading that line between minimalism and performance with these shoes. If you are looking for a shoe to handle more technical trails, I think shoes like this are worth looking into.
The only thing that I could have done without is the 4mm heel drop. I feel like every added feature on the shoe, from rock plates to lugs represent a functional tradeoff between performance and minimalism. A heel drop on the other hand serves no purpose other than to appease a particular market segment (i.e. people who think they need heel drops). Well, hopefully New Balance caters to my market segment with a zero drop model in the future, because otherwise I don't have much use in my arsenal for these shoes. I actually find that into long trail runs, the heel drop causes me significant calf and knee pain. So I've had to limit my test runs to under 12 miles. And who wants to limit trail run mileage?
But for those people who don't have similar objections to a heel raise, this is a great minimalist answer to those rocky trail runs and races. There are a ton of great "reduced" shoes like this one coming onto the market this year. And I hope to test them all and report back to you loyal readers.
Cheers
to being pleasantly surprised!