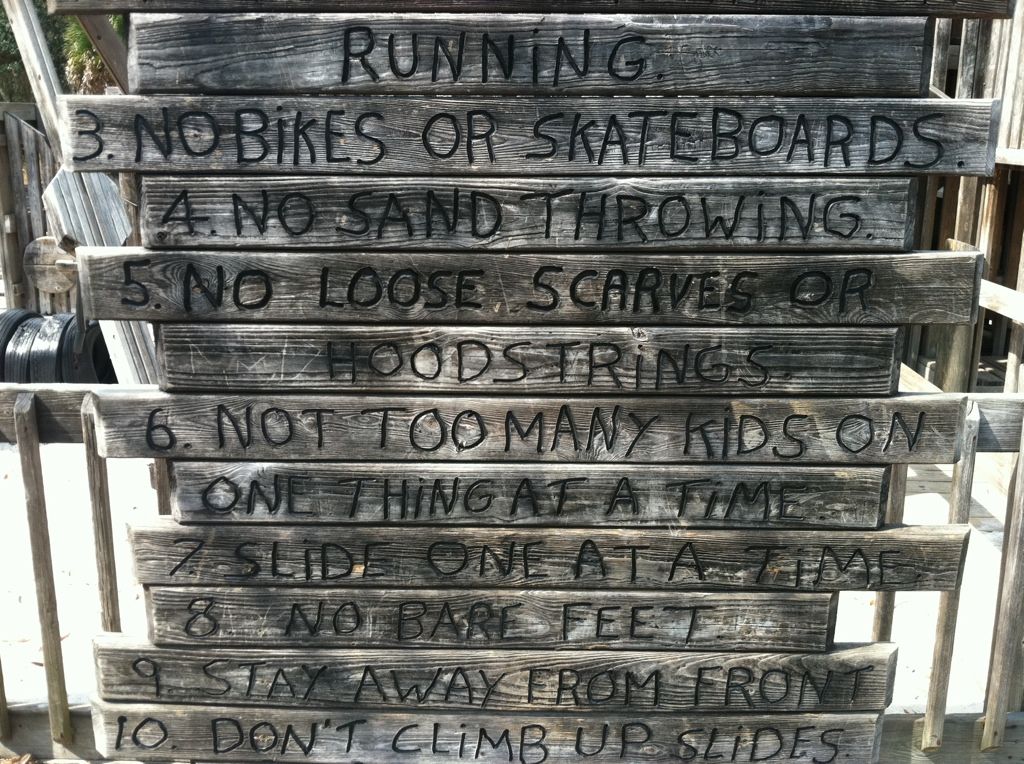 Rule #11: ALL RULES MUST BE PUBLISHED ON WOOD PLANKS. RULE #12: NO CORRECT GRAMMAR REQUIRED. RULE #13: NO FUN EVER!
Citizens, I am friends with a lot of bloggers. Specifically running bloggers. If you haven't figured it out from my website already, when fitness bloggers decide on their goals, they generally write about them. Lately, I've been reading a lot of posts where my various friends are sizing up their chances of completing an ultra marathon. Ultra marathons by the way are the new marathon. All the cool kids are running them. The newest kids looking for an invitation to the ultra clubhouse are my friend
Trisha Reeves
, and my friend
Chris Van Dyke
.
Also, as to be expected when dealing with a goal as big as an ultramarathon, some of my friends have been having doubts about their ability to finish one of these bad boys. Now doubts are to be expected with this sort of thing. Any new fitness challenge can be an incredible obsticle. Your doubts are your mind's way of self-preservation. I think having and expressing one's doubts is healthy.
I was moved to write this post because of how some of the doubts were expressed. I'll use Trisha as an example, both because I think she's an awesome writer and I want to drive traffic to her site (Internet celebrity bump!). Also because she so eloquently articulated the doubts I want to talk about (here's her
post
).
Trisha's goal is to complete a 50K after having only completed the half marathon distance. This goes against the unwritten rule of race progression. First you do a half marathon, then a marathon, and THEN an ultramarathon. Right?
Well Trisha's anxiety didn't just come from her attempts to leapfrog the established order of things. She was also worried because her training didn't seem to stack up to that of others looking to run the same or similar races. These folks seemed to easily be knocking off the required long runs on their ultramarathon training plans, whereas she was struggling. I assume that her thinking went: "If I can't imitate the runs prescribed by an ultra marathon training plan, I won't be able to finish an ultra marathon".
Those are the rules right? If you want to run a marathon, you must do at least one 20 mile run in training. And you have to do 400 meter intervals 3x a week. And you need to have run at LEAST one marathon before you attempt an ultra. Right? THESE ARE THE RULES PEOPLE!
The thing is, for every unwritten rule about this fitness stuff, you find a whole bunch of exceptions. How about
Bookis
and Barefoot Ted (from Luna Sandals), who have both run 100 mile races afte training no more than 5-10 miles a week? Or how about
Vanessa Runs
, who just completed an 100 mile race before even completing a 50 miler?
When it comes right down to it, the rules of the fitness world aren't much different than the rules on the picture above. I found this sign in front of a park I took my daughter to last week. I took one look at the rules on the sign and proceeded to break every single one (except for the skateboard one...I forgot mine at home). And my daughter and I had a blast.
Sure, I know why the rules were put there. It's because some kid of some helicopter parent at some point did one of these things and got a bobo. Then instead of accepting the fact that kids occasionally get hurt, helicopter parent went to the PTA or whereever you go to complain about stupid shit and threatened to sue. Then the PTA overreacted, bought a pack of two by fours, and got to carving some ridiculous rules.
Same thing with running rules. They were made by people who came before you, by people who think they know what's best for you. These folks had good intentions in writing the rules. They were designed to give you the best chance of success in that fitness goal based on those people's experiences.
But with fitness, what's good for them isn't necessarily good for you. When it comes to your body, you are an experiment of one.
So how do you decide if you're ready for a challenge like an ultra? The only tool you need when it comes to considering a fitness goal is one I learned from Tim Ferriss, author of the 4-Hour Work Week. It goes a little something like this:
1. Get a goal, the more ridiculous the better
2. Imagine what complete and utter failure in going after that goal would look like
3. Assess the probability of complete and utter failure actually happening
When it comes to a goal like an ultra marathon, complete and utter failure is a DNF (did not finish). Maybe that's because you just get tired and crash. Maybe you get injured. Either way, you end up drinking beer and eating ultra food in the med tent and meeting some really cool people. I wish I could DNF right now!
What's the chance of you completing an ultra? Well that's an individual question only you can answer. It depends on your level of fitness. But if you even have an inkling that you can do it, you should sign up. That's because once you make the commitment to do something, you're more likely to do anything you can to make sure you succeed. So the likelihood of complete and utter failure actually goes down.
Here's some things that shouldn't factor in. First, ultras are long. And yes, running a distance of 31+ miles will be difficult. It's going to hurt. Maybe a lot. You know what hurts worse? Not trying in the first place.
Quit letting other people tell you what you're capable of citizens! You are all able to do amazing things! Get out there and do something crazy!
Cheers!