Several weeks ago I was reading the highly entertaining blog of my friend
Patrick Sweeney
. If you haven't read it, you should check it out. Patrick's accounts of his adventures as a Lunatic and elite racer are pretty epic.
No shoes, no pants, no problem.
I was browsing a post about his trip to Austin to participate in the
The Running Event
expo with the folks at Luna Sandals when I came upon this jab: "Our closest competition at the expo was Invisible Shoes , they make a decent product but it's more of novelty huarache geared towards
people who like to talk about running
rather than actually do it." The link in the underlined portion took readers to my website.
Of course the jab was all in good fun. I enjoyed it because it was a burn on many levels. He's knocking my love of a certain company that sells you pieces of rubber on a string, along with my propensity to train for running by not running. Well played hombre. But, at least with respect to the running part, I take it as a compliment.
Although I had been running for several years before I read "Born to Run", I wasn't a very serious runner up until that point. I wasn't at all fast, and I couldn't run very far. I could hold my own up to the half marathon distance. The stories from BTR inspired me to think that I could run a marathon, and even an ultra marathon (both of which I did). Particularly what inspired me were stories of seemingly ordinary folks who took up running and began to run vast distances effortlessly and with an abundant sense of freedom, strength, and joy. That inspiration swept me into signing up for several marathons, which I trained for using the traditional plan. I ran, and then I ran some more.
But as I built up my mileage, I never felt like the characters in BTR. As I neared those critical 20 mile long runs, I didn't feel exuberant. I felt run down and tired. I didn't feel strong. I felt weaker than ever. I didn't feel free. I felt locked into a training plan that required me to spend increasingly more time away from my family. And even though I had converted to barefoot running, the sanctuary of the injury-free, I was always injured. In three years of traditional marathon training, I was injured to the point where I couldn't run at all four times.
Maybe the real secret to ultra running is doing it in a cool robe.
Recently I've been looking around at the facebook pages, dailymile accounts, blogs and whatnot of my running friends and I've been noticing something. A lot of you folks are feeling the same way as I did. Barefooters and shod runners alike. You're just going from one injury to another. You are worn down and tired. You don't feel strong. And at all different levels...from 5k runners up through ultra marathon runners. What is the deal here? Aren't humans supposed to be born to do this stuff? Some scientist dude in BTR said so!
Ahhh yes...Dr. Lieberman's running man theory. The idea that we evolved to chase for hours antelopes until they collapsed in a heap. I'm not debating the whole running man theory. I think it's a plenty convincing. Here's my question for you folks:
Do you think that primitive man ran 100 mile weeks?
Or 60 mile weeks? Or even 40 mile weeks? Did they even run regularly?
BTR did an outstanding job of portraying runners who performed incredible endurance feats. What it left out was what happened when they weren't doing those things. When the Tarahumara weren't running across the Copper Canyon, they weren't out running two-a-days and trying to hit mileage goals. They were sitting around drinking pinole and fucking each others' wives. When primitive man wasn't chasing antelopes across the plains, he was probably sleeping. Or eating. Or screwing. Okay...probably mostly screwing. We didn't get to the top of the food chain without procreating like bunnies.
Although even back then, it seems like dudes are usually playing some stupid game more than they are paying attention to their wives. Look honey! It's the ancestral X-box!
When Dr. Lieberman came out with his last study on footstrike patterns, I participated in a thread on Jason Robillard's facebook page where he asked everyone's opinion of it. Most people replied with something about how it shows that forefoot striking is infinitely better than rearfoot striking. I said this, "I think it shows that running is bad for you."
I was immediately told I was ignorant by some dude (we made up later). Oh really? Read the study. The study followed 52 NCAA track athletes (36 heel strikers and 16 forefoot strikers) over the course of several years. During that time, 74% of those 52 runners experienced a moderate to severe injury
EVERY SINGLE YEAR
! Forefoot striking helped reduce injuries...to a "measly" 25% (or 4 runners) injured every year. Excuse me if I don't start a slow clap for proper running form.
That's an enormously high percentage for a species that is supposed to be born to do this, regardless of footstrike. You want to know what I think is a bigger contributing factor to all of those injuries? How about those high mileages that the studied cross country runners had to run?
And those that participated in the study were those genetically gifted enough to be able to run at the college level. Those are the folks who have trained for years and should be able to withstand (to some extent) the 100+ mile weeks required to compete. What about you? How much can your sedentary ass handle?
I like running in a tiara too. Makes me feel pretty.
I don't have a magic number of miles for you. I'd even go so far to say that the answer isn't a number, but rather a frequency. Humans are completely capable of running vast distances without injury. Maybe we even evolved to do so.
I would suggest though that just because we are "born to run", doesn't mean we are "born to run all the time".
I think a majority of all these running injuries stem from the way we train people to run. That is...regardless of age, experience, or ability, we all train like an elite runner. Most traditional elite racing plans are based on a system developed by Arthur Lyland. Lyland's system feeds runners a steady diet of running. Running on Monday. Running on Tuesday. Guess what's for breakfast on Wednesday? Who guessed "running"? Most of that running is done at a slow pace, and mileage built to a peak before tapering off; usually before some kind of race. Most amateur training plans, everything from Couch to 5K to Hal Higdon's Marathon Plan, are just a scaled down version of the same program. The emphasis is always the same. Volume, volume, volume. The trial of miles...nearly everyday.
This is the same program that injured NCAA runners at a rate of 74% per year. Now if you are a college or professional athlete, you might expect a high rate of injury. It kind of comes with the territory. So maybe that sort of program is worth the risk, because it produces the best results.
But what about for the general running population? We're getting injured at about the same rate. And for what? For most of us it's not even to place in races, or even in our age group. It's just to finish the damn race! I don't know about you, but I find it completely unacceptable that 3 out of 4 people have to get hurt trying to run a marathon.
It doesn't have to be that way. The barefoot/minimalist community is constantly looking for some magic bullet that will cure us of our injuries and enable us to run all day, every day without injury. First it was barefoot running. Now it's the forefoot strike. But injuries are still happening. Even for barefooters, I'm guessing at a rate of around 25%.
Just a thought...but maybe the real cure is
NOT RUNNING
.
I don't mean give it up. I mean don't do it every day. Maybe it shouldn't even comprise a majority of your fitness regime. Not just for reduction of injury, but for balance in your lives.
We certainly could be born to run. But we're born to do lots of other stuff too.
Look at my example. I went from running 60 miles per week to running around 10. Instead I lift weights, walk, sprint, cycle, do yoga, and play other sports. I do
maybe
one long-slow distance run per week. I run faster and further than ever before. Plus, I can sprint better, jump better, lift better. I have more flexibility, agility, stamina, and balance. I also think I look pretty good with my shirt off.
Which one do you look like?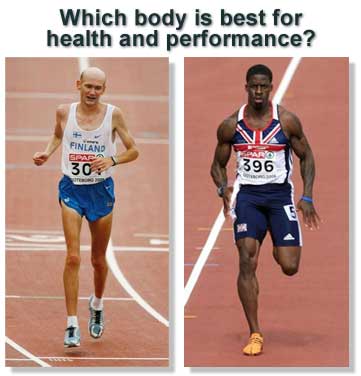 In case you're not tracking, most runners look like the one on the left. Does he look happy, healthy, and full of strength? Or does he look like how you feel after that 20 mile run, three weeks out from your marathon? I think he looks like he's either about to cry, break in half, or get blown over by a stiff wind. Humans should look like the one on the right, just like their ancestors. Strong, fast, and about to kick ass.
Take a lesson from your running man past. You can and should run...occasionally. You should also lift and carry heavy things, walk, swim, throw, balance, jump, use tools, and do all the other basic human movements that are your birthright.
If you're not an elite runner, why are you using an elite runner's program to finish a damn 10K? You don't need those Arthur Lyland-style running programs to finish long-distance races. With the coming of Crossfit Endurance, I think it's debatable whether you even need them to compete in those races. On the other hand, what are the costs? If I were a betting man, I'd say the costs would be that you'll be hurt within the next couple years. Not to mention you'll be sickly thin, weak, and tired.
You don't need to run every day. You don't even need to run every couple of days. Want a really radical suggstion? Don't do more than one long-slow run per week. Do other stuff. Be a balanced athlete.
You can run less and still achieve your running goals. Right now? You run too much bro...
Cheers
to being a balanced athlete