Maybe I should have washed it before taking this picture. Nah...I like the texture.
Even though the Crossfit Level One course is often called "The $1000 T-Shirt", that's not all I got out of it. In fact, I actually got way more than I bargained for. I expected just to go through the motions on my path to getting my Crossfit Trainers title and opening my own affiliate. But the weekend wasn't just about hanging out with my fellow Crossnerds and taking an easy multiple choice test on one of my favorite subjects. Instead, I got taken to school on everything from exercise science to form and technique. And I left with a rekindled passion for my chosen method of exercise, and even more confident that I'm heading in the right direction by looking to open a Crossfit affiliate gym.
For those who aren't familiar, in order to become a Crossfit trainer, you are required to attend a two-day seminar that details every aspect of the Crossfit way. The course I attended was held at
River North Crossfit
in Chicago, Illinois. Whereas most Crossfit gym's I've been in have been musty warehouse spaces in sketchy parts of town, RNCF is located in the heart of the River North district of Chicago (which I was informed is also called the "Douche District"). It occupied the space of three storefronts in the River North business district. It was a nicer space than many globo-gyms that I've seen. And so clean I could probably eat off the floor.
I was greeted at the door by a lady who could have easily kicked my ass. Except she wasn't about to deadlifting my face off like in this picture (by the way, that's 295lbs on the bar...also known as "some dude's max"). She was holding a clipboard and checking people in. I recognized her from the Crossfit Games (you know...the World Series of Exercise). It was muthafucking Lindsay Smith! I'd learn later that she'd be one of my instructors for the weekend.
The remaining trainers were just as much of Cross-lebrities as Lindsay. Eric O'Connor from CF Park City (Captain Amazing). Rudy Tapalla from Crossfit Chicago (the Little Engine that Could Kick Ass). Hometown hero Tyler Quinn from Crossfit St. Paul. And Mel Ockerby, the second buffest chick I've ever met (after Lindsay Smith), from Crossfit New England.
Okay...maybe you don't know any of those people. Then again, you're probably not a geek like me.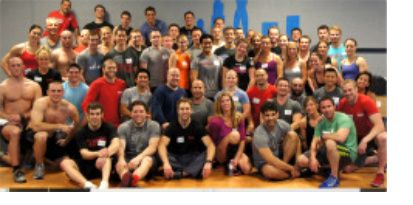 If you can find me in this picture, you get a cookie.
Crossfit courses are becoming so popular that they regularly sell out months in advance. This course was no different. I attended along with around 50 other wannabe trainers and gym-owners; most from the Chicago area. They were from all levels of experience. A few attendees had never done a single Crossfit workout. I apparently was the most experienced of the group, with a little over four years of training under my belt.
Asking the tough questions
The course was a series of lectures mixed with movement workshops. The lectures covered all aspects of the
Crossfit Level One Manual
, which I have been diligently sleeping with under my pillow every night for many years now. I had distilled most of the information covered in the lectures from my own research and training, so none of this information was particularly novel to me. Rather, I used the lectures as a chance to address some of the concerns in my mind about the Crossfit methodology.
I asked a lot of tough questions over the weekend. Kipping pullups? Sumo deadlift high pull? The Zone Diet? Really? WTF is up with that stuff? Nothing was off limits as long as I had Crossfit's greatest minds in the room. I pretty much checked off everything on the list of negatives I had from my
last Crossfit post
. And I was very pleased with their answers. Unlike the ignorant bullheadedness I've come to expect from many Cult-fitters, my trainers gave nothing but honest and levelheaded answers.
Here are some of my favorites. First, they actually came right out and addressed the biggest criticism of Crossfit without anyone asking about it: the claimed incredible risk of injury inherent in the program. Here's their answer. Yes, a Crossfit workout can injure you if performed or programmed improperly. Then again, so can any workout regime. There's nothing inherently dangerous about squats, deadlifts, and presses (the core of Crossfit programming) when done correctly. They are basic organic movements to the human body. You risk injury with ANY fitness program ANY time you push your body to its limits. An exercise program that is completely safe is also completely ineffective.
I agree. Crossfit makes a person meet their limits more often or tempts them to go faster because of the high intensity of the program. Does that make it more dangerous? Not really. There's nothing inherently dangerous about doing basic human movements at a rapid pace. People get hurt when they push their bodies too far or use bad form. Either way, that's on them...not the program. But it IS incumbent upon coaches to make sure things don't get out of hand.
But coaches don't just do that by slowing athletes down and correcting form mistakes. They also make sure the programming isn't stupid. So in that regard, I had some questions with respect to exercise choice. And I received a similarly straightforward answer. For example, I challenged a trainer to tell me why kipping pullups or sumo deadlift high pulls would be appropriate given the high risk associated with those movements (if you're not in the know, here's are articles on the risk of the
SDHP
and the
kipping pullup
). Again, he came right out with it. These are higher risk movements. Even Crossfit Games-level athletes risk injury doing them. The benefits on the other hand are efficiency and speed.
Does every athlete need to risk injury for efficiency and speed? No way! You need to choose exercises that are appropriate for the athletes you are coaching. A beginner should not be kipping pullups. They should be developing the strength to do a dead hang pullup. At the same time, competition-level athletes need to know how to kip, because they are at a severe time disadvantage if they don't. Does that put them at a higher injury risk? Yes. Then again, many elite athletes put themselves at risk injury for greater performance.
Same thing with the SDHP. Same thing with doing a dumbass overkill workout like Murph (1 mile run, 100 pullups, 200 situps, 300 air squats, 1 mile run). Should a beginner do Murph? Not unless they like rhabdomyolysis (i.e. pissing blood and other fun stuff). On the other hand, do Games competitors need to occasionally be exposed to high volume stuff because that's what they'll see in competition? Yup.
Reasonableness. Not at all what I was expecting.
Getting taken to school
After each lecture we divided into groups for instruction on how to teach the basic movements of Crossfit (squat, deadlift, and press and their variations). Now Crossfit usually gets a bad rap for letting form suffer for the sake of speed and higher workout scores. You wouldn't know that if you sat in on our movement breakout sessions though. While learning each exercise, if your form slipped for even an instant the trainers were on your ass. Again...a pleasant surprise.
I learned a lot about myself during these breakouts. I found that I always will have something to learn, even about something as basic as a squat. Not only that, but I learned that regardless of experience everyone has the ability to teach you something. I not only learned a lot from the seminar staff, but from many of the attendees. You never know who will have a good tip or trick to help you do things better. I still think that Crossfit trainers need more than a two-day education. But at the same time it's pretentious to believe that you need an exercise science degree to teach someone to back squat.
After lectures each day we threw down with a little workout action. So of course the shirts came off (guys and girls alike) and we started throwing heavy shit around the room. With 50 people working out at once, the atmosphere in the gym was electric. My favorite moment came when a young lady, the last one left to finish the Saturday workout, was struggling with her pullups. All 49 of the remaining seminar participants gathered around her and cheered her on to the finish. How can you not get psyched up about that kind of community? Dang near brought a tear to my eye. But...there's no crying in weight lifting.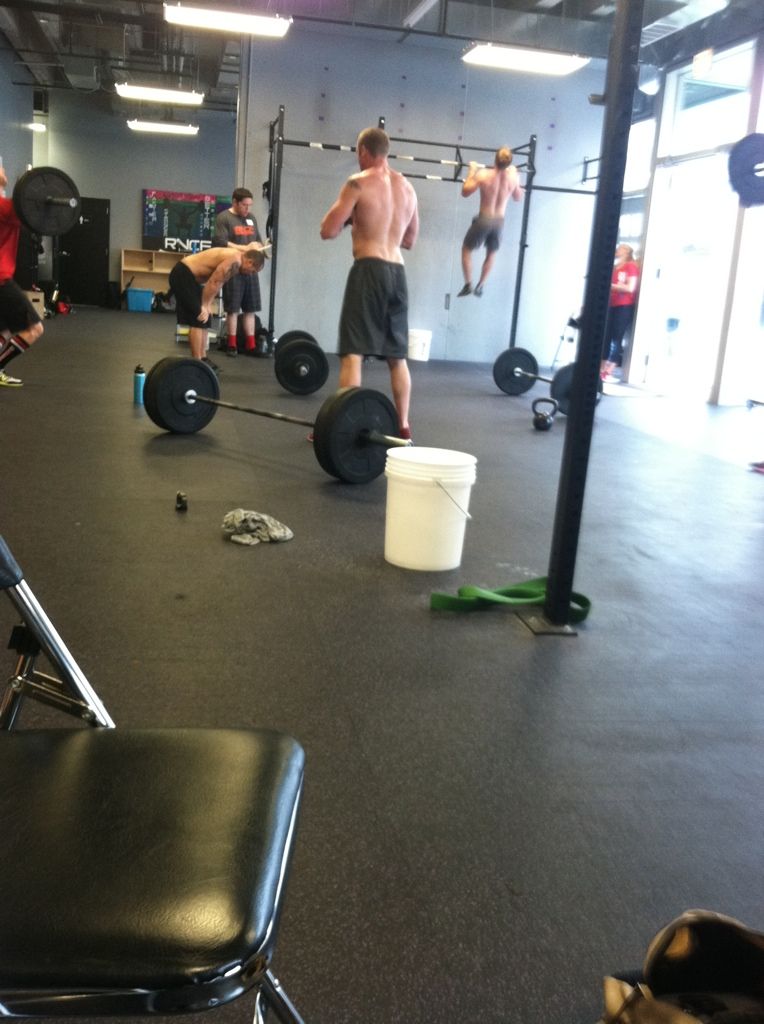 Who has two thumbs and is DTF (Down to Fran)? This guy! Here's a bunch of sweaty dudes doing the Fran workout: 21-15-9 reps of 95lb thrusters and pullups. After several sessions of form drills and the like, I had very little energy for Crossfit's toughest workout. So I barely managed a time of 7:54 (when fresh I'm pretty consistently under 5 minutes). After I was done I collapsed on the floor because my legs no longer would support my bodyweight. It was awesome...
Final Thoughts
So did I drink a little Kool-aid last weekend? Yeah...probably. But it was more because the weekend validated my way of thinking about Crossfit as a workout system. Crossfit at its core is simple and powerful. Crossfit can be summed up in six words, which just happen to be printed right on my $1000 t-shirt. "Constantly varied high intensity functional movements." That's all it really is. And it's hard to argue that those aren't all really good things for your fitness.
But Crossfit as a system isn't an end point. It's a starting point. The criticisms leveled at Crossfit aren't really about the system, but its implementation. It's how people use that system that determines whether it is safe and effective, or stupid and dangerous. The difference comes through knowledge. It's up to trainers and athletes alike to continue to learn about health and fitness, and teach others to do the same.
I felt validated because all the trainers I met last weekend felt the same way. The last lecture of the weekend was all about where we go from here. It was all about encouraging people to continue their fitness education, either with further Crossfit specialty courses or elsewhere. Innovate where you see fit. Crossfit came about through a blend of the best exercise methodologies out there. Continuing in that tradition makes Crossfit smarter and better. That was their message. That's what I went into the weekend intending to do.
That's what I WILL do.
There will be some exciting days ahead as I ramp up to open my own Crossfit affiliate. I'm super pumped! Stay tuned citizens!
Cheers!