Citizens, it seems to be a law of the minimalist blogging universe. The more swag you can acquire is inversely proportional to the
​
desire you have to actually test and review said swag. I literally have a mountain of minimal shoes in my garage (much to Mrs. MGBG's delight) waiting to be reviewed, and I haven't touched most of them. I'm off doing more interesting things (at least to me) like figuring out what I want to be when I grow up, becoming a Crossfit tour de force, planning the Naked Foot 5K, and refining my ever-evolving plan for world domination.
So I do what lots of big minimalist sites do...I farm out my reviews to trusted sources. Today's review comes to you from my go-to minimalist shoe guest reviewer: Chris Van Dyke. I met Chris over the barefoot/minimalist blogosphere a while ago, and had the pleasure of running with him at the NYC Barefoot Run last year. He writes a very intelligent and funny blog over at ...when I talk about running. He's also done a few reviews for me in the past, including the Sockwa G2 and the Altra Instinct.
As always, this review is top-notch! Read on citizens!
​
​Last year, Brooklyn spent a week paralyzed by a blizzard that buried sidewalks, halted bus traffic, and closed stores for days. This year, by contrast, we've had an unbelievably mild winter. If this is what climate change feels like, I say my great-grandkids will just have to enjoy living in their bio-domes, because global warming is awesome! How mild was it? Let's just say I got my Pah Tempe Unshoes on February 27th and I've already put 40 miles them. I know that superheros like the MGBG can run in the snow without shoes, but I'm a mere mortal, so the fact that I was out on February 28th running in sandals tells you something. And the fact that I've worn my Unshoes on more than half my runs since getting them tells you something as well -- they are a fantastic running sandal that has quickly become one of my favorite running shoes.
​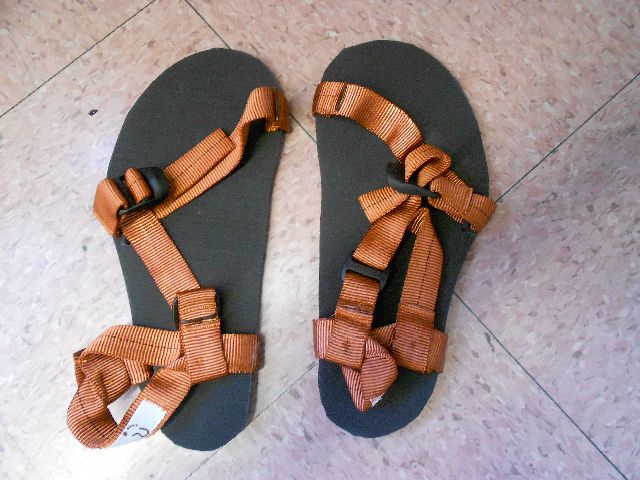 Christian reviewed the
Unshoes Wokova
on this site last April, back when the company only offered one model of sandal. Since that initial (and very enthusiastic) review, they've added the ultra-light Wokova Feather and Pah Tempe models to their offerings. This review is of the Pah Tempe, Unshoes newest addition to the increasingly crowded haurache-style sandal market. Despite the competition, the Pah Tempe stands out from the crown for a number of reasons.
​
ORDERING
If you've ever ordered haurache-style sandals before, you're familiar with tracing your foot. Ordering the Pah Tempe started with faxing the company my foot tracings and selecting a sole thickness and webbing color. The Pah Tempe comes with either a 10mm "Newflex" sole or a 6mm "Sport Utility" sole, and the choices of webbing are rust, black, olive, or tan (nothing wild or crazy here).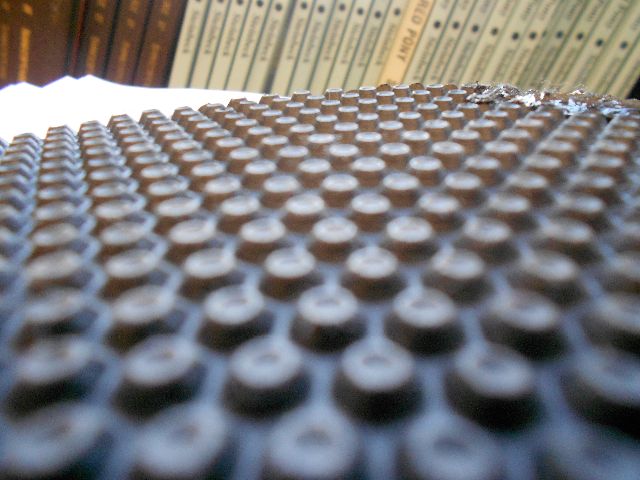 Close-up of the Sport Utility sole.
I decided to go with the "Sport Utility" and "rust," then waited anxiously for about a week and a half until my shoes arrived -- which is a pretty good turn around time, considering the sandals are hand-made and the company consists of the founder, Terral Fox, his wife, and one employee. Maybe my order was rushed because I'm a big-shot blogger with powerful friends in the mid-Western barefoot running community, but I suspect Terral gives all his customers the same great customer service and excellent communication I received. One of the great things about getting shoes from small companies is that you are dealing with people who are passionate about their products and their business.
​
LOOK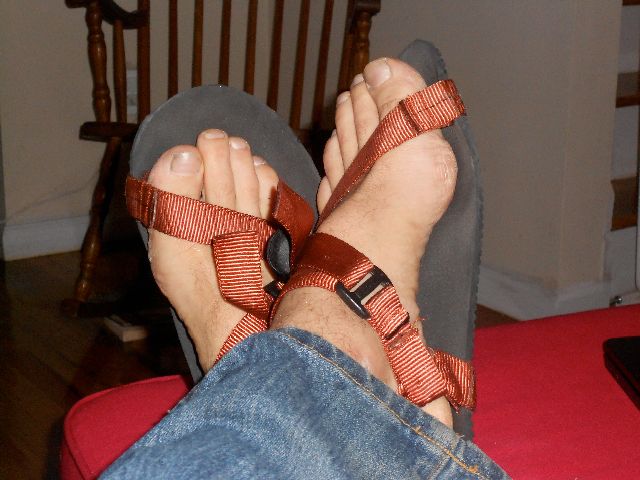 It might be superficial, but inevitable -- the first thing I noticed about the Pah Tempes is that they looked like sandals. Real sandals, one's worn my ordinary people, not "primal enthusiasts" or other weirdos like myself. As much as I don't mind having people stare at my choice of footwear or the fact that what's on my feet can spark a conversation with strangers on the subway, it will be nice to go outside this summer wearing shoes that won't cause my partner to walk half a block in front of me and randomly announce that she's "not with the weirdo in the Jesus sandals." Wearing the Pah Tempes, one could easily pull of the "I live in Boulder so I never take of my Teva's" look that I've been trying to perfect here on the East Coast.
​
DESIGN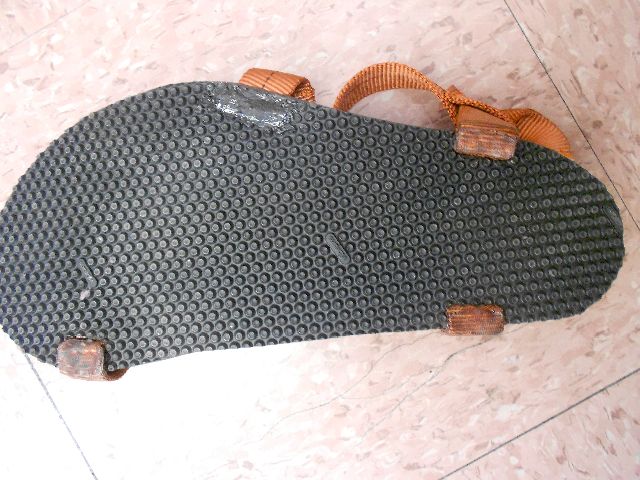 The Pah Tempe has a unique strap design in the huarache world. Instead of having a strap thread between your toes like every other huarache I've seen, there is one continuous strap of wide webbing that zig-zag's across the top of your foot and then across your toes, anchoring on the outside of your big-toe (its hard to describe, look at the pictures). This means no webbing rubbing between your toes, which is something that is always a mild irritant when I wear my Invisible Shoes. Also, instead of having to tie the sandal to your foot, like with a traditional haurache, the Pah Tempe has a simple one-buckle design that allows you to tighten and loosen the sandal with a simple tug. As someone who likes to fiddle with sandals periodically to adjust the fit, this is infinitely more convenient than having to untie and retie and entire haurache strap.
​
FIT
The Pah Tempes fit great right away, without any fiddling around to figure out how tight or loose to tie them -- just slip them on, tug on the strap, and you're good to go. The sole matched my foot nicely, and the webbing holds the sole on without rubbing or biting at all. As much as I loved my Invisible Shoes, they either flopped around loosely (which always distracted me, as they felt like they were about to fall off) or else I had to tie them really right, which became uncomfortable after a while. The wide webbing on the Pah Tempe's holds the sole in place without cutting into your skin, and I while I might adjust them once in a while, they are never too tight or too loose. I've started wearing them everywhere, and I quickly almost forget they are there, which is really the best thing one can say about a minimalist shoe.
​
RUNNING
Of course, the real question is how do they fit while running? Unshoes isn't specifically a "running haurache" company, and markets most of its sandals to a more general out-door/active market, but the Pah Tempe is a perfect running sandal, and I found myself completely at ease running in them right away.
​
My first day out I ran 7 miles, and since then have done a number of runs around 5 miles each, and the Pah Tempes have been great each time. As mentioned above, they hug your foot perfectly without being too tight or too loose. The over-the-toe strap seems to do a better job of keeping the front of the sole up against my foot, so I haven't caught the lip of the shoe on the ground, something that is often a problem when running in floppy hauraches.
​
Since I live in Brooklyn, I haven't put the shoes through rigorous trail-work, but I have run in the rain and through a few trails in Prospect Park, and the Pah Tempe felt great in wet and slippery conditions. The sole has pretty aggressive lugs (for a haurache), and the Vibram material has found great traction on every surface. (As far as I can tell visually, the sole is identical to that on my 6mm Run Amoc Dash, which just happens to be my favorite closed-toe shoe.) Six millimeters is enough to make running over gravel or sticks not painful at all, while leaving you a little ground-feel. It's pretty much the perfect trade-off between "protection" and "sensation." Go thinner, like my Sockwa's, and you have great ground-feel but wince at patches of gravel; go thicker, like an actual minimal shoe, and you can plow over any surface but loose all ground-feel. And of course, the joy of a running sandal is that you get the wind between your toes!
​
And it's super flexible.
One complaint Christian had about the Wokova's was their weight (5-6 oz), but Unshoes stripped the weight down for this new sandal. Despite the wider straps, the Pah Tempe's clock in at just under 3 oz each, putting them right down there with the lightest haurache's you can find.
​
PRICE
The one drawback to the Pah Tempe is price -- they are $62, which is more than your average haurache. The Original Luna's cost $50, Bedrock Sandals are $45, and you can get a DIY Invisible shoes kit for $24., On the other hand, Invisible Shoes are simply a piece of vibram sole that you tie to your foot with a string, while The Pah Tempes are actual a sandal, a shoe custom cut to fit your foot then assembled by hand. If you compare them to mainstream sport sandals, like Keen or Teva, those run you close to $100, and the Pah Tempe's seem every bit as sturdy and functional. So while the price might be higher, its not at all unreasonable for the product.
​
OVERALL IMPRESSION
I love these sandals. I've not only been running in them obsessively, but wearing them outside any day the temperatures has risen above the 40's. They are light, comfortable, and can go with a pair of shorts or jeans just like any pair of Keens or Tevas, so I'm pretty much not planning on taking them off until next fall. I normally remove my shoes the second I get home, but I've caught myself once or twice forgetting I had my Pah Tempes on for half an hour or more. So whether your a barefoot runner or just a shoe-avoiding primal, Pah Temep's will let you show up at the family picnic while feeling like a caveman -- without actually looking like one.