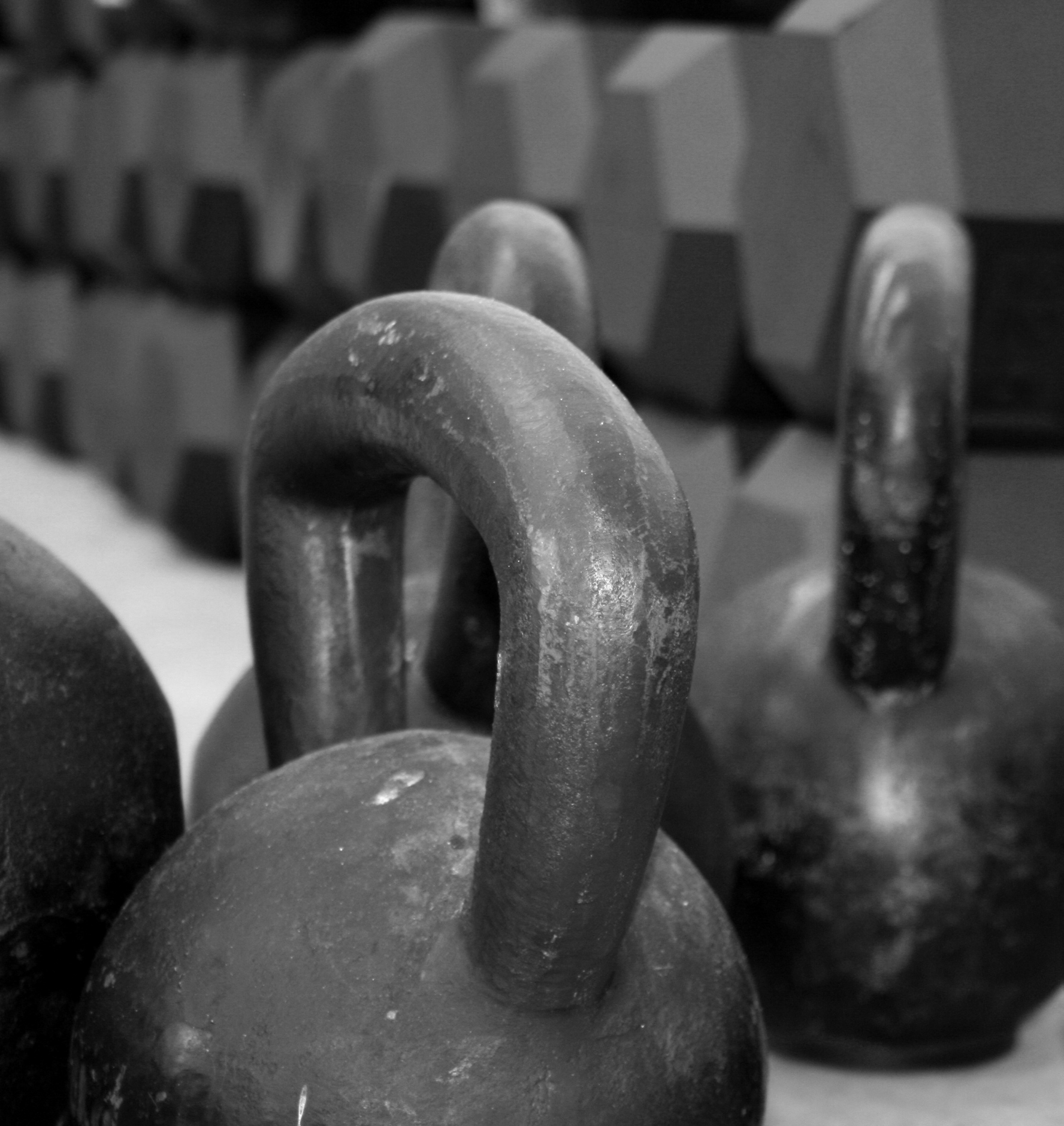 Look at all that sweet iron just waiting to be jerked. And snatched. And other dirty weightlifting words...
As many of you have read, I just completed a 50K ultra marathon at the Afton Trail Run a few short weeks ago. I did it after having done nothing but heavy weightlifting, and a bit of Crossfit for several months. And I still managed to beat my PR by about 15 minutes despite all my issues.
A lot of you afterwards expressed a good deal of shock and amazement that a few 15 minute strength training workouts could allow you to finish a 6 hour race. I wasn't the least bit surprised. This is my third race of marathon distance or greater using a similar protocol. And for all of them, strength training better prepared me than a traditional marathon training plan.
But why does a program like mine work? And how can you apply it to your own training even if you don't want to go full tilt and run 31+ miles?
Here's my answer. Note, this isn't necessarily THE answer. These things are still being researched by people
smarter than me. This is just the theory I came up with thinking about such things during workouts (usually
while panting in a collapsed heap on the floor).
What is fitness
Before we go too far into nerd stuff, I think it's important to define what fitness means to someone like me. Us Crossfit goons have a common saying about the program. We tell people it is all about "work capacity over broad time and modal domains".
What the f does that mean? Let's break it down. First, "work capacity" is simply that; your ability to do work. By work, I mean the physics definition. Force times distance over time (that is the formula right? I got a C in physics). When you are running, you are doing work.
"Time domains" refer to use of the three energy systems in your body. Those are ATP, anaerobic, and aerobic. The ATP system allows for highly explosive movements that occur over a very short period of time. Like lifting your PR back squat, or sprinting a 40m dash. The anaerobic system is not quite as explosive, but helps maintain a high level of effort for several minutes. Finally, your aerobic system allows for sustained efforts at a low intensity. Like running.
"Modal domains" refer to the ways you use your body during exercise. Running, biking, weight lifting, etc are all different modal domains. And those activities all emphasize different fitness traits. Those traits are things like strength, speed, power, stamina, endurance, balance, coordination, and the like.
Note that time and modal domains are not independent of one another. Everything you do is some combination of the three energy systems. Studies have shown that even a highly anaerobic activity such as sprinting involves up to 20% of your aerobic system. Similarly, no matter how much Maffetone Method fans want to admit it, regardless of how slow you run you'll always use some of your anaerobic system. Also, every activity you do also involves a combination of the fitness traits I mentioned above. Some activities just involve more of some things than others.
General Physical Preparedness (GPP) versus Specific Physical Preparedness (SPP)
Not only does every activity involve a blend of energy systems and fitness traits, but your body really can't tell the difference between activities. Your body doesn't know if you are going for a run or doing 1000 air squats. It just knows that your body is doing work. That's why folks like
Body by Science
author Doug McGuff realized that you can get just as much aerobic benefit from weight training as you can from traditional cardio exercise if you do it right. So you can do a variety of exercises and still get in your cardio.
Runners think that they have to run all the time in order to be good at running. So that's what they do. Their training involves heavy doses of cardiovascular exercise. If you train to run by running, you are doing what is called Specific Physical Preparedness. That is, you are training the particular qualities that you need for a particular sport.
My program on the other hand emphasizes general physical preparedness (GPP). So I workout by trying to hit all the energy systems, and all aspects of fitness equally. Most of that work centers around high intensity interval training using a combination of cardio, weightlifting, and gymnastics movements.
How does that stuff help you run? Well there are dozens of studies showing that high intensity interval training has a profound effect on your aerobic capacity. Like I said before, your energy systems are all connected. And it turns out, exercising in the anaerobic threshold is most efficient. The
Gibala study
for example showed that 2.5 hours of sprinting intervals per week gave the same metabolic and aerobic benefits of effect as 10 hours worth of moderate intensity cardio. So while you folks are out running for an hour plus to train for an ultra, I'm lifting for 15-30 minutes and getting the same effect. I'm also developing a lot more aspects of my fitness during that time. While you're only developing your endurance, I'm working that plus my strength, stamina, power, speed, flexibiliy, coordination, and much more.
Why you might want to train like this
Is there anything wrong with training for running by running? Absolutely not. It works for a lot of people. There's a reason why elite runners all use the same training plan. It works.
I also think that it's not the way to go for everyone. In particular, I don't think it's a great program for folks who have a low level of general fitness. Folks in that category will likely have poor strength, speed, and flexibility (among other things). They will find improved cardiovascular capacity with a running only program. They will also find themselves severely limited in their progress by the areas that they are weak in.
Not to mention, these are the people who are most likely to have muscle weakness, imbalance, or mobility issues that will turn into repetitive stress injuries once you subject your body to constant pounding down a single metabolic pathway. A GPP program will correct those issues while developing the same aerobic base as a traditional running program.
Also, I don't know about you, but I don't just want to be good at running. Nor do I want to run all the time. I want to do a lot of different things, and perform well at all of them.
Does that mean beginners and the injury prone need to hang up their running shoes and buy some bumper plates? Not at all. Although I have decided to train almost exclusively with this method, you folks don't need to be quite as severe. My example should just go to show you that you don't need to run every day in order to meet your goals.
Be a balanced athlete citizens! Cheers!